You can Run Windows Defender Full Scan in Windows 10 to provide basic security against all the common malware or virus attacks to the system. This built-in security tool will check all the files as well as running programs on your hard disk. In addition, Windows Defender uses the real-time protection which also gives you the ability to scan the downloads locations, and programs you run.
To add an extra level of protection to your device, Windows Update download definition updates of Windows Security on regular basis. Furthermore, you can also run different types of scans, see their result, take necessary action. But conducting a full scan will take longer than one hour as it will minutely scan every item of your hard disk.
Run Windows Defender Full Scan in Windows 10
Through Windows Security
Step-1: Click Windows Security (shield) icon on the system tray (see screenshot).
Step-2: Once the app opens up, go to the Virus & threat protection category. Switch to the right pane and click Scan options as shown in the below image.
Step-3: Select Full scan radio button followed by a hit on the Scan now button.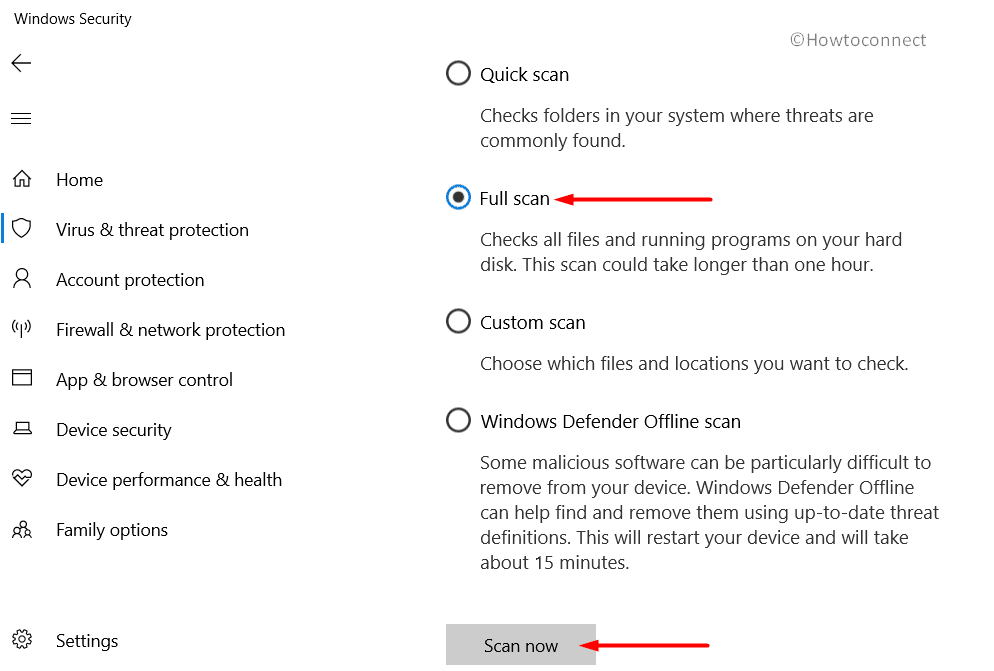 Step-4: Windows Defender will now start detecting for the presence of any threats on the system. Once the scan gets over, you will notice the scan result. If the scan traces out any threats, click Clean threats button to get rid of them from the system.
Step-5: To know more about the threat, click See threat details link.
Step-6: On the following page, Windows Defender will offer you three actions for the threat. Choose the radio button Remove and click Start actions button.
Use Command Line
Press "Win logo + R" shortcut keys in order to open Run dialog box. Here, type in "cmd" and click OK to access Command Prompt console.
To Run Windows Defender Full Scan, copy-paste the below-given command and hit Enter to execute the scan.
"%ProgramFiles%\Windows Defender\MpCmdRun.exe" -Scan -ScanType 2

Via PowerShell
Right-click on the Start icon on the left corner of the taskbar and click PowerShell option.
When the blue color console shows up, type in or copy/paste the following syntax and hit Enter to Run Windows Defender Full Scan in Windows 10.
Start-MpScan -ScanType FullScan
That's all!!