Whenever talking is on about banking services many people come and put their suggestions as well express their experiences. To Keep an eye at suggestions we see similarity in view. As most of the common people asked for more efficient Online banking. Showing attachment to people suggestion SBI installed upstage of online banking service. The newly facility is known as SBI-InstaPay. The 'SBI-InstaPay' facility leads to make easy payment of utilities bill as Electricity / Gas, Recharge of  Prepaid & Postpaid mobile services, Credit Card Bill, DTH, Insurance premium etc.  Besides of making payment you may be able to make donation into Sidhi Vinayaka Trust.
Here questions float how much InstaPay service is different from previous banking service? In fact SBI-InstaPay is next level of online service of SBI. It gives freedom for not to run pillar to post for making payment. If you used online banking service to pay utilities bill you witnessed to make log in to parent site and after then enter payment gateway of your banking enterprises. But SBI-InstaPay offers to let another gateway and do all the activity in SBI web portal.
As mentioned above SBI-InstaPay facility helps to make payment to monthly Utilities bill, Recharge of Postpaid / Prepaid Mobile & DTH connection, Payment of Credit Card and Insurance Premium bill. Certainly, it has covered almost every issue of common user. Now, I am going to discuss all successive steps for making payment through SBI-InstaPay options.
Open SBI Online Webpage and then after select InstPay option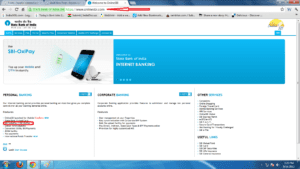 Click SBI-InstaPay option and choose whatever service you want
Under type of payment option put tick against radio button and select whichever service you looking for
Put here required information as well as amount and click submit button