Screen Smasher is Windows 8 App. This is a nice app used to prank your colleagues and friends. Once, you will send this prank to your friends, it will create an impression that his or her PC is smashed. In this way, you can prank your friend. This technique could also be used among the children who are currently disturbing you while you were busy. Screen Smasher is a very  interesting Windows 8 app. Screen Smasher app is available for free at Windows 8 Entertainment Category.
Recommended: Scary Sounds Windows 8 App – Frighten Your Friends with Halloween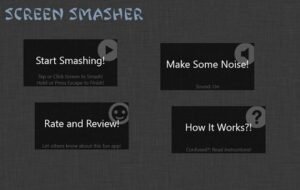 A link has been provided at the alst of this article from where you can access Screen Smasher Windows 8 app.
How to use Screen Smasher Windows 8 app
Once you install Screen Smasher app on your windows machine, running this app will open up a new screen in front of you. Note that during the moment you were installing this app, you can turn off the sound of this app if it feels a little disturbing. You can look on how to use this app on the main screen of this app to see the controls of this app.
On choosing the option of smashing the screen, a black screen will appear in front of you. This is the user interface of this app, so you don't need to worry. All it need to be done is to click for a single time and it will show the cracked screen and the person in front of you will be shocked seeing that. It could appear as soon as you press your keyboard as well. The screen could be repaired easily just by using the spacebar button of the keyboard. The crack marks on your screen will immediately vanish the moment you press the spacebar.
Screen Smasher app also works nicely for the case of touch enabled devices. All you have to do is to tap on the screen and will crack soon. It makes a complete sense also here in this case as it seems to be cracked just by touching the screen. It could be repaired easily by pressing the Zooming gesture of this app. This might seem to be a great app, however it is not that much a huge thing as it has certain shortcomings as well like: You can't save the created prank or preview the prank which you are going to send. Hope, this would be corrected in its next version.
Key Features of Screen Smasher App
Available for completely free.
Comes with full of Windows 8 Prank App.
Controls of this app are very easy and simple.
Prank your friends using this app.
Working of this app is quite easy and cozy.
Could also be used for touch enabled devices.
Look at the Windows 8 Store to have this app.
Conclusion
Screen Smasher is a very good and easy windows 8 prank app which could be used for fooling your friends or relatives. You might feel a little bit obnoxious because it doesn't provide you the option of saving the prank which has been created by you. However, if you are looking for a simple prank this might suits you the most.