NBC Sports Live Extra is a Windows 8 app avails you to watch a number of sports live and exclusive on Windows Phone, PC, Tabs. With this app, you can watch over 1000 hours of live sports events of Winter Olympic Games 2014 being Played at Sochi, Russia. NBC also supports Sports network and the Golf channel. NBC includes major sports NHL playoff games and Formula One Racing for the Winter Olympic Games 2014  Russia including 15 sports for all 98 medals. You can also follow sports schedules and get reminder alerts so that you would not miss any sport event with the support of this app.
Recommended: Yahoo! Sports for Windows 8 to Follow NBA, NFL and NCAA Football
If you do not want to miss any event of Winter Olympic 2014 then you should download this app. You can download this app on your Windows 8 PC or Phone from the download link given at last. You can also download this app on your PC from the Windows 8 store.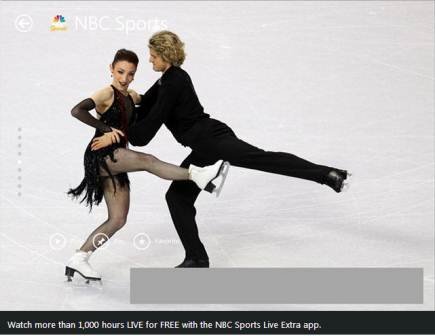 It should be mentioned that NBC's Olympics video is only viewable in U.S. The majority of the app's live content is available only to existing cable, satellite and telco customers via Television and you have to get registered for this app. Only you have to do is to go the App settings section and customize according to the instructions written here. This app requires a 3G, 4G, or WiFi data connection to watch live the sports of the Winter Olympics 2014.
Key Features of  Windows 8 App NBC Sports Live Extra
1. Live Events – You can watch marquee NBC Olympics events LIVE.
2. Video on Request – You can access short video clips and highlights of past events.
3. Full Event Replays – Through this app, you can run all your favorite moments with full event replays.
4. Online Coverage Schedule – You have permission to browse the online listings schedule of events to get alerts.