Set up Account for Taking Test in Windows 10 Single PC – Today technology is taking a big part in Conducting exams for the evaluation and analysis of students. Taking test is now possible on your Windows 10 computer. The test conducted on the Windows 10 computer is 100% foolproof. Let's see how to Set up Account for Taking Test in Windows 10 Single PC
To put things briefly, you can set up a test account for a single computer and for multiple computers as well. Following these guidelines will help you in setting up a taking test account on a single PC.
How to set up account for taking test in Windows 10
Step 1 – To begin with, sign in to the computer with an administrator account.
Step 2 – Next, on the far left of the taskbar, Windows button is present, click on it. The button symbolizes the Microsoft logo.
Step 3 – Subsequently, locate the option Settings which is the 2nd last option on Start Menu.
Step 4 – Now search for the icon Accounts and click on it.
Step 5 – This will eventually open a new page. On the left portion of the page click on the tab Access work or school.
Step 6 –  Afterwards, shift to the right panel and underneath related setting locate and click the link Set up an account for taking tests.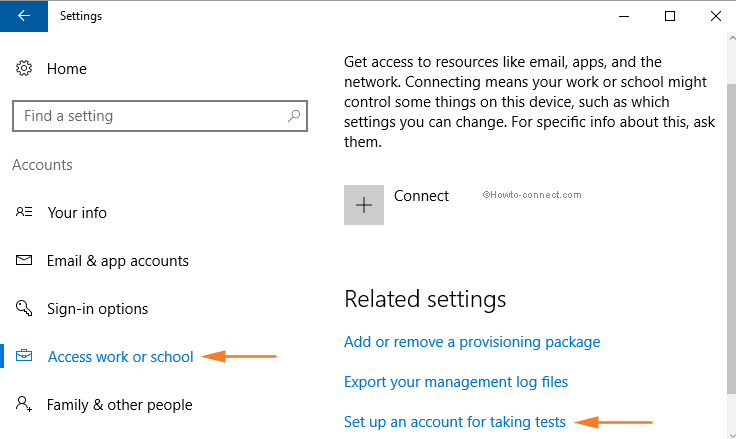 Step 7 – However, make sure to add an existing account to use as a dedicated testing account.
Step 8 – Now attest the assessment URL and click on the option Save.
Now for the people to take the test they will need to log in to the selected account.
Once the test taking account is set up on Windows 10 computer it creates an ideal environment where:
Microsoft Edge window opens, showing just the test details and absolutely nothing else on the browser.
A clear clipboard.
Candidates are not able to view other websites.
They cannot open or access any other applications.
Candidates taking the test will not be able to print, share, or record their screens.
They also cannot change the settings, extend their display, see any sort of notifications, get any updates, or use auto-fill features.
Cortana is turned off.
The above-mentioned features make it impossible for anyone to cheat.
Conclusion
In the end, following the above guidelines will make you add a take test account which is completely foolproof. By the way, this way of conducting tests and exams helps in saving a lot of paper. Likewise, the assessment also becomes very easy for teachers and trainers. In other words, this is definitely a way forward for tests and exams in the future.