Pin Quick Access to Start Menu Windows 10. – Easy navigation ensures the success of a Software and the latest Microsoft operating System is exceptional in this view. Especially, Start contains the Opening for all the locations on Windows 10. In addition, you Pin the location here if you think you need to access it frequently. Recently, Windows 10 has enhanced a feature and lets Pin Quick Access to Start Menu Windows 10.
Quick access is a navigation hub in File explorer that determines browse directories, files, and folders. So, Pinning it on the Start will allow accessing Quick access in File Explorer from its tile in a simpler manner.
Way to Pin Quick Access to Start Menu Windows 10
Step 1 – Jointly press Win+E to launch File Explorer.
Step 2 – Move to the Navigation Pane in the right sidebar and perform a right-click on Quick access and Select Pin to Start.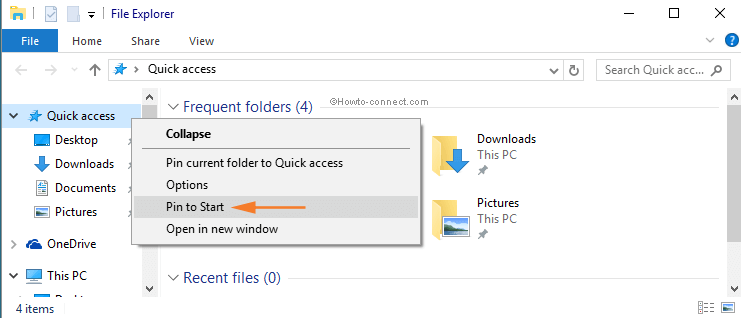 Step 3 – Open the Start menu to see if it exists as a tile here. The Quick access pinned tile lets open file location of Quick access. Do a right click on the Quick access tile and put cursor on More. A submenu appears with only a single option Open File location.
Step 4 – Once you reach Quick access default folder location you can do so many things. The most noteworthy stuff is it permits to create a desktop shortcut to Quick access staying at this location. Execute a right-click on Quick access and opt Send to and subsequently  Desktop on the context menu and submenu respectively.
Step 4 – To remove quick Access from the Start menu execute right-click on the tile and select Unpin from Start.
Step 5 – Furthermore, you can make a right click on Quick access again and choose Unpin from Start.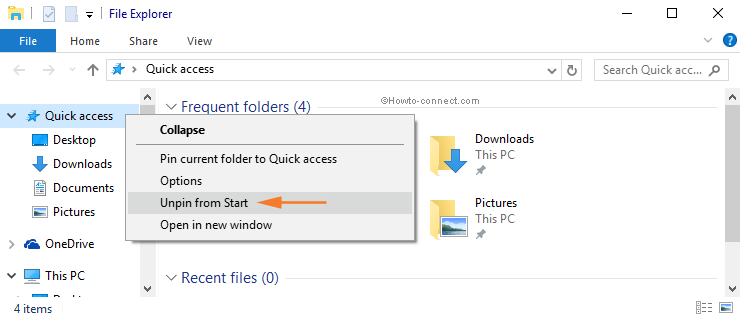 Pin Start menu, make Quick access makes it easily accessible. You know the Start menu is the storehouse of navigational points for different locations and applications. When Quick access tile comes here it creates one more solid openings for file explorer.