When the ultimate Windows 10 will be rolled out in the techno sector, you are sure to receive the builds through generic updates. Yes, this opportunity can also be yours but for that, you need to become a member of Windows Insider. An option is there in Windows 10 that offers you the membership of Windows Insider and smoothes the way for your update of builds and so committing to memory this article will aid you with the steps of how you will stop and start to Get Windows 10 Insider Builds.
After you opt for the Insider Build, you don't have to do anything more. You made yourself for the latest builds either in fast or slow modes, depending on your preference. Each build that you get has a lapse time and it gets lapsed after you get the new one. Microsoft has also given you the provision to opt out of the Insider Builds. When you choose not to be a part of an Insider Builds and prefer to upgrade the build after the launch of the operating system, you will then have the same specifications that have been offered to the previous owners, Windows 7 or 8.1 for up-gradation. Let us head towards the steps and see how to Stop and Start to Get Windows 10 Insider Builds.
How to Stop and Start to Get Windows 10 Insider Builds
Make your way to the Start Menu to select Settings app from there.
Pick up the last category, Update & Security.
By default the left sidebar is on Windows Update.
The following screen displays many options. You can see Get Insider Builds heading with a Get started button.
Click Get started button to be a part of Insider Builds.
As you know it is a pre-release software, you will be shown some points to go through. Click Next.
Click Confirm button and know that if you ever prefer to stop receiving from Insider Builds, you have to remove everything from your computer and reinstall Windows.

To apply the changes, you need to reboot your system. Click Restart Now or Restart Later as per your convenience.

In future when you want to stop receiving Insider Builds, click Stop Insider Builds button.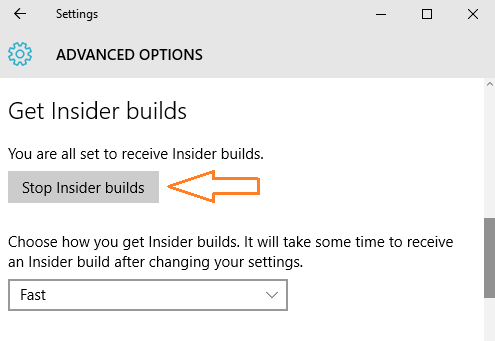 You will be thanked for being a part of it. Click Confirm button.


Click Restart now or Restart Later as per your choice to make changes.
That's it!!!
Since Windows 10 had been between users there are many who have been with Insider Builds and Microsoft hopes to continue this bonding. Well, becoming a part of Windows 10 is an awesome journey till now and hope it to long last.