Xbox Video has brought a new video app for Windows 8/Windows RT devices. This app lets you watch all HD Movies as well as TV series in a great passionate way. Xbox Video Windows 8 App also helps you in renting as well as buying new Movies or Serials which has recently been launched in the Market. Xbox video app helps you in exploring video collection of yours on your system as well as your own videos which you might keep somewhere and forgot its location of storage. When you will open Xbox Video Windows 8 App, you can see some of the tiles which are readily available while some are there you can't access as they are confined to certain countries.
Recommended: Make Photos Cool, Amazing Using 10 Windows 8 Photo Editing Apps
We all know that Game of Thrones season 4 has been launched on 06-04-2014. This player would help you in watching Game of Thrones from the next day it is aired. The same goes for different TV Shows which are currently going on like How I met Your Mother, The Big Bang Theory, and many others. The interface of this app is neat and clean with good graphics. Having this app is a good choice for its fans.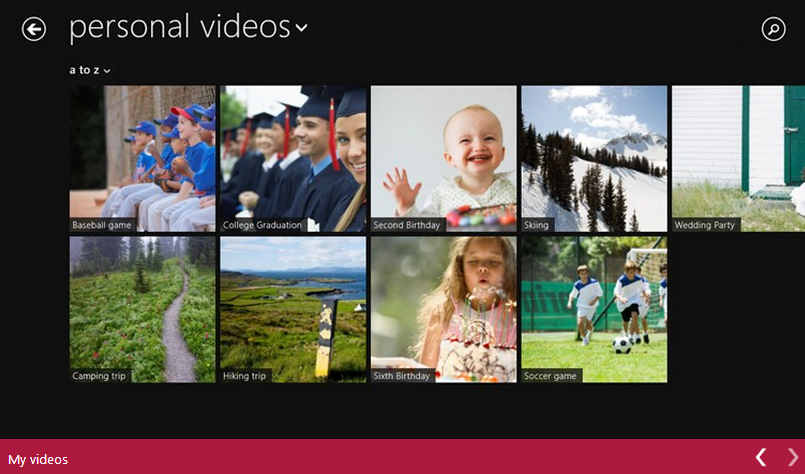 A link has been provided at the last of this article from where you can access this app.
How to Use Xbox Video Windows 8 App
Once you have installed Xbox Video Windows 8 App on to your windows machine, running this app will open up a home screen. A screenshot of its home screen is shown below:
Here, on its home screen, you can see several movies, TV shows floating. It also shows various movies' names as recommendations for you. If you go to the right of this screen, you can see new movies there which you can watch right from there. The New TV shows which are currently going on are also shown here in the New release section.
Clicking on any of the captions here will direct you to its full description where you could know about it in details like in case of HIMYM, you could know about different episodes with a short description about them along with the Cast, Actors and Crew name. Here, you could also get some extra episodes of any TV show which might not be aired on their respective channel.
At last, this video app allows you to have personal videos stored at a fixed place so that you won't need to search them again and again.
Xbox Video Windows 8 App Key Features
Store your video collection in a nicer way.
Watch Movies and TV series in HD.
Provides critiques as well as user ratings.
Watch the latest TV show from the next day it is released.
Finding Movies and Serials are quite easy here.
Shifting from the PC viewing to Xbox 360 view is quite easy here.
Provides you a detailed description of Movies and TV Serials.
You may like:
0xc00000e9 Error Windows 8 or 7 Installation Issue – How to Fix
Conclusion
Xbox Video Windows 8 App
is a very nice app to have on in your windows devices. Its features are awesome and beyond comparison. No bugs or crashes are found while I run this app on my device.