System Restore Encountered an Error 0x81000203 is one of the nagging problems on Windows 10. This stop code generally occurs when you make an attempt to turn on or off System Restore. Basically, there are two possible reasons that stop this utility from working. Firstly, the TuneUp Utilities 2009 / 2010 / 2011 are causing this specific issue. The TuneUp Turbo mode disables certain components so that System Restore cannot be used. Moreover, a service called Microsoft Software Shadow Copy Provider may not be running on the system.
This System Restore Encountered an Error 0x81000203 is not new to the Windows family. The bugs and problems in the OS also lead to some similar issues such as System Restore Error 80042308 or Error 0x8000ffff Catastrophic Failure While System Restore.
The full error message is -"There was an unexpected error in the property page
System Restore encountered an error. Please try to run System Restore
again. (0x81000203)
Please close the property page and try again."
However, if you are also unable to use this important utility of Windows, then try out the following solutions.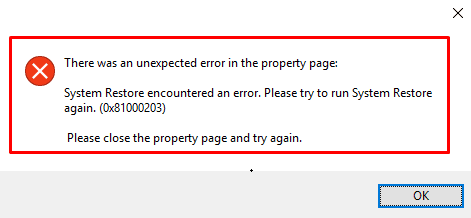 System Restore Encountered an Error 0x81000203 Windows 10 Solutions
Here is how to fix System Restore Encountered an Error 0x81000203 (Property Page) Windows 10 –
Uninstall TuneUp Utilities & Disable Turbo Mode
Step-1: Perform a right-click Start Menu and select Apps and Features option when the Win+X menu shows up. This will immediately open the Apps & Features settings page.
Step-2: Move to the right pane, locate and select the TuneUp Utilities or its related programs in the list here.
Step-3: When the program expands, click the Uninstall button. Now the uninstaller wizard of the program will appear, do a hit on the Uninstall button to completely wipe it out from PC.
Step-4: After the uninstallation gets over, restart Windows 10 and thereafter try performing a system restore.
Check if the Error 0x81000203 has been fixed, if not try the next tool.
Disable Turbo Mode
Sometimes, Turbo Mode disables a component or element which is accountable for System Restore. In case, you prefer to keep TuneUp, you can turn off the "Turbo Mode" and then proceed to use System Restore.
First of all, get access to the TuneUp Utilities Start Center.
At the bottom left of the window, you'll notice PC Optimization Mode section. Here, select either Economy or Standard.
See the Windows optimization tool which is either "Economy" or "Standard". Moreover, you can also click on the small wrench icon below Turbo and disable the options present here.
Now give an attempt to System Restore again and check if the error 0x81000203 shows up or not. Most probably the problem will not appear this time.
If your PC has another version of "TuneUp utilities", you need to make a hit on the Turbo icon at the lower left and switch it OFF.
Turn on Microsoft Software Shadow Copy Provider Service
If the TuneUp or other tuning related utilities are not installed, then there are possible chances that a service namely Microsoft Software Shadow Copy Provider is not running on the system. So you need to first activate this service by following the below-written steps.
Press Win + S hotkey and type services in Cortana text box. When the Best match displays Services Desktop app, click on it.
Moving ahead, locate the service namely Microsoft Software Shadow Copy Provider and double-click on it.
Now click the drop-down against Start type and choose Automatic. Next, click the Start button under Service status.
Next, open Control Panel and navigate to System and Security => System => System Protection. Here, under the "System Protection" tab, select a particular drive and henceforth click "Configure".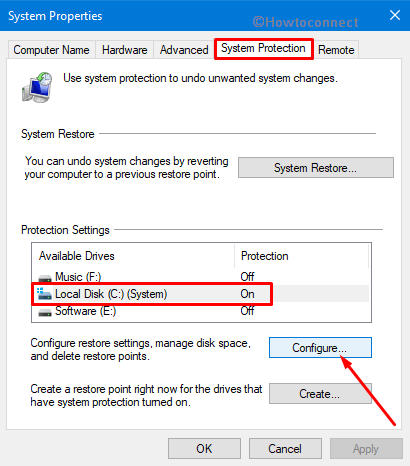 Make sure the checkbox Turn on System Protection is active. Use the Max Usage slider and then set Maximum Disk Space usage.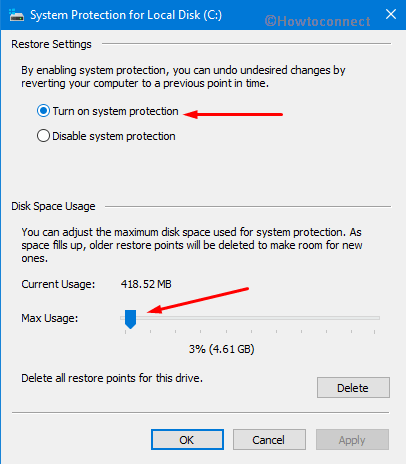 Note: The size should be more than zero and it depends upon the number of restore points you prefer.
Finally, click OK and reboot the system. Now, check whether this issue still persists. If appears, then follow the next workaround to solve System Restore Encountered an Error 0x81000203.
Use Group Policy Editor to Enable System Restore
With a modification in a Policy, the setting will help you to resolve System Restore Encountered an Error 0x81000203. Enabling System Restore might be a solution to solve this bug on Windows.
Open Run dialog box by hitting "Windows logo + R" keys in one go. Type "gpedit.msc" in the text field and hit OK to access Group Policy Editor console.
Now go to this specific location on the left side of Group Policy.
Computer Configuration => Administrative Template => System => System Restore 
Switch to the right pane and double-click the policy namely Turn off System Restore.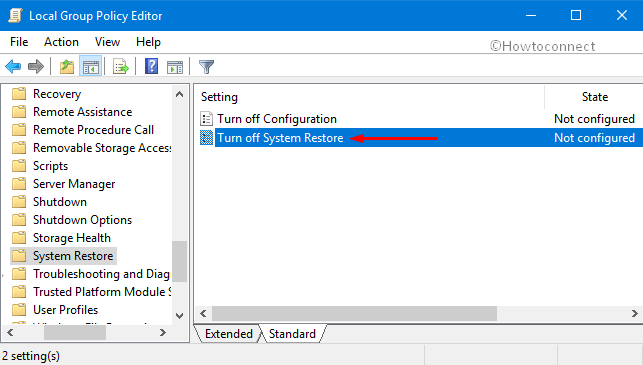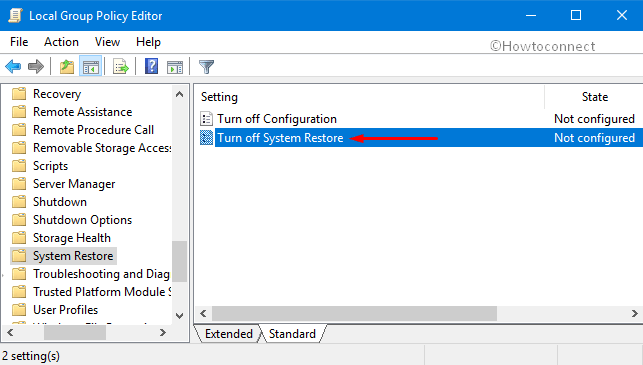 Select the Not Configured option and click OK to implement the changes in the policy.
Close Group Policy and restart Windows to see if the system restore is working smoothly without showing any error messages.
Perform a Registry Tweak
Sometimes, Group Policy Editor might be not that useful as it works for Windows Pro as well as Enterprise editions only. Windows Home doesn't have gpedit.msc. If that's the case with you too, you can use Registry Editor to bypass System Restore Encountered an Error 0x81000203.
For reference, you may like to read How to Activate Local Group Policy Editor / Gpedit.msc in Windows 10 Home.
Hold the Win & S hotkey to launch Cortana. Type "regedit.exe" under blank area, hit OK to proceed.
If UAC prompts, press the "Yes "button.
Now navigate to the below-given path on the left pane of the Registry.
HKEY_LOCAL_MACHINE\SOFTWARE\Policies\Microsoft\Windows NT
Here, find the subentry namely SystemRestore.
Note: In case, you cannot see the SystemRestore key, create a new one.
Switch to the corresponding right side and see if it contains the DWORD DisableConfig. If the DWORD is present and its value data is 1, it means System Restore is blocked. So, double-click on it and set the value as 0. Alternatively, you can delete DisableConfig also to enable System Restore.
Finally, Reboot Windows 10 and try System Restore again.
Wrapping up
Hopefully, the above-described workarounds will help you in bypassing System Restore Encountered an Error 0x81000203 in Windows 10. They will definitely get back the System Protection Tab on your screen. If you are aware of more solutions about this issue, then please do drop them in the comments form below.
Repair any Windows problems such as Blue/Black Screen, DLL, Exe, application, Regisrty error and quickly recover system from issues using
Reimage
.