Tiny Thief is a new gaming App for Android devices and phones. It is developed out of the Rovio Stars Program. The whole game is based on tapping at the points on the screen. This uses some of the lovely art design with pastel colors that have an mutet yet attractive look. The animations used for the different characters in this game is very attractive and awesome. Within the different levels, the designers have had to make a lot of tap points. This game is played on tablet in a finer way. However designers had made it also playable on small scale too. It really looks very nice and wonderful and there is nothing to complain. A screenshot of this game is shown below: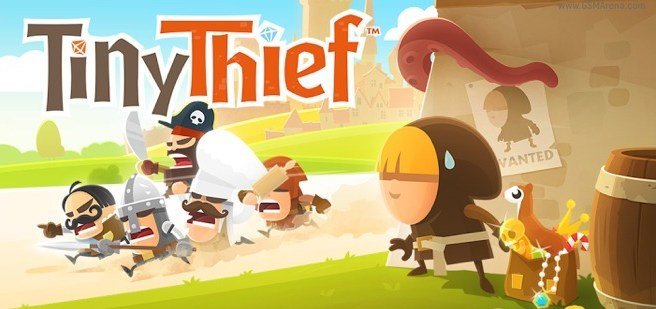 What is the Story behind this game
This game is based on a young thief who we call Tiny Thief. He behaves like Robin Hood i.e. even he steals for his livelihood, his intentions are nice and largely noble. He steals from those who deserve to be and gives the stolen money or other things to those in need. However, the lawmen would not allow this and this make the base of this game. In this game, we expect him to steal certain things without being seen and then exiting the level without being caught. At the end of any level you will get the stars like the Angry Birds. Here, getting stars depends upon the number of objects stolen.
How to Play this Game
At the beginning of any level you are told about what you have to find. It then depends on you finding those things step by step by solving the puzzle. In each of the level you have three objective to complete which are described below:
There is something called main object which you must have to obtain to finish any level.

There are multiple optional objects hidden very cleverly in the level which is to be find by you.
Again, you have to hide the found objects at somewhere safe which could not be easily noticed.
Finishing each objective will provide you a star at the end of the level. The maximum number of hidden optional objects could be four.
The main objective is not available immediately as soon as the game starts. You have to distract the guard to get the main object. This could be done by noticing well the things present in your surrounding so that using them you could distract him easily. In some level,  distracting is easy however in others you have to manipulate a ton of different objects to distract him. It's really fun to tap on various things to see what they might lead to.
For completing the level with maximum number of stars, you have to get all the optional scattered objects along with the one main object.  Some of them are in plain sight, others cleverly hidden. Some only become available after completing certain objectives so you have to remember to go back and collect them. Again, you should not be spotted even once by the lawmen standing guard or else the level ends instantaneously. However if you have completed some objective, it will restart from there.
In this game, there are six level packs with five levels each. It might seems to be a small game to you. However the levels require slightly more than the usual amount of time, skill and patience to solve. But if you are very good at solving puzzles in a few seconds you can complete this whole game in a few hours.  Hopefully, more levels will be added shortly. There is one more thing in this app and i.e. there are no such annoying ads in this game.
Pros
Brain exercising and fun game.
It helps you in exploring new ways to handle new situations.
The animation is sublime and very attractive.
Cons
It doesn't come for free.

There is no way of getting hint in the middle.
My Verdict
Tiny Thief proves to be a very nice game after such a long wait of recent Rovio Games. It is lovable with exciting features and challenging puzzles which could be played by people from all the ages. It is a very fun and enjoyable game. The characters animations are plausible and is carved in a very soothing manner. This game is designed in something you will never forget once you play this game. This game comes at a price of Rs 209.01 only which it really deserves. If you are willing to exercise your brain a little with its marvellous features and excitement you can visit to the below provided link:
Download Link:Tiny Thief