To get full advantage of Windows 8 you have to go through change settings. One of these is to enable sync app licence, so that all apps you have chosen would be working for you whether you are working from anywhere on any PC with your Microsoft Account. For solution, you have to force sync app licenses to the cloud.
Tips for How to Force Sync App license  in Windows 8:
At first, connect your Windows 8 PC to

 Internet.


Launch Windows Store.

Click Win Key + C along with.
Hit on Setting.
Next, Click on App Updates.
A box will be launched. You will have to slide Automatic download Update of my Apps to Yes.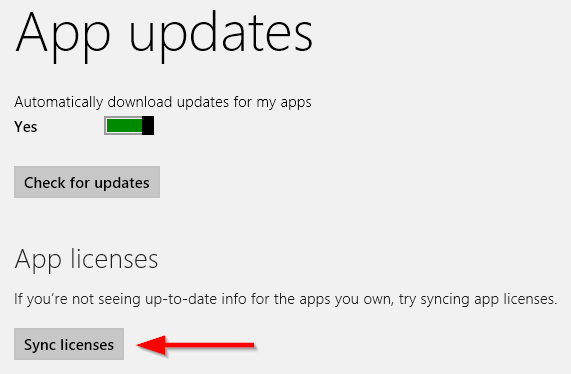 Right below this option click on Sync License. In a few seconds, it will be done.
After completion of this tips successfully you will get all your Windows 8 apps whether it is free or paid on every computer. Actually it will sync with your registered account, and when you log in with your Microsoft username on any PC these apps will be with you.
Some More Force Sync to do with Windows 8:
At the time you are installing or upgrading Windows 8 after creation of log in Microsoft account you will get Sync option many times. If you change your setting for app update syncing forever you may follow the tips below:
Launch your Charms search by clicking Win key and C along with.

Press on Settings and next on Change PC Settings.
Now slide the Sync your Settings to on.