When you buy a new desktop or laptop then it is quite obvious that you want your system CPU to take load as per your requirement properly. In addition, a healthy processor helps run heavyweight games without any lags and glitches. You want your computer to work properly when you are watching movies, and streaming live on certain social media platforms. So we are here with top 10 best CPU Stress Test utilities.
Stress testing is the method of checking the hardware of the computer by providing them with a high level of stress and then verifying its capabilities. The examination includes thermals, tasks, workloads, usage of RAM, clock speeds, etc.
Best CPU Stress Test
1] Prime95
This tool was established by GIMPS to find Mersenne prime number. But many hardware experts found that the stress contained in its program can be used to know the capabilities of their memory and their processor (basically CPU) mainly after overclocking them. Most of all, the software is user-friendly and very much simple to use. It is a legit software to check the execution and steadiness of a processor and RAM at max stress. Peoples reviewing has also proved it to be a good utility to carry out the CPU stress test. It is considered a 'standard' for stress testing and benchmarking a PC. It is compatible with Mac OS, FreeBSD, Linux, and Windows.
Today's computers are not perfect. Even a brand new system from major manufacturers can have hidden flaws. When RAM, CPU, cooling, or other components are not up-to-spec, it can cause wrong calculation and/or some system crashes.
Overclocking is the act of raising the speed of the CPU and/or memory to fasten machine at little cost. Typically, This includes pushing a "machine" pass its limits and then backing off just a little bit.
Because of this, both of the overclockers and non overclockers require applications that test the stability of their computers. This is done by running programs that put a heavy load on the system. However, not originally designed for this purpose, Prime95 is an excellent way of placing a heavy load on a computer system and includes a "torture test" to allow users to do so without interfering in the prime search.
This program is a good stress test primarily for CPU and RAM, as well as cooling systems and power supplies. The torture tests run continuously, checking the calculations are within certain parameters while they are in progress and comparing your computer's final results to results that are known to be correct.
Any mismatch and you've got a problem! You'll need other programs to stress test other system components, monitor the state of the system while testing and help identify the source of any faults
that arise.
If you are not overclocking, the most likely cause is memory. It is not uncommon for RAM to not run correctly at its rated speed (incorrectly "binned"). This is most easily tested by swapping it with memory from dissimilar compatible computer and retesting. If that is not possible you can try underclocking or increasing RAM voltage a tiny bit. Overheating is another possible source of problems.
You can check the temperatures using monitoring software like HWiNFO to make sure the CPU is below it's rated temperature limit. If not, the cooler may be incorrectly mounted or disconnected from the system while in transit, or the thermal paste between the Processor and the cooler may not have been applied properly.
Occasionally, the power supply is incapable of supplying sufficient power to the system under heavy load. You can often diagnose this by monitoring the 12v, 5v, and 3.3v voltage. You will typically observe a substantial drop in these voltages when putting the system under load and generally means the PSU itself needs to be replaced with a more capable unit.
If you are overclocking, the most likely problems are either the CPU core voltage being set too low or drooping too far under heavy low. You should either increase the voltage or adjust the load line calibration to deal with these issues. Another frequently seen issue is the motherboard failing
to set a suitable voltage for the memory controller when an XMP profile is enabled.
Important – You should always thoroughly research the voltage tolerance of any specific component before you start changing it. Memory controllers integrated into modern CPUs, in particular, are very sensitive to increased running voltages and can functionally degrade very quickly if set too high. Also, make sure you have accurate temperature monitoring in place while stress testing with increased voltage and clock speeds as heat outputs increase exponentially. 1st generation Ryzen CPUs specifically develops heat-related stability problems when running at temperatures above 70 deg C.
2] Aida64 Extreme
Aida64 is also a good CPU stress test tool that is preferred by many people across the globe. The approach of this utility is way too much practical that a processor will face in the real world. It gives a 100 percent load on the processor and then checks its status simultaneously. The best thing about this tool is that it will notify the user if the CPU starts to slow down itself when the temperature level rises in it. Thus, without further harm to your CPU, you can get a new cooler installed in your computer. One of the major drawbacks for this tool is that it is not free to use. To get a basic license for this tool, one has to spend $34.99 which is not a good idea. To know about its environment you can try its 30 days free trial period.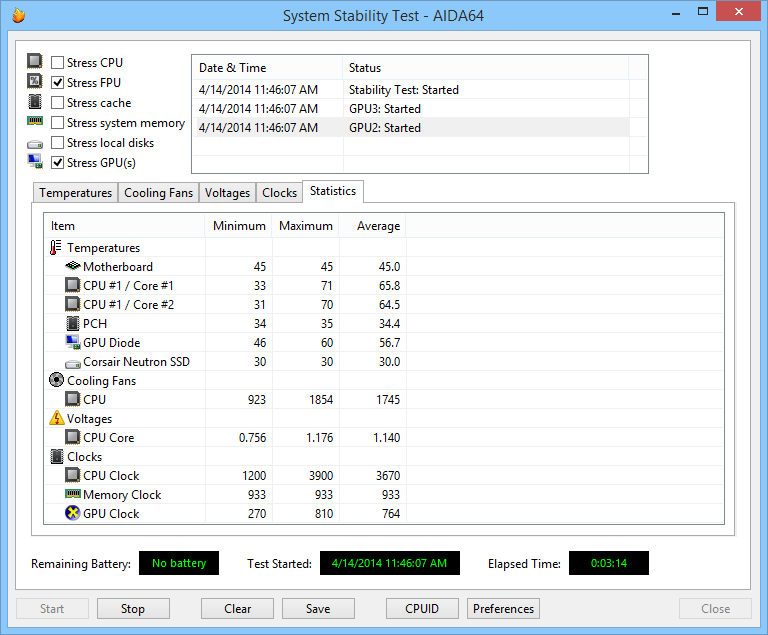 3] IntelBurn Test
This is again a good and legit CPU stress test software that pushes the processor to reach its maximum limit and then determine its stability. Like Prime95, IntelBurn Test is also known for pushing the processor more remote than would normally be appropriate. Many have also come up with the view that this tool puts uneven stress on the CPU which is not necessary.
4] Core Temp
It is a powerful CPU stress test utility that shows the status based on the temperature that can be handled by each core of each processor present in the system. It shows the real-time temperature with altering workloads. It is compatible with Intel, VIA*x86 and AMD processors and its motherboard agonistic support expandability and customization. Apart from that, it is free to use.
5] Intel Processor Diagnostic tool
When you have a computer whose system is completely based on Intel then the top and best CPU stress test utility is the one you will get free from the company. This software works fine with a multiprocessor system. The Intel Processor Diagnostic Tool will check all the functionality of the processor, verify it and its frequency to operate and then will do one of the most intense stress test possible. The processor will sometimes shut itself off if the checking procedure overheats it. This proves that it's very much intense.
Intel Processor Diagnostic tool
6] PassMark – BurnInTest
If you are a hardware enthusiast and need a tool that can stress test all the subsystem of your computer including your CPU at the same time then this is just made for you. Apart from testing, this software also provides a user to diagnose and troubleshoot several problems that appear on the computer. It saves time as well as a lot of memory on the computer as it can do multiple check-ups simultaneously. The interface of this tool is user-friendly. You can get it free as well as in paid. The paid one will have several other features.
7] powerMAX
This tool is a GPU and CPU stress test tool. It can test both of them either simultaneously or even individually. This tool is not able to show us the performance or a stability score. Thus, one should not think that this is a benchmark tool. It is a very powerful software and can show some of the weak zones of the components used in the computer. One thing to note about this tool is that it causes much irreversible harm to a system. Thus, we advise you that use it with caution and at your own risk.
8] Cinebench
This tool is compatible with Windows as well as Mac OS. It helps to calculate the performance and stability level of the GPU as well as the CPU. For estimating the stability of CPU, it incorporates a photograph practical 3D scene in a test situation. This scene utilizes a different algorithm and bestows stress on all the cores available. The result is displayed on several points. If the number is high then it means that the processor is faster and vice versa.
9] HWiNFO64
It is a free tool to diagnose processors and software of DOS as well as Windows. It can perform hardware investigation, checking, and reporting. It has highlights of customization, broad detailing, and intense hardware info. One can get it for free. Hardware components that the software supports are NVIDIA, AMD, and Intel.
10] HeavyLoad
HeavyLoad is yet again Best CPU Stress Test utility you may rely upon. This utility puts a heavy load on your workstation or server PC. The Freeware can run stress test for the CPU, GPU, and memory. It allows you to customize the test methods as per your requirement.
We hope that the above information is helpful to select the right CPU stress test tool for your computer.
CPU Stress Test Utilities List

1] Prime95
2] Aida64
3] IntelBurn Test
4] Core Temp
5] Intel Processor Diagnostic tool
6] PassMark – BurnInTest
7] powerMAX
8] Cinebench
9] HWiNFO64
10] HeavyLoad