Windows updates are important to your system and can be good- until you don't want them for whatever reason. Like we had discussed in one of our previous articles, Windows does allow the users to disable Windows updates permanently as well as for a specific period of time. Now, the different methods to do this, however, could be cumbersome for some users. This is because, in the relatively newer operating system, Microsoft has taken out the direct settings that could help you to stop updates. The OS understandably has loopholes designed to allow certain patches despite are you trying to completely stop them. So, if you happen to get any such unwanted updates, you might have to drag yourself through the hassle of uninstalling those. So we are trying to compile some of the best Windows update blocker tools for Windows 11.
This whole thing can be a little bit aggravating for some users, especially those who have used the simple settings on the older versions of Windows. Well, we are pretty sure you simply have got better things to do than sitting back wrestling with features you don't need. Such concerns bring us to consider of the top 10 Windows 11 update blocker.
Windows update blocker software for Windows 11
Here are top 10 best Windows update blocker for Windows 11 –
If you are worried about Windows filtering in some updates without you wanting to do so, you might be relieved to know that there is a bunch of software available out there that can do the job for you. We have experimented with various such options ourselves before finalizing these for our list. They are effective as well as pretty easy to use for even rookie computer users. Without much delay, let's jump right onto the list of the 10 best Windows update blocking tools. You can use most of these for Windows 11 as well as its predecessor.
1] Windows update blocker
This is one of the most popular and reliable updates blocking software we've found. As the name itself suggests, this tool is specifically designed to keep any new patches from getting downloaded in the background, unless you choose to have them. The best thing about Windows Update Blocker – and perhaps the reason why so many people use it- is the simplicity of its interface. It is very minimalistic and extremely easy to use.
Moreover, the file isn't huge – it is just 800 KB and could be downloaded in a couple of seconds very easily. As you will see once you download and extract the file, the interface just consists of "Enable Service" or "Disable Service" options. If you would like to stop updates, you can simply click on the radio button next to "Disable" service. Once you do this, you wouldn't have to worry about any patch getting downloaded in the background. The whole process is simple as that.
Download Windows update blocker
2] Win Update Stop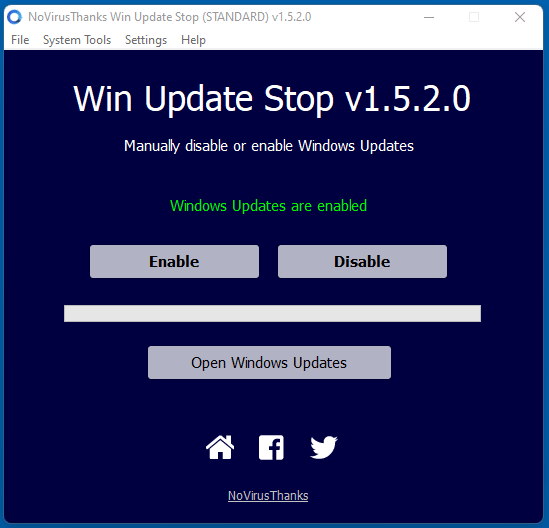 Here is one more option for you to deal with unwanted Windows updates. This one too would let you disable the PC from getting patches in the background. The whole interface contains just 2 simple buttons – Enable (to enable Windows updates) and Disable (to stop any automatic or forced updates. So, clearly, it is extremely easy to understand and use, even for a computer newbie. Windows update stop has proven itself highly effective in what it is designed to do. The tool is very popular for the same reason.
A bunch of small things that make this tool particularly likable is and provides the ability to show the status of updates, progress, patch check, etc, and defender updates. Moreover, this tool allows the command lovers to control updates using command-line parameters.
The best things about Windows Update Stop apps is that it is totally free from Adware or Spyware. Overall, this is a highly recommended tool.
3] Stopupdates10
StopWindows10 is yet another tool you can use to stop or pause Windows 11 updates. The software is again a highly popular one for preventing updates from being downloaded discretely. Its popularity comes from being extremely easy to use and reliable. You can put a halt to the updates with a single click of a button.
As discussed earlier, Windows gets certain forced updates and upgrades. While they offer certain advantages, mandatory patches can be very annoying, especially if it interrupts your works or brings along some bug causing trouble. With help of this tool, you can choose to have updates and upgrades as and when you please or only when you are ready with backup and everything.
Furthermore, another helpful attribute of this app is the "restore" feature. It basically allows you to put the computer back in the state prior to the implementation of the changes. This, in turn, is helpful if you think something went wrong after altering the update settings or when you want to enable updates.
4] WUMgr
WUMgr or Windows Update Manager does a fairly decent job in giving users greater control over their systems. This is an open-source Windows update blocker too. Now, you might find the interface and appearance of this app just a tad more complex in comparison to others in this list. However, you'll figure it out very quickly once you go through the options.
The plus point of this tool is that it offers multiple features as well. In addition to enabling and disabling updates, WUMgr can aid your Windows in searching and installing any pending updates. There are four main tabs in the interface- Windows Update, Installed Updates, Hidden Updates, and Update History.
You will be able to find all the due patches under the Windows Update tab. Simply hit the Download button whenever you are ready to get the next patch.  The rest of the tabs are pretty much self-explanatory. The category also lists the size, KB number, installation date, etc. as well for easy reference.
5] Windows update Disabler
Here, we have another very simple and free tool to block Windows updates. The function range of this app of course mainly includes the ability to enable and disable the automatic patches as well. It can also let you turn Windows Defender security and the built-in Firewall on or off depending on your preferences.
This tool is available in 19 languages, allowing convenient usage for many non-English speakers as well. Another key feature is you can also run this tool directly from a USB, making Windows Update Disabler a very portable program. Plus, it can work on all the older systems too. So if you have computers with other Windows versions, you can use the same for them as well!
Windows update Disabler
6] Kill-Update
Killupdate is a very efficient program when it comes to disable Windows 11 updates. Equally easy to use, this tool is programmed to scan and search for updates every 10 seconds. It will automatically disable Windows update services if it finds the same running- which is quite useful as Widows is set to get the services running automatically. An open-source software, Kill-update is available for users to download and use freely.
The best thing is, Kill-update will start working as soon as you log in to the system and starts working. You can manually disable the tool when you are ready to get the updates.
7] Wu10Man
Wu10Man is yet another additional option for Windows users to interfere with the update settings. This program not only deals with Windows 10 patches but also allows users to control group policy, block certain URLs, etc., in a more straightforward manner. Further, you can have control over certain independent services including Windows Medic Services, and Windows Media Installer through this tool.
One small thing you need to keep in mind is that, in order to install and operate this tool, you need to be logged in as an administrator.
8] WAU Manager
WAU Manager or Windows Automatic Update Manager Sounds similar to the previous tool on this list. It is, however, somewhat different in the interface and options. This program is truly an update "Manager" in the sense that it allows and offers a wide range of functionalities pertaining to updates in one place.
To begin with, it allows you to stop and resume the patches manually. Additionally, you can hide, uninstall, skip and manually install updates using the various options in this tool. You can set the frequency of updates based on your convenience- daily, weekly, monthly, or yearly. Furthermore, you can change settings to get notifications for every due update or choose a quiet, automatic process.
Understandably, WAU Manager offers extreme control over updates to the users. This makes it truly an ideal option for those who are not satisfied with the singular enable-disable programs.
9] .Reg File
However, there are a few effective programs available to stop Windows 11 update you can perform the same task using a .reg file. This will modify the registry entries to disable the update process.
Right click on the zip and select – Extract all.
Now right-click on windows_update_blocker.
Choose Open with > Registry Editor.
You will get a warning dialog from User account Control; click – Yes.
Confirm the prompt from Registry Editor by clicking Yes.
Download the windows update blocker registry file
Or,
Disable_and_Enable_Check_for_updates
10] UpdateKiller
This Windows update blocker automatically identifies running services associated with background Windows 11 updates and stops them. Once you run UpdateKiller it implements some commands to work as a stopper of Windows updates service.
Conclusion
The latest versions of Windows don't really have the simple or direct option in the Control Panel or Settings to disable the updates. Even if you manage to do so through certain workaround available on the system, it won't really stop the mandatory patches or forced updates for long. Given these circumstances, you can take the aid of any of the best update blocker tools listed in this article. Simply put, these tools allow you to have greater control over what is happening on your computer. All of this being said, keep a note to update your operating system at least once every couple of months. This helps with overall OS security and also brings improved features.
Let us know in the comments, which one of these tools do you like, and also if we skipped out on any of your favorite update blocking software!
Software list:
1] Windows update blocker
2] Windows Update Stop
3] Stopupdates10
4] WUMgr
5] Windows update Disabler
6] Kill-Update
7] Wu10Man
8] WAU Manager
9] .Reg File
10] UpdateKiller
That's all!!