There are many things which can't be explained just using words like: how to swim, how to build up certain things, how to make different settings feasible on your android, windows, iPhone, tablets etc. Often you feel that there should be a thing which could explain your feelings in a more suitable way than your words. Indeed there are a lot of things which could be used. One of them is recording a video of the procedure and send it to your friends. This is really a good thing using which you could record the screen, audio and video.
This would help you a lot because often you need to record the screen for variety of purposes. Some of them are like: while chatting on Skype, Facebook, Twitter etc. The video once created could be easily uploaded on the YouTube. Here we are going to tell you some essential websites related to this task and the things which you should take care of while performing different operations online.
Top 5 online Screen Recording Websites
1. Camtasia Studio
It is one of the best online screen recording app. All you have to install this app on your windows machine and start using it. There is only one problem here in this app, and that is that it records the files in .Camrec format. However, you can extract this file into normal video files i.e. mpg or mp4 etc. by opening this file in its player, press right key of mouse and then click on Extract here.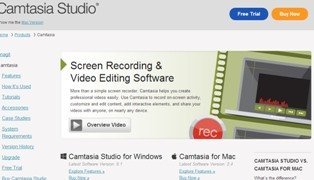 Key Features of this App
High Quality Video and Audio Recording.
Files are recorded in .Camrec format.
Format could be changed using its extraction option which is build up inside.
Multi Track Timeline and Chroma Key.
Improved Screen Recording Technology.
Improved quizzing and Enhanced Assets Library.
Link: http://www.techsmith.com/camtasia.html
2. ShowMeWhatsWrong
ShowMeWhatsWrong is a one of the best online screen recording application which provides its service in combination with Screencast-O-Matic. This app helps you in recording the screen as well as record any audio whenever they are being played on your computer. The working here in this app is kept very simple so that users find it very useful. All you have to do is to fill your name and email id in the blank shown on the home page of this website. Once you fill up the required spaces, a URL will be sent to you via your email address. Now open your email account and look for the message from this website in your inbox. Go to the link provided inside the mail. As soon as you click on the link, a window will pop up where you need to provide a name and click on the Start button. Once you click here, recording will start directly. When the recording is done, click on the Stop button. The recorded file will be sent to you through your email address.
Key Features
Freely Available.
Need to generate a URL to record as well as to download the file as this is done through internet and is sent to email address.
 3. Screenbird
Screenbird is again a fantastic online screen recording app. It lets you record your computer screen easily and then it could be either saved or shared to your friends directly. There is one important feature here in comparison to the one mentioned above, and that thing is that it doesn't require any signing process. You could just visit this website and start recording your screen. This recording button is present at the rightmost center of its home page. Voice could also be recorded using this application. Its feature of cutting the portion which you don't want during the recording process is an amazing one. The recorded files could be directly uploaded to Facebook or Twitter from here. This website also provides you the facility of uploading recorded files directly on YouTube. For uploading files, obviously you have to sign in. It records for 30 minutes at a time, and in the free version you can only enjoy 150 minutes of recording with expiration of the video in 6 months. You could increase its recording video length but for that you have to buy this application.
Key Features
This app is fully an open source project.
Record whole as well as parts of your computer screen.
Provides you Private as well as Public links.
Maximum number of team members.
Create Video Outlines.
Link: http://screenbird.com/
4. Screenr
Screenr is again a beautiful online recording screen app. Like the Screenbird this app too doesn't require any sign up for recording your screen. However, you could sign up at this website to get extra benefits of this website. Normally, you just have to click on Record button to start recording your screen. Once the recording has been done, you could just click on Done option or press Alt+D to stop the recording process. Voice could also be recorded using this application. The recording screen could be adjusted according to yourself. There is a facility of directly publishing the recorded video on your Facebook, Google, Yahoo, YouTube. However, to do so it requires a sign up. This app doesn't provide any option of saving files directly which really a big problem. You couldn't record more than 5 minutes of a single file.
Key Features
Restriction on recording length of any video file.
You could not record any personal video.
Good for only short clips.
Need to install Java File to run this properly on your computer.
On signing up, you could see Public Steam as well as your screencasts.
5. ScreenVideoRecorder
Screen Video Recorder is a beautiful offline screen recording software. It is mostly used by the professionals. Once you have downloaded this software from the link provided below, recorded a file, the file could be converted into various other formats. It gives you tips on how to record your computer screen in a very quick way. It has a decent and wonderful interface with good stability. Handling in this software is very easy and is very efficient to use this app. This software could be used for making demo/tutorials videos for training of others.
The software assist you to record video and audio on screen of your Computer. It makes you able to audio, video and microphone sound recording respectively or synchronously. At the time of recording, the program minimizes to tray itself. So your recording runs without any interruption.
Key Features
Recording is done through webcamera.
You can capture screen as long as you want.
Convert video without any delay.
You can schedule a task.
Various forms of recording area are offered.
Conclusion
All the above mentioned software are tried and are found to be very effective and efficient. Each has its own importance, so go by its features and then match your desires with the different software present here.