Total Call Recorder is a free app of android devices used to record calls. This app works completely flawlessly. You can record any call with Total Call Recorder using Android Phone with this app very easily. It could also run in the background letting you do multiple tasks. It makes sure that you don't miss any call because of this app. The interface of this app is very smooth and attractive. The developers have made sure that no stone has been left unturned to make sure that this app provides a very smooth experience on your Android device. On my test device, I experienced no lags or crashes whatsoever while running this app.
The simple, intuitive interface with a huge number of features and controls, makes it the must have for every Android users and smartphone vendors. A screenshot of this app is shown below: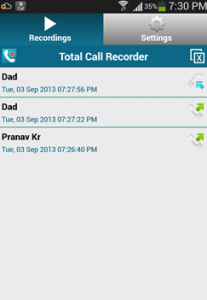 You could have this app as a free download via Google Play Store or you could simply visit to the link provided at the last of this article.
How to use and play with Total Call Recorder app
Once you have installed this app on your android device, a splash screen will pop up in front of you which provides a professional look on your device. It generally cuts the annoyance of a splash screen which might stay for a long period at the same time. When this splash screen disappears from your screen, a new window will comes out. This is the main interface of this app. This main interface is divided into panels as shown in the above screenshot. The two panels are described below:
Recording: This is the main feature of this app. It allows you to record incoming calls incoming as well as outgoing. There are special icons for two types of calls. There is a blue arrow facing towards the phone for incoming calls, green arrow going upwards from the phone is for outgoing calls. These two different icons let you know which call you are recently recording. You can pre-decide whether you are going to record it or not. You could also click on the recording option to record the call which is going on too if you haven't chosen the automatically on button. The recorded call could be listened once you are done with the recording by clicking on the Play option.
Settings: This section provides you all the customization settings which you are going to do for your android devices. This is a very simplistic as well as with no confusing options present in it. There is only one option present here which asks you for On or Off option.
In the screenshot above, you could see the two sections described above. Settings On option start to record any calls automatically on your behalf. You could also bring up additional menu from the bottom of the screen by clicking on the options soft key on your android device.
Key Features of Total Call Recorder App
Completely Free App.
Intuitive and Easily understandable Interface.
No Promotion of Ads.
No Complex Settings, Easy Configuration.
Proper list of recording of outgoing as well as incoming calls.
Once set on ON position, it automatically records call.
Conclusion
Total Call Recorder is a fantastic app allowing you to record calls. It could automatically record any calls for you. No promotion of ads lets you do the recording of calls in an efficient manner without any disturbance. It is a worth trying app.