Urgently Shutdown or Restart Windows 10, 8, or 7. – There often come the situations where we think of shutting down our laptop or PCs urgently. Similar conditions also hold for restarting them. There came some situations like Your Mouse stops working, the laptop is hanging a lot, Browser not working even after restarting them. In such situations, we need to shut down our PCs and then restart them. It is also found sometimes that your windows don't shut down as it does normally. There are several options out there. We will discuss here some of them.
In case, if you are working offline, then there is not any problem with saving data. There, you can simply plug out the power wire. However, in many situations, this is not a good choice. What we do then is explained below:
Recommended: How to Launch Chrome Either in Desktop or in Windows 8 Mode
Urgently Shutdown or Restart Windows 10, 8 or 7
1. Ctrl+Alt+Del (Shutdown) 
This combination is mostly used by the maximum number of users for any problem that causes them a little disturbed. Pressing these keys on Keyboard actually, opens Lock screen for you. Here, on the Lock screen, you can manually select either signing off, shutting down, or other options like closing any particular browser or application running on your screen and is not being closed or hanged. Pressing Ctrl+Alt+Del will open screenshot shown below:
Here in the above screenshot, you can easily understand what you have to do for shutting down PC in urgent condition. Simply click the Power icon and get relief from trouble. You can also use Switch User option as it solves the problems most of the time.
2. Alt+f4 (Shutdown) on Windows 10, 8.1, 7
This key is a deadly combination. It closes the screen on which you press these two keys simultaneously. To shut down your PC, all you have to do is to press this combination on the screen and it opens a dialogue box which is shown below: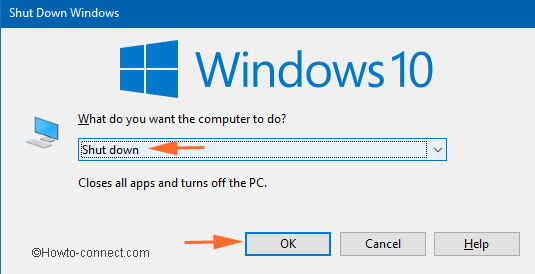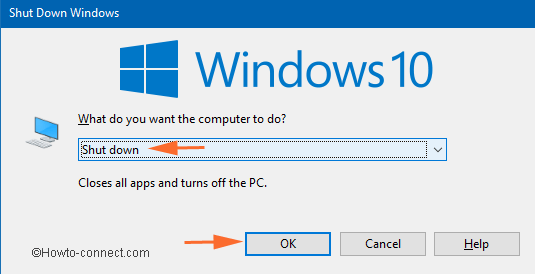 Here, you just have to press OK option to shut down your PC.
3. Ctrl+Alt+Del (Restarting) 
This combination can also be used initially for bringing up the login information screen. Pressing these keys will show you the Lock Screen, all you have to do is to log in your id and password here to enter your system.
Note:  
Click OK to urgently restart. Any unsaved data will be lost. Use this only as a last resort
Use this restarting option carefully as Windows will not give you any pre-warning in case there are some problems
Any unsaved data would be lost in this case.
Conclusion
All this information to Urgently Shutdown or Restart Windows 10 are quite known to many people. It is just how they can use this information in the day to day life which is the most important thing.
Must Read:
Windows 8.1 Tips – Display more Apps on All Apps Screen