MiniTool ShadowMaker is a simple interface tool that organizes tasks such as Backup, Restore, Manage, and Logs. This utility helps you restore operating system to the previous state even when your computer fails to boot. MiniTool ShadowMaker Freeware works for creation, management, and store images on your PC or on a remote system connected to a network. See a Guide – Windows 10 – How to Backup System Image.
MiniTool ShadowMaker is a good third party software with a great number of features and functionality. This software supports the running of all the jobs as full, incremental or differential. All the backups find a place in the Restore category So to know the methods to use MiniTool ShadowMaker stick to our article. Follow one more guide in this concern – How to Restore Current Backup on Windows 10.
How to Use MiniTool ShadowMaker to Backup and Restore System Image on Windows
Download MiniTool ShadowMaker
Step 1 – Search MiniTool ShadowMaker software in Google.
Step 2 – Now move as per the guidelines to get through the downloading and installation process.
On the first launch, the software asks to spread a message about the program on social media. The program opens a browser window at Facebook or Twitter. But remember that it is not mandatory. Consequently, if the user has no intention to do this they simply close the browser window and get back to the backups.
Use MiniTool ShadowMaker
BackUp
The main function begins after clicking the Backup option. Selecting the or destination lets the customization for choosing drives and partitions. This option is on top of the single-pane software.
It gives immense pleasure to see that simply hitting Backup Now option creates the image.
Options dialog gives, even more, authority in taking care of the backup. It allows adding a comment, setting up compression and password protection, defining the backup mode, setting up email notifications.
It also gives an option of a flexible Schedule allowing you backup daily or on specific days of the week or month.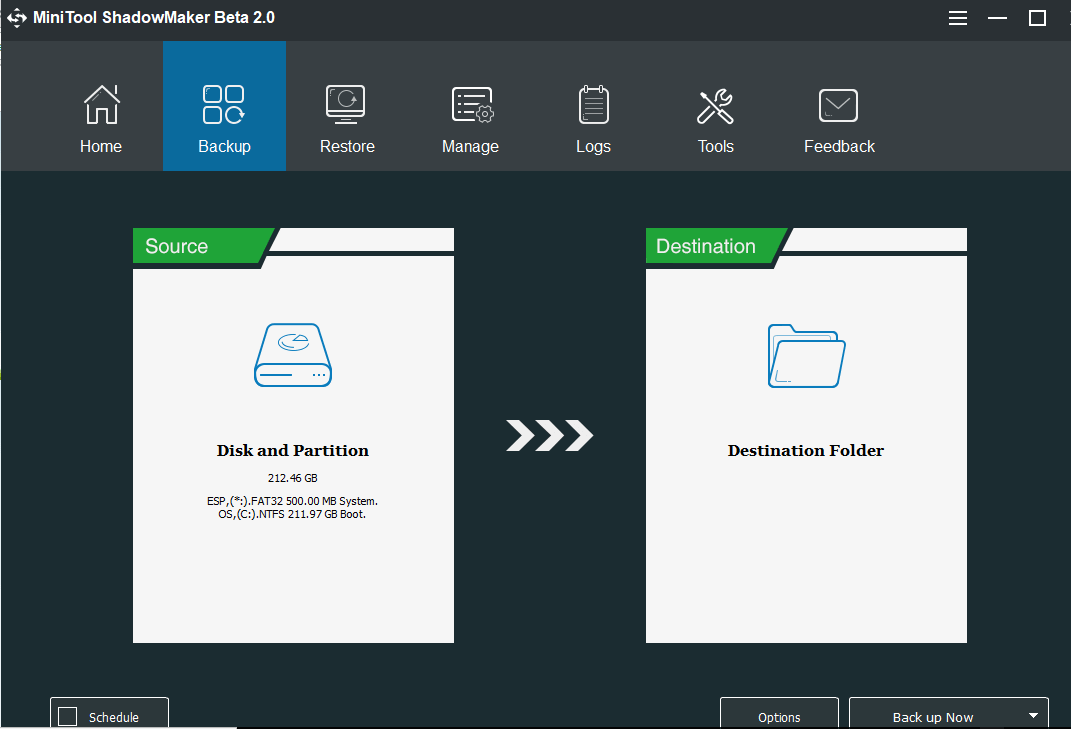 Logs
This shows all the backups done for the specific time period.
Manage
It lets the closing down of the PC after the copying is over.
Tools
Tools include the integration of the boot menu or installation on a disc or USB drive. It also has a Mount option for backing up images from the Explorer; a Clone Disk tool; a backup verifier, and more.
System Requirements
MiniTool ShadowMaker is compatible with all kinds of Microsoft Windows, right from Windows 7 up to Windows 10.
Go through the details and methods to use a third party tool for cloning – How to Make a Clone Hard Disk to Backup.
Conclusion
Hence we see that MiniTool ShadowMaker is a useful third party software for making a clone of any image. So if you are searching for a tool that creates and stores image then the search should end now as this tool satisfies all your criteria. Therefore, use MiniTool ShadowMaker to Backup and Restore System Image on Windows.