Although Google has become the most common search engine for those who need to switch between the search engines (for instance getting news feed from Yahoo and then Google) you may rummage through others to get what you want. Firefox is the most customizable web browser among others in this regard. With its new Scroll Search Engine add-on, it provides a shortcut to navigate through a list of different search engines at a time just by scrolling your mouse where earlier it involved a tedious job to go to the drop-down menu of the Search bar and then selecting the desirable search engine thus making it easier to make a search on your preferred engine.
Now you just have to go to the Search bar beside your URL and hover your mouse above this bar and scroll your mouse to select the engine that you want to use. This also works when you have selected a word and right clicked to search the web for it, then you can scroll when you are hovering over the "Search Google for…" menu item.
How to use Scroll Search Engine 
A simple illustration is presented below in a screenshot to give an idea of the above.
Without Scroll Search Engine add-on:
Click on the Search bar and select Search Engine from dropdown.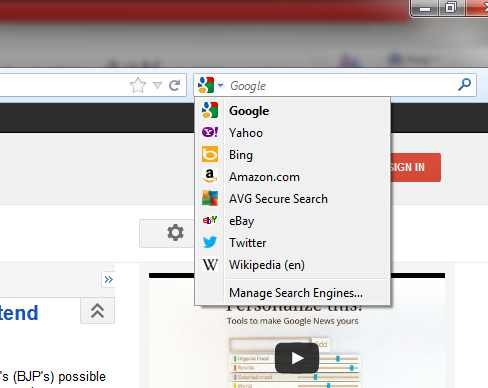 With Scroll Search Engine add-on:
You can change among Google, yahoo, amazon, Bing, and others just by scrolling. With this link, you can add it to Firefox. It does not consume much space in your system as it is around 10 Kb only. Also, it does not add any other display to make your toolbar cluttering with buttons. After adding it, you simply have to place your mouse cursor over the Search bar, scroll down to see the available search engines in the same order as they appeared on the menu and leave it without having to click. The search bar menu still works and does not get disabled by this add on and thus only enhances the overall searching process.
How to use it in the context menu?
It can be used to search a selected word or text in the search engine. You just have to right click and place the mouse cursor over the "Search Google for…" and you can scroll to change it to the other search engine.
The add-on also supports keyboard shortcuts Ctrl+k and Ctrl+shift+k to change the search engines with the keyboard. Alternatively, an option of scrolling in a loop is also available so that you get back to the initial search engine after going through all till the end to maintain the continuity of the scroll. You can enable this loop by configuring it in the options window of the add-on.
To conclude it is a minute yet useful add-on to make your search effective and time saving.