The BlackBerry 10 handset has gained more admire in recent time by their world-wide users. The developer team of BlackBerry 10 has tried to fix the entire hard situation themselves. A good news for Black Berry 10 users that they can also side load popular Android apps on their handsets with chrome extension and WiFi. The complete procedure is quite simple and only takes a few minutes to install Android apps to your Black Berry 10 both models (Z10 or Q10).
Required Items
A BlackBerry 10 Smartphone either the Z10 or the Q10.
A Windows system with Google Chrome browser installed
A WI-Fi network that will help you to connect both.
First Step
BlackBerry 10 setup
At first, you need to enable developer mode on your BlackBerry 10 phone. To do this, go to the main menu and tap on the Settings option.
Next tap on Security and Privacy option and then tap on

Development

Mode.
From there, turn on

Development

Mode by sliding the toggle button beside Use Development Mode option.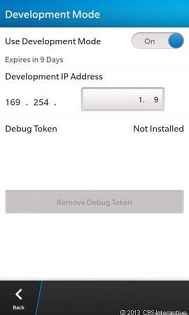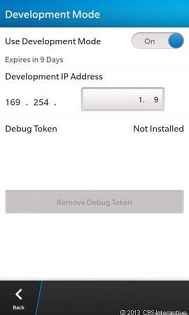 Second Step
Install PlayBook App Manager Extension to your chrome Browser
Now you will have to start the Google Chrome browser on your window system and download the PlayBook App Manager Extension from Chrome app store.
Visit Chrome Store 
Third Step
Connect BlackBerry 10 and your computer with WiFi connection
Next, connect your BlackBerry 10 handset to your computer using same WI-Fi network. After this, you will have to catch the correct IP address of your BlackBerry 10 handset.
To do so, go to settings and tap on About option under the Network Section.
Punch this IP address number in the PlayBook App Manager window provided and click on the Save button.
Fourth Step
Search your favorite Android app you want to install
The two sites offer you a massive collection of free BlackBerry 10 apps that you can side load to your BlackBerry 10 device. Keep in mind that both sites allow you to download Android apps in BAR extension instead of  default APK extension.
Androidbars.net
BB10bars.net
Fifth Step
Install Android apps to your BlackBerry 10 phone
After downloading your favorite Android apps to your computer, go to the Chrome browser and open with the PlayBook App Manager.
The next and final important step is to drag and drop the BAR app file which you have downloaded before.
Then after, the PlayBook App Manager extension will ready to install the app to your BlackBerry 10 handset. It can be indicated through a progress bar in the upper left side.  Here, all 

installing

 process is done over WI-Fi connection.