Ubuntu Lockscreen is a free application for Android allowing you to get the Ubuntu phone OS lock screen on your Android device. There are a lot of changes being done in making the Ubuntu Phone OS. Rotary Heart Tools the developer of this app has already designed an exact look-alike screen for Android. Ubuntu Phone OS original lock screen and the look of this app has a lot of similarities. One cannot say that  this doesn't seem to be a part of the Ubuntu Phone OS lockscreen.
The Lockscreen of this app looks very cool and attractive. It is not a part of Ubuntu rather it is developed from the scratches. A screenshot of this app is shown below:
Ubuntu Lockscreen is available as a free download from the Google Play Store. You could have this app by searching it here in the play store.
How to use Ubuntu Lockscreen App for Android

Once you have installed this app on your device, run it from its icon present on your android device. When you run this application for the first time, it will ask to set it as the default launcher for your handset so that it could lock your screen when the next time your mobile is going to sleep.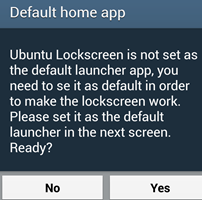 On the above window, click on the yes option and there you are with the new lock-screen of Ubuntu on your device. This new lockscreen will replace the pre-existing lock screen of your device. Again, you will be asked to choose a launcher for your device among the following: Nova Launcher, Touchwiz launcher etc. which is to be used along with the Ubuntu lockscreen app. You could choose the launcher which suits you the most. It should also be noted that if you don't have any kind of launcher pre-installed on your device then Ubuntu will not ask this question to you of choosing any launcher. In that very case, whatever the default launcher is present in your device will be made the launcher for Ubuntu lockscreen.
After the selection of the launcher you are all done for starting your lock screen. Now you could easily lock your screen. You could also change some settings which are present on your handset previously. You could simply change the colour, music colour layout, notification animations and others as well using it settings option.
After using this lockscreen, if you feel that it is not that much useful for you, you could simply check out the MagicLocker Main lock screen app for Android. If you feel that Ubuntu Lockscreen does not fit your needs, you can also check out the MagicLocker Main lock screen app for Android.
 Salient Features of Ubuntu Lockscreen App for Android

Completely Free App with no hidden charges.
There is no promotion of ads while using any feature of this app.
There are control keys for Music player on the lock-screen.
It gives you an exact Ubuntu Phone OS lock screen reproduction on Android.
This app is highly customizable.
It allows you to alter the settings for colour theme, animation effects, display user information and many others.
Conclusion
Ubuntu Lockscreen is really a very nice application for those who love different sets of customization. This app is mainly created to give its users a flavour of Ubuntu on Android devices. You will love various features supported by this app.
https://play.google.com/store/apps/details?id=com.rotaryheart.ubuntu.lock.screen