Photivo is a free app which lets you edit photos in a very convenient manner. It supports Windows, Mac OSX and Linux as well. It is an open-source photo processor that handles raw files of yours as well as your bitmap files like TIFF, JPEG, BMP, PNG etc. in a non-destructive 16 bit processing pipe with gimp workflow integration and batch mode. This app also tries to provide the best algorithms available on its website. You will see here the most flexible, powerful denoising, sharpen as well as local contrast. Note that, this app is just a developer, so don't confuse it with a manager or gimp.
This app could be used in collaboration with digiKam/F-Spot/Shotwell and Gimp. It needs a quite strong computer and is not aimed at beginners. The interface of this app is neat and clean. A screenshot of its home screen is shown below: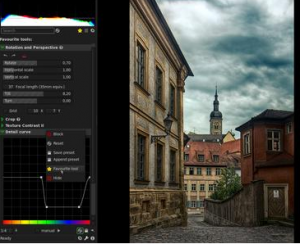 A link has been provided at the last of this article from where you can access to this beautiful app.
How to use this app
The work on Photivo (as most other open source software) is done by people in their spare time without payment. On its official website, you can see a Download option where there is an execution file for different operating systems in the form of their binaries. Choose the one on which you want to use this app. Install this app properly. Running this app will open a window like the above shown screenshot where you can do dozens of improvements in your pictures. Below I have described its function according to its Operating system.
Windows 
Photivo contains a portable mode for Windows. Portable mode makes it possible to carry Photivo around on a USB drive or SD card by keeping all program files and settings together in one place. For enabling this mode, all you have to do is to create a file called use-portable-file  (just like this, no file extension) in Photivo program folder (where photivo.exe is located). The contents of this very file are not so important. All the user data like settings, presets and other important things are stored here on this file. For knowing more about this visit the Windows section of this app.
In a similar way, it provides Packages for Linux and several utility tools for MAC to carry on the above purpose as done on Windows. This is all you need to know for having an overview of this app.
Key Features of this app
A free app with major overhaul of the file manager
Allows Keyboard keys to copy and paste things
Thumbnail images can be loaded like "full" images
Use Ctrl+Shift+C and Ctrl+Shift+V to copy/paste settings to/from clipboard
You can undo as well by pressing Ctrl+Z and redo by Ctrl+Y
Open your raw files/ only bitmaps in the file manager
Previous/Next buttons are used to see previous and next images in current folder
Settings could be reset to by default just by pressing Ctrl+Shift+R or the previously used by Ctrl+Shift+U

When loading an image auto-load associated settings (i.e. when a .pts with the same name as the image exists in the same folder).
Final verdict
Photivo is a nice app that lets you do creative photography by using its different features. I love its open platform where you can enter inside it for changing its coding of the way it looks like. Not only the coding, it also allows its users to understand its translation by helping this site or by improving its documentation. Overall, this is a good app to try on.
Link: photivo