Here we are with topic What is Safe mode on Samsung and how to remove it on your phone and tablet of this brand. Android operating system has a backdoor feature to offer its users to access diagnostic program.You can apply this to troubleshoot your system when the OS doesn't perform well. Samsung devices users often get troubles with the safe mode. Because of this mode, you will be unable to use the applications of Play store and System's features that put more load on resources. You can use only texts and calls.
What is Safe mode on Samsung?
If you need to know what is Safe mode on Samsung then be clear that this is a feature of Android. It allows users to boot up the device such as phones or tablets with only the basic application running. The tool is introduced to rectify the problems created by defective and corrupt apps.
Safe mode is an alternative to Factory Reset and it will not involve losing any file. It runs the device with only the essential apps and put back the device to factory settings without any data loss.
Once you initiate Safe mode, you can repair errors on your Android phone and tables of course. Now come to How to remove Safe mode on Samsung phones and tablets.
How to Remove Safe mode on Samsung Phone and Tablet
There are quite a few ways to get back from safe mode on Samsung phone and tablets. Here are these:
Method-1: Using Restart of Device
Step-1: Continuously press the lock or power key for few moments until Power Off appears on the screen. Touch this option to shut down the device.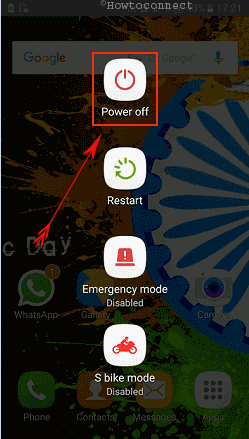 Step-3: Once the phone is Off completely, long hold down the Power key to Switch it On.
With the restart, the Safe mode will be disabled directly. If this way doesn't work, check whether the volume key is not stuck. If everything has gone well and still the safe Mode persists, follow the next method.
Method-2: Via Volume key
Step-2: Press and hold the Power key until the Samsung Logo appears on the screen.
Step-3: Now release the power button and immediately long press the Volume Down key for few seconds.
"Safe Mode: OFF" text will appear on the screen and you can be confirmed that the Safe mode is removed.
Image
Method-3: Through Removal of Battery
Withdraw the battery out of the device when it is running and wait for about two minutes. Place it back to the device and switch it On normally using Power key.
Closing words
We have got to know what is safe mode actually and when to use this one on your device. Undoubtedly, it resolves so many errors without losing any important data from the device which factory reset does actually. However, we have also discussed How to remove Safe mode on Samsung phone and tablet when we need to get rid of it.