You can Protect Chrome from Meltdown and Spectre Vulnerabilities as this browser offers an option that can secure your PC from web-based attacks. The attackers use a malformed code to access private data like keys, passwords and so on. This happens as the Intel processors in past one decade are getting slightly prone to such threats easily. If the Javascript is enabled in Chrome, then intruders can steal your personal data. However, recently, Google has released a new version of Google Chrome with a good number of security fixes. You need to enable Full Site Isolation and secure the web browser.
How to Protect Chrome from Meltdown and Spectre Vulnerabilities
Step-1: Launch the Google Chrome browser on your computer and edit the address bar by clicking it. Type or copy/paste the following URL in that field.
chrome://flags/#enable-site-per-process
Step-2: Press Enter key and on the following page you find the option Strict Site Isolation. Click on the Enable button located on the right side as indicated in the image below.
Step-3: Click Relaunch Now button after saving your work.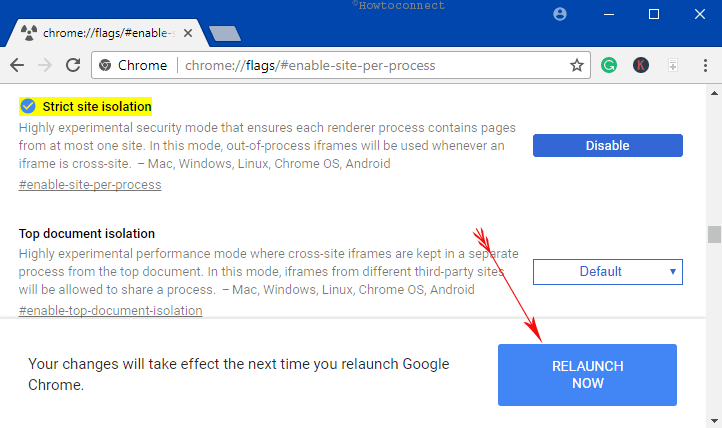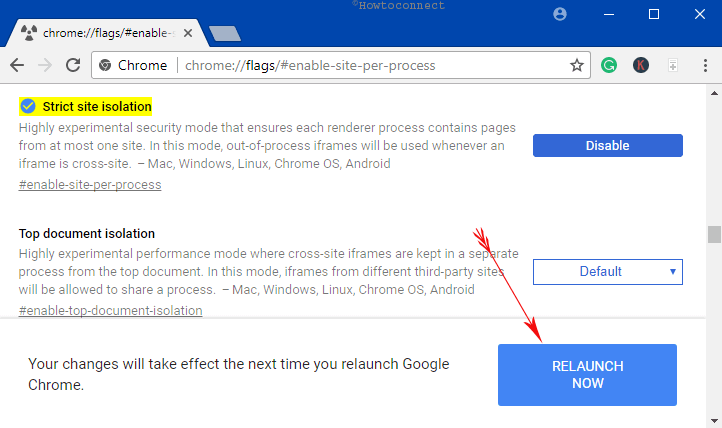 Thus, enabling the Strict Site Location will restrict the Meltdown and Spectre from stealing personal user information.
You may like to read another fix of this browser – Your connection is not Private Chrome Error.
Full Site Isolation
Chrome offers a special type of security feature in order to protect you from security bugs. This feature is Full Site Isolation which makes the task for the untrusted websites harder to access your personal information, passwords etc. Usually, websites cannot access the personal data from the browser. But certain bugs, as well as malicious websites, bypass the security codes to do so. Site isolation provides an additional line of defense so that vulnerabilities fail to breach the security.
Since Chrome officials have decided to release this feature in version 64, you need to enable it manually to Protect Chrome from Meltdown and Spectre Vulnerabilities.
Conclusion
Unauthorized Websites tries to breach the security of web browser as to steal personal data. Sensitive files and passwords are the prime targets of the attackers. Even using a simple JavaScript, they can reach up to their goal. Hence, we need to Protect Chrome from Meltdown and Spectre Vulnerabilities. As the perfect solution is not yet available at present, you need to think either way. Therefore, we have discussed the process to enable the Strict Site Location manually. It will increase the security and thus you can keep private files safe from malicious websites.