Enjoy the sweeping views of flowers grow freely in valleys with wallpapers in Microsoft Store. This personalization app contains 18 beautiful images that all are in 4K quality to adorn the desktop background.
Wildflowers PREMIUM Windows 10 Theme is free moreover people of ages can get this app from the store by using their Microsoft account. On top of that, you will be able to install the pack on up to ten Windows 10 devices with the same account. However, to run this theme without any hitch, some basic requirements should meet by your PC.
Wildflowers PREMIUM Windows 10 Theme
Here is how to download, install as well as apply Wildflowers PREMIUM Windows 10 Theme –
Visit the wallpaper page of Microsoft's official site.
Click the Get button to commence the procedure.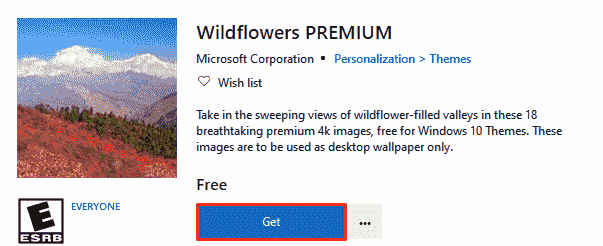 Doing so will bring a Microsoft store page which holds inside info of stated theme.
This time, hit the Get button to begin the downloading process.
Prior completion, the system will start installing the Windows 10 theme.
Once you get a pop-up confirmation in the system tray, click on Apply.
When Themes Settings page makes an appearance, switch to the right pane and select Wildflowers PREMIUM.
As an alternative, you can directly launch Microsoft Store from the Start menu and use its search bar to look for the named theme. After getting the same, enter into its page and simply click the Get button. Once the system finishes installing the item, open Windows Settings app by press Win+I and proceed to Personalization => Themes.
System Requirements
In order to have the best user experience with Wildflowers PREMIUM, your machine must meet the following specifications –
The machine should be running Windows 10 operating system whose version is 14951.0 or higher.
The architecture of the system must be compatible with x86, x64, ARM, or ARM64.
That's all!!!