Microsoft, today, rolled out Windows 10 Build 18908 20H1 to Fast ring with a bunch of features and fixes. The main focus point of this update is Your Phone app which gets may enhancements. In addition, the build comes with the fixes for Night light, color profiles, battery drop down, power icon on start menu issues and more.
You will get Windows 10 Build 18908 automatically if either you haven't disabled or paused the Windows update manually. If not got till now So rush to Settings => Windows update and click on Check for updates.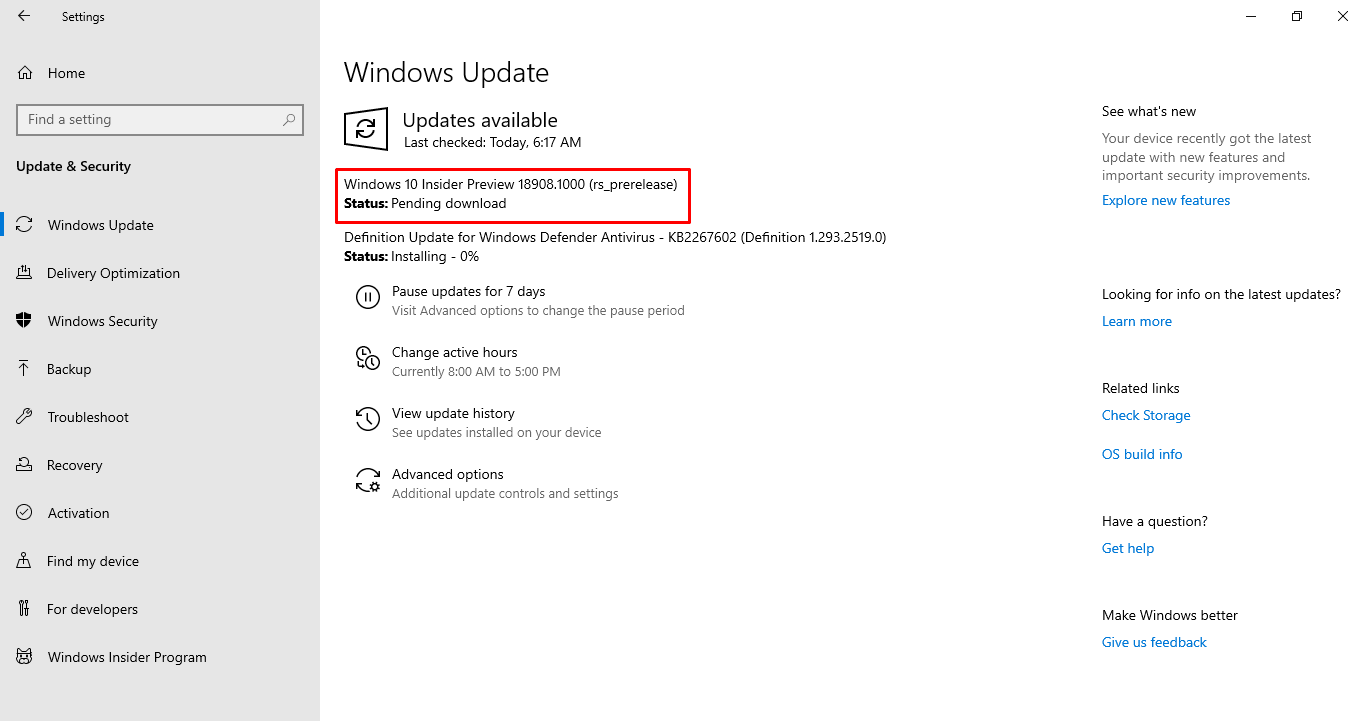 Windows 10 Build 18908 20H1 Features and Fixes Details
Here is the changelog –
Your Phone app new features
The update carries a number of modern features to the Your Phone app for Windows 10 insiders.
Phone screen gets Accessibility features, keyboard language, and layout, new phone models
The build introduces 2 accessibility features – focus tracking and screen reading. Furthermore, you are able to easily switch your keyboard language or layout while on the phone screen after installing Windows 10 Build 18908.
Screen reading
If you are using TalkBack, you have the ability to turn on Your Phone Companion accessibility service. This is located under the accessibility settings, for easier cross-device reading. Narrator will start on your computer system after enabling Your Phone Companion accessibility and TalkBack services. This will also explain what to select and activate on your phone screen for the interaction using mouse or keyboard on PC.
Focus tracking
The current build comes with Focus tracking which allows interaction with Android phone's applications at your desired magnification while using phone screen. This feature seamlessly follows the mouse pointer input as well as keyboard focus.
In order to turn on focus tracking accessibility, you will definitely have to enable both of the "TalkBack" and "Your Phone Companion accessibility service". Once done, you become able to enable Magnifier on PC using the shortcut: Windows and (+). Either you can unfold the ease of access tool from your Windows menu.
Keyboard language and layout
Phone screen toolbar will present a new icon which drives you to the phone settings page. Here you can set your favorable keyboard language or layout. This setting will not modify either phone's language or a keyboard configuration. Moreover, it is specifically for physical keyboards, so it only applies when you're typing into your phone from your PC.
Phone screen now supports more Samsung phone models
The phone screen now received supports for Samsung Galaxy A8 and Galaxy A8+. The list will continue to expand over time.
Phone screen requirements
The phones running Android 7.0 or greater
1] "Samsung Galaxy S10e", "S10", "S10″+, "S9", "S9+", "S8", "S8+"
2] Samsung Galaxy Note 9, Note 8
3] Samsung Galaxy A8, A8+
4] OnePlus 6, 6T
In addition, Windows 10 PC must include Bluetooth radio that supports low energy peripheral role
PC running minimum Windows 10 Build 18338 and later.
Android phone must be in the circle of Bluetooth range of the PC and connected to the same network as the PC
Known issues
Touch input does not function.
Blue light configuration will is not applicable to the phone screen displayed on the computer.
Other audio in addition to screen reader feedback, will play out of the speakers, of phone rather than the PC.
If you turn on both accessibility features altogether while running focus tracking, the magnifier rectangle will follow your navigation, but the visual Narrator rectangle will remain static, even though it will read out the correct text.
New messaging features
Send and receive MMS messages – You are able to receive and send GIFs and images, moreover Giphy, right from the Your Phone app.
Unread message indicator (badge) –

Nav pane will have a visual indicator on the Messages node, showing when you have unread messages
A visual indicator of the Your Phone app icon will be placed on your computer taskbar, meaning you have unread messages.
Unread conversations will be in form of Visual indicator under threads that tell about unread messages.

Your Phone app will synchronize contact thumbnails for entire contacts that are available in profile images. This will help you to easily identify the message sender.
In-line reply – You are able to instantly reply to text messages using toast notifications instead of opening the Your Phone app.
Emoji picker – Supports Smileys, people, food, and more. You can easily add emojis to your text messages right from within the app.
Your Phone can now sync over mobile data
Windows 10 Build 18908 will allow syncing notifications, messages, and photos over mobile data.
Colorful new icons
The Your Phone Companion icon has absolutely a new look on the phone.
Windows 10 Build 18908 Fixes
Windows 10 team solved night light wouldn't turn with fast startup enabled without going for a restart.
The developers resolved color profiles/gamma wouldn't turn with fast startup enabled con without going for a restart.
They settled some features on Start Menu and All apps that were not localized in languages, for example, "FR-FR", "RU-RU", and "ZH-CN".
Windows 10 Build 18908 includes a solution for WMA lossless decoder that was outputting junk if it was in 24-bit mode. This was affecting some music players.
The update brings a fix for battery options drop-down in Video Playback Settings that was unexpectedly becoming blank.
Windows 10 experts from Microsoft fixed Power button in Start that might not display a dot indicating "updates are available", despite update and restart.
They solved MS Paint selection that was moving in large steps per key press when using the arrow keys.
The build substitutes User Dictionary with Add word in the context menu of Japanese IME. Hence, you can add words to your user dictionary in fewer clicks.
Windows 10 build 18908 includes a solution for the Narrator that stutter while reading out progress bars.
It also carries fix for the Narrator that was causing Firefox to crash when navigating by heading.
Microsoft stopped the rollouts of Settings header and the new File Explorer search experience.
Windows 10 Build 18908 Known Issues
Certain PCs might not display the update installed on the update history page in the Home version.
Some PCs might not show the download progress %  change on the Windows Update page in the Home version.
PCs running 19H1 may crash because of older versions of anti-cheat software applied to games. Microsoft is trying with partners to release the software updated to settle down this issue. Maximum games have rolled out patches in order to prevent this problem. So if you want to avoid such kind of situation please make sure you are running the latest version of your games. Microsoft is also actively working with anti-cheat and game developers to resolve the potential problem with 20H1.
Certain Realtek SD card readers are not working correctly. Microsoft is investigating the issue.
When running remote desktop (RDP) to connect to an enhanced session VM, taskbar search results will not appear. Instead, you will view only a dark area unless restarting the process searchui.exe.
A noticeable lag occurs when dragging the dictation panels and emoji.
Tamper Protection may be found disabled in Windows Security after receiving this build. You can enable it back.
Selection of a color filter may not bring its effect right away unless the option is disabled and enabled again.
Settings app may experience crash when going to Graphics page.
"IME candidate window" for East Asian IMEs, for example, "Japanese IME, Simplified Chinese, and Traditional Chinese" may not launch at times. As a temporary workaround navigate to Task Manager and end WindowsInternal.ComposableShell.Experiences.TextInput.InputApp.exe task.
Character width is surprisingly changed to Full width from Halfwidth in In Bopomofo IME.
Known issues for Developers
When you turn on Option content it will after switching the ring for instance fast to slow or Release Preview. You will need to cling with the Fast ring to add/install/enable the content. The reason is optional content only installs on builds stipulated for specific rings.
Source – Windows blog.