Windows 10 Build 18985 20H1 comes out to the Insiders in the Fast ring carrying a list of fixes, changes, and improvements. This specific update in the Release Preview doesn't offer much in the way of new features but does bring more polished Bluetooth pairing experience. Besides, it is based on the Swift Pair system that the company introduced in April 2018 Update. With this build, the team makes it easy to view all the optional updates in one place. For instance – drivers, feature updates.
Being into the Fast ring, you're able to straightaway get Build 18985 20H1 via Windows Update. For this, just open the Windows Settings app and then expand the Update & Security. Thereafter, click on the 'Check for updates' button and let download the build on your Windows 10 PC. However, you're able to get this build automatically. Here, you need to ensure that you haven't disabled or paused the automatic updates feature. Let us walk through the details and see what important features and changes build 18985 carries for you.
Windows 10 Build 18985 [20H1] Features, improvements, Fixes details
Here is the Windows 10 Build 18985 changelog –
Improving your Bluetooth pairing experience
With this build, Microsoft expert proclaimed a new modernized experience for pairing supported Bluetooth devices for Windows 10 version 1803. On installing this update, you will observe a notification which helps you to go through pairing. Microsoft is releasing an update with these improvements.
Here's what's new –
Now, there's no need to open the Windows Settings app for making a pairing. It is all done in the notifications panel.
For quicker pairing time, the team enhanced the user interface by showing one less notification.
With this build, a Dismiss button is added. It will grant you more control while using Swift Pair.
Now, the team will display the name of the computer and category of the notification.
Furthermore, this new experience is currently rolled out to halved of the available Insiders. Here are the list of supported devices –
Surface Ergonomic Keyboard
Surface Precision Mouse
Microsoft Modern Mobile Mouse
Surface Mobile Mouse
Microsoft Arc Mouse
Surface Arc Mouse
Surface Headphones
Improving your optional update experience
Microsoft team is working on making it easier for you to see all optional updates in one place. For example – including drivers, feature updates, and monthly non-security quality updates. You can access this feature by navigating the following path – "Settings > Update & Security > Windows Update > View optional updates".
Other updates for Insiders in Windows 10 Build 18985 [20H1]
Snip & Sketch app update
The company has started pushing out Snip & Sketch version 10.1907 to the entire Insiders available in the Release Preview ring. Moreover, they will also grant this update out to a small percentage of those using retail builds. As a reminder, this update comprises two important improvements –
Single window mode
According to the software giant, some users prefer the previous snip to close when they click New in Snip & Sketch, therefore, now it will not terminate with a bunch of windows. Going forward, this will be the default option. However, on the other hand, multiple windows will also be an option if you go to "Snip & Sketch settings".
Zoom support
With this update, you are now able to zoom in on your screenshots if they're a little small. Moreover, if you want to keep a small Snip & Sketch window, the company also zoom out to ensure the whole snip fits in the Snip & Sketch window.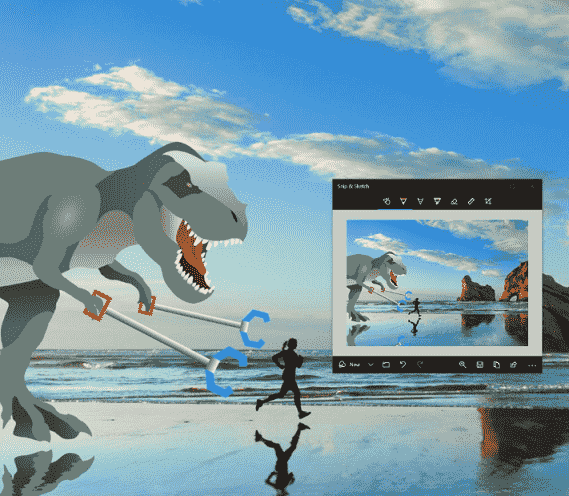 Windows 10 Build 18985 General changes, improvements, and fixes for PC
Microsoft technician provides a resolution by which you will not experience any issue while installing a new Language Pack.
The company resolves an issue affecting the reliability of Settings when accessing the Network & Internet section.
Windows 10 team fixed an issue that could result in printer entries not presenting properly for non-admin accounts—the text overlapping, and not being clickable.
Another issue has been fixed here which causes the Task Manager to display a surprisingly high temperature for certain GPUs.
The team throws a resolution which hinders the Task Manager to show unexpectedly 0% CPU usage in the Performance tab.
The tech giant resolved an issue where the setting that enables Microsoft accounts on your device to go Passwordless (by requiring Windows Hello sign-in and hiding the password option from the lock screen) was showing for local account users. Now the setting will only show for Microsoft account users.
Developer team settles an issue with the Reset this PC cloud download option not calculating the correct amount of space you needed to free up if you did not have enough disk space to proceed.
Windows 10 Build 18985 resolved the problem associated with Reset this PC cloud download option. Actually, in the previous build, this was not working when specific optional features used to install.
With this build, the tech giant is removing the known issue about "Realtek SD card readers". However, if you are still confronting issues with any SD cards, you can check for driver updates and file feedback if that does not resolve it for you.
Known issues
There was a crucial concern of the anti-cheat program uses with games. However, when you update to the latest build 18985, you may face some crashes experience the PC. With the associate's partners, the company is working on to receive their software updated with a relevant fix. Most of the games are releasing the patches to hinder PCs from encountering this issue. To mitigate the probability of running into this issue, ensure that your device is working on the most recent version of your games. Besides, the company is performing with anti-cheat and game developers to rectify similar issues. This will work to decrease the possibility of these issues in the forthcoming days.
With Windows 10 Build 18985, few specific 2D apps are falsely being operated as having protected content within Windows Mixed Reality. For instance – like Feedback Hub, Microsoft Store, 3D Viewer. During video capture, these 2D apps hinder their content from being recorded.
When you capture a repro video while filing a bug, you can't terminate the video. It happens because of the protected content issue. Furthermore, if you ought to submit a repro video, you will have to wait 5 minutes for the recording to time out. If you prefer to file the bug without a repro video, simply leave and stop the Feedback Hub window. This will stop the recording and continue filing the issue when you reopen the application in Feedback and then go to Drafts.
When viewing Optional drivers in the new section on the Windows Update page, you may observe that the older drivers exhibiting as available for download. If acknowledged, they will attempt to install and fail to do so. Besides, this is a bug related to revised Windows Update detection logic rather than this new user interface. The root cause is recognized, and a resolution will be available in a forthcoming build.
Source – Windows Experience Blog