Windows 11 Insider Beta channel has obtained a new update with some remarkable changes and improvements like Cloud storage in Settings, new Network troubleshooter, and without sign in Widgets experience. KB5022363 is the cumulative update that brings the builds. The versions are Windows 11 Build 22623.1180 (With enabled new features) and Build 22621.1180 (with disabled new features).
Full name of the build is Cumulative Update for Windows 11 Insider Preview 10.0.22623.1180. Read – Windows 11 22623.1028 & 22623.1028 KB5021866 Beta Insider. Let's see  What's new in this update –
KB5022363 Windows 11 features changes and bug fixes
Here is the changelog –
Accounts Settings with cloud storage
With current build, the Accounts Settings add new visuals to provide a visual overview of your cloud storage usage across Microsoft products. The additions display a seamless cloud storage bar that tells your storage usage for each product and notifies you if you're running low on storage. The rollout removed the quota bar from the subscriptions card to curtail duplication on these visuals.  These visuals will count Outlook attachment data in the cloud storage.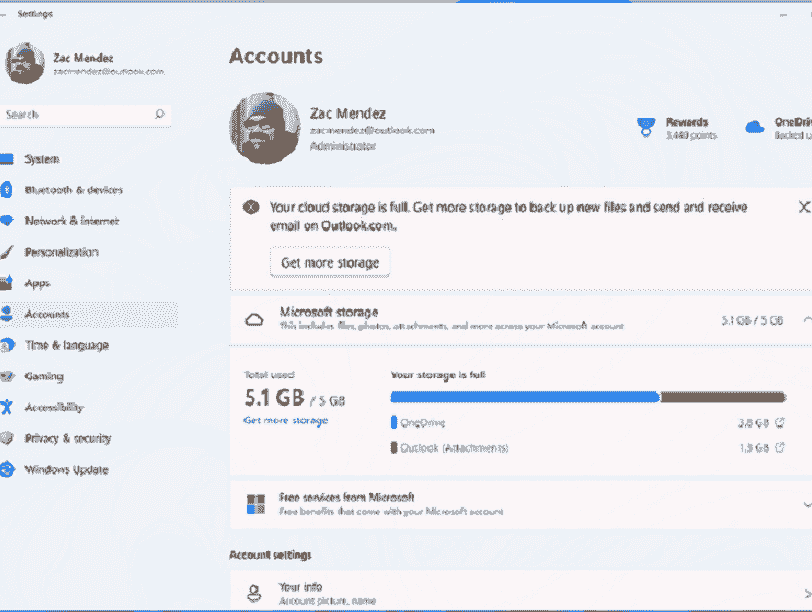 Changes in Widgets
After receiving this build, Widgets will no longer require sign-in and it is available for entire users. Now onwards, you can now view weather updates on the taskbar, and manage activities like pin widgets or access personalized dynamic feeds without an account.
Bug fixes in Build 22623.1180
Taskbar & System Tray
KB5022363 LCU fixed an issue where right-clicking on certain icons in the hidden icons flyout would make the flyout dismiss rather than bringing up the context menu for that icon.
Windows 11 build 22623.1180 fixed an explorer.exe crash problem which could occur when trying to load certain app icons.
From this build, the Task view should no longer display behind the taskbar when using tablet-optimized taskbar options.
Furthermore, the update fixed an issue that was preventing the taskbar from displaying in Safe Mode when using the new search box option.
Task Manager
Small window size of Task Manager and search box collapses to an icon, hovering over the icon will now prompt a tooltip.
KB5022363 CU fixed a few issues with how icons and labels are shown when a contrast mode is enabled.
Other
Finally, the rollout fixed Braille devices that were incorrectly saying there was no screen.
Get Help app replaces network troubleshooter
KB5022363 replaces Network Troubleshooter with a modern Get Help based experience. With new Application Programming Interfaces that diagnose problems and offer specific recommendations to get online, the app targets the 30 most common connectivity issues. For getting the experience, you will need the Get Help app version at least 10.2208.2551.0.
Direct download KB5022363
x64.cab – https://my.hidrive.com/lnk/2yTosnYd#file
x64.psf – https://my.hidrive.com/lnk/tDTIMOxV#file
SSU-22621.898-x64.cab – https://my.hidrive.com/lnk/AAzIMvOp#file
arm64.cab – https://my.hidrive.com/lnk/8nzIMduy#file
arm64.psf – https://my.hidrive.com/lnk/x8zIsuxS#file
SSU-22621.898-arm64.cab – https://my.hidrive.com/lnk/RwTIM7WO#file
Source  – Windows blog.
That's all!!