PicTro is one of the best photo apps for Windows 8 users. The main thing for which this app is launched is to browse as well as download pictures, paintings, digital arts, and many other art forms from the famous artist web community i.e. DeviantArt. Using this wonderful app, you could also save these pictures and share it with your friends. It also lets its users to use the windows charm settings for searching various images and share them as well among your friends.
It is one of the lightest Windows 8 photo app available in the Photo Category in Windows 8 Store. This app is compatible with Windows 8 and Windows RT. The interface of this app is simple and classy. You will love its design especially its Artgerm part. A screenshot of this app is shown below;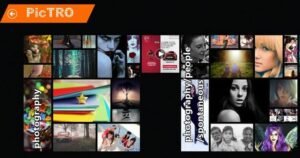 You can have this app from the link provided at the last of this article.
How to find images, save and share them using PicTro App
Once you have finished the installation of PicTro App on your Windows PC, a window with a beautiful app will pop -up on your screen. Here on this screen, you have various options which are shown below in a screenshot. The different options available here are: Download, Add to favs, Author's favs, Category, open in browser, Author, slideshow, etc. The slideshow feature of this app lets you see its large exciting collection in a play mode while you are sitting comfortably on your chair and enjoy it.

In the leftmost bottom of your screen, you see a home button clicking on which will bring you to its home page. Here, you see a collection of beautiful images in the form of small tiles floating all around your screen. These images directly culminate from the DeviantArt website. There is no problem with signing in here. All you have to do is to open this app and start browsing through the various images present here. This app refreshes its contents continuously thus giving you access to a large collection of images. It allows you to see the most attractive and classic artwork.
Clicking on any image will open up the image in full mode. I especially like the category Artgerm. There are various categories present here like: Artgerm, Accueil, nature, domestic, traditional, digitalart, artesian, etc. Each of these categories consists of sub-categories where you would find its contents. Any photo present inside this could be shared with your friends using SkyDrive or simply through using emails. It also provides the facility of bing weather of any location date wise.
The best thing about this app is you can actually pin a sub category to your start screen. It saves your time as you won't have to follow all the same routes again and again. You just have to open this app and reach to its category directly. It makes this app highly usable and feasible. If you are willing to do so, all you have to do is to right click on anywhere on the screen and jump to its home screen. After then click on Pin and then Add Category. Name this Category. Soon after naming and pressing enter, you will see a category on your home screen pinned.
 Key Features of PicTro App
Completely Free App.
Clean and Classy Interface.
Lightest photo app on windows 8.
Access to a large collection of beautiful artworks.
Favorite Category can be pinned to the start screen.
Integrated with Windows 8 search, share and settings charm.
Open any image, save and share it for free.
My Verdict
This is really a nice photo app of windows 8. It is the best place where you can search for your best artists. It provides you exciting and beautiful images made by tons of artists across the world. There is, however, a little problem in this app and that one is switching from its page to another app and then coming back where you will be brought to its home page every time. Overall. this app is a fantastic app and you should give a try to it.