We are trying to provide updates on different apps of Windows 8 perennially. In this sequence a number of apps as Mail App, camera app, video app, music app, education app, etc has been described. Today We will discuss on People app which helps in sharing in Social media sites like Facebook, Twitter, etc.
People App in Windows 8 – 

To launch accessing People App, firstly you have to configure an account on either Facebook, Hotmail, LinkedIn, Gmail, Twitter or outlook on Windows 8.
After configuring account with People app, all the contacts and additional information will be synchronized.
Now People App will display an amazing customized appearance where you can view update status, images, comments of your social sites accounts and forward new messages easily.
If you open single contact, will find all contact details openly.
When you click on what's new option, will find attractive review of your configured social network accounts.
 You can share it with your friends on the social sites. It carries share contact characteristic which allows you to send message to Twitter or Facebook accounts through other windows 8 apps.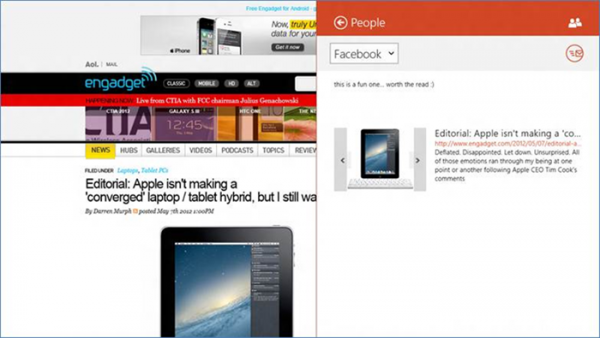 Whenever any friend sends comments on your photos, People app will display alerts automatically. It also promotes you to verify it. Similarly, if some activities are done by any of your added contacts, it is immediately revealed on People App.
Finally, there are several features of People App. If you want to forward an attachment from a website or email contact lists through any Windows 8 app, you may choose People app first.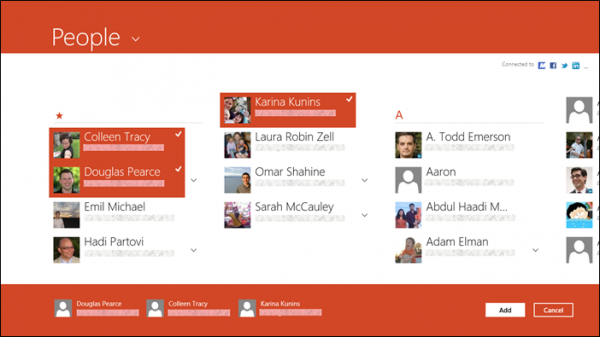 The People app is compatible with Windows Phone and Hotmail account. It automatically discovers entire contacts and shows single connected accounts on same locations and same tiles.