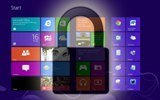 At this time, to protect your system from risky viruses or malware is essential for every user. In Windows 8 the finest security setting characteristic is available to get best performance. While you install new software from Internet then the first priority for you to examine ranks of that websites and whether downloaded contents are free from spyware or not. Because some websites are fakes and ask to install phishing software.
So, Windows 8 users must get alert about forthcoming security issues because unnecessary software can track and steal your personal details like files, images, passwords etc in short while.
1. Install only authorized software or apps
If you install illegal and pirated application regularly in windows 8 then it is major security warning. So you need to download new software from only official websites or spyware free trusted websites like softpedia, download.com and filehippo.com. It also helps you to keep your privacy details.
2.  Installing the updated Antivirus program with licence  –
You need to install the truthful antivirus with license pack for securing your Windows 8. Your antivirus should be updated on each week at any how. But I individually advise you to do it daily because fresh downloaded virus definition helps you to protect from upcoming viruses and Trojans. Microsoft sponsored security software like Microsoft Security Essentials is freeware for everyone and may make safe your computer from risky elements.
Download link of Microsoft Security Essentials
3. Install updated patch of Windows 8 – 
Any time you detect fresh update patch of windows 8, you should transact it immediately.  As you know Windows 8 has included antivirus named Microsoft Security Essentials also update your windows 8 at once. If you work with genuine windows version of windows 8, it also provides update option and support time to time.
4. Activating Internet Security settings
While the system is connected with Internet then possibility of virus attacking is more. Each time you should select trusted websites to download mp3, images or videos from the Internet. To keep more secure windows 8 systems, you can install freeware Internet Security tools after downloading from Internet.
5. Activate Firewall settings –
Windows Firewall feature assists you to select licensed software and run trustworthy applications. It is programmed through the task to identify the hateful software in windows 8 computer. It will warn you at some point while you install new software from suspected websites. The windows firewall tools authorize the license of the software.