Steps to Fix Word Count Chrome Extension Stop Working. – Does your Word Count Tool crash on Chrome browser frequently? You might also encounter Word Count Tool option missing from the context menu instead the extension is installed on Chrome. Due to this trouble, many users can't count the number of words using this extension.
On Chrome, you can enumerate how many words and characters you have written with appropriate results with this extension. You need to just select the whole text you are enumerating, right-click, and press Word Count Tool from the list of options. This will immediately make the result appear at the bottom right of the page. But recently, I have come across an issue where the right-click doesn't show Word Count Tool option. After doing little experiments, this chrome extension is perfectly working now. See how.
Word Count Chrome Extension Stop Working
Step 1 – First of all, launch Chrome browser.
Step 2 – Right-click the Word Count Tool icon at the extreme right corner of the address bar. From the list of few options, click Remove from Chrome.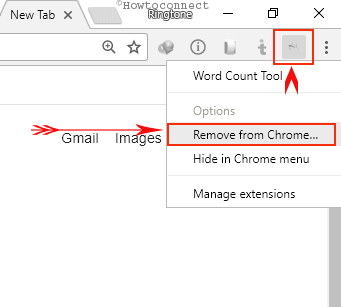 Step 3 – A box with Confirm Removal will soon pop-up on the screen, select Remove.
Step 4 – Alternatively, on the far right of the browser's address bar select "Customize and control Google Chrome" button – the three tiny dots. Now, from the list of options, hover the cursor on More Tools.
Step 5 – Moving ahead, click Extensions from the options that More Tools show up.
Step 6 – Next, a new Extensions tab will open up. In the list of Extensions, find out the Extension with a name Word Count Tool.
Step 7 – Click the Bin icon of Remove from Chrome. A Confirm Removal dialog box will appear, click Remove.
Step 8 – As a result, the above action will remove Word Count Tool extension. Now, again install the Word Count Tool extension to your Chrome browser. You can type Word count Chrome in the search box to see the extension.
Step 9 – Finally, you will see that there will be no crashes in the Word Count Tool and you can easily continue the word count.
This word counter furnishes a substantial result about the words, characters, syllables and a lot of similar things in just one click. This user-friendly word counting tool is very popular among all the top web browsers but however, it has its own limitations also. If you visit its website, you will come across considerable options that it offers.
Conclusion
In the end, it is just the re-installation will Fix Word Count Chrome Extension Stop Working. However, a quick restart of the browser can make the extension start working. If you have some more tips to fix Word Count Tool crashes, please take help of the comments below and quickly write them to us.