You find the error Your computer is missing Media features when try to install iCloud on Windows 10.  This strange message stops the use of Apple's product on your system. You get an instruction on the pop-up that – Please download media feature pack for Windows from Microsoft website and install and try again. Here, we present you reliable solutions that can take care of the issue. See additional workarounds for Error Connecting to Apple ID Server in Windows 10.
How to Fix Your computer is missing Media features iCloud client in Windows 10
The error appears on the affected system when Windows fails to find the media features that the program requires. And finally, the OS ends up aborting the process showing following an error message –
Solution-1: Recovery of Media Feature Packs
Because the removal of this technology files is the main reason so when Windows Media Player goes missing it forces the system to this error message to appear on the screen. As a result, recovery of WMP might get the error disappeared. Hence we first try this one following the below steps:
Step-1: Go to the search box located on the taskbar and type Windows Feature.
Step-2: Pressing the Enter key takes you to a new dialog entitled with Windows Feature On or Off.
Step-3: Now locate the item Media Features and expand it. Select "Windows Media Player" and click OK to implement the modifications.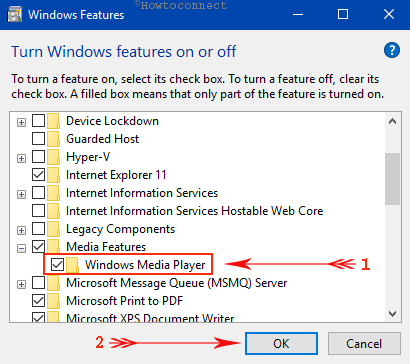 Step-4: Restart the computer and check for the error message. It should be resolved upon recovery of WMP and if it appears unfortunately again, proceed to the next resolution.
For reference, read How to Manage Optional Features on Windows 10 After Creators Update.
Solution-2: Adding Media function to Windows 10 N version
Using Windows 10 N or KN version may cause this error as Microsoft released these versions under stress. Both of the SKUs don't possess Windows Media Player as well as any media feature too. Therefore, if you have these versions of Windows, you need to add media features pack right away. Microsoft has separate packs for all Windows 10 build. But finding the appropriate is equally important as sometimes, you need customized media features too. Following Media Feature Pack list for Windows N editions page will guide you to have the perfect one in this regard.
Addition of Media features to Windows 10 N version will bypass the iCloud installation error. If this process goes in vain too, follow the next method.
Solution-3: Uninstalling the Antivirus program
Windows 10 refuses to add Windows Media Player with it and ends up showing an error code 0x800F0821 for the presence of Avira Virus scanner. As a result, installing iCloud also gets aborted. In this situation, uninstalling as well as removing this program completely from the system might favor you resolving the error.
Windows 10 comes with strong built-in Windows Defender. In the real scenario, there is no need for an additional antivirus program. Instead, they create further issues and errors. We advise you to use Windows Defender only and avoid installing any other malware protection.
Solution-4: Changing the DWORD in Registry
When all of the solutions mentioned above fail to resolve the error, hacking the registry would be the last option to accomplish. Follow the below guidelines to do so –
Step-1: Click on the Search box beside the Start menu and type regedit. When the same regedit appears at the top of search results, click on it.
Step-2 On the Registry Editor window, navigate to the following path:
Computer\HKEY_LOCAL_MACHINE\SOFTWARE\Microsoft\Windows\CurrentVersion\Setup\WindowsFeatures\WindowsMediaVersion
Step-3: Once you reach WindowsMediaVersion key, shift to its right pane. Here, double-click on Default and assign its value as 1. Click OK button to reinstall the iCloud.
Now give a shot iCloud and this time you should not receive any errors related to media.
The restriction of Windows Media Player by deactivating as well as blocking with antivirus might evolve Your computer is missing Media features error message. So, with so many possible workarounds, you can pretty easily overcome this iCloud installation issue.
Conclusion
Accessing iCloud through Windows 10 is definitely one of the greatest achievements of Microsoft. It reduced the hassle of using an iOS device always or else a MacBook. As a newly added feature, bugs and errors are common in any system. Your computer is missing Media features error is a representation of limitation. Fortunately, you can fix this issue easily using little skill or following guidelines properly. Therefore go through the workarounds with a view to resolve the error. We can except you will not come across this again upon successful application of these resolution processes.
Repair any Windows problems such as Blue/Black Screen, DLL, Exe, application, Regisrty error and quickly recover system from issues using
Reimage
.