Yoursphere is a completely free social networking site for kids to safeguard them from unnecessary activities. This site keeps them busy in interesting activities and let them do recreational activities so that they could know things in which they have the most interest. Yoursphere is like a parental guide on the internet for small kids keeping safe them from all those bad activities which could easily deteriorate them. Children could come to know about different children of their own age.
Here on Yoursphere website, they could easily make new friends, chat with them, play games, take polls, read articles, upload photos, join and create new spheres. The sphere is a very interesting thing about this website. You can even add video to your own sphere. This social network for kids ensures that children are not overexposed. Yoursphere is similar to Facebook in many aspects. The interface of this website is very nice and beautiful. A screenshot of this website is shown below: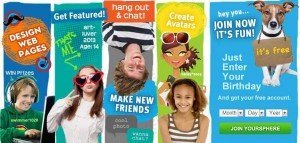 A link of this website has been provided at the last of this article from where you can visit Yoursphere official site and mingle with others.
How to use Yoursphere Social Networking Site For Kids
Using Yoursphere is in many ways similar to that of Facebook. It gets activated in a few steps. All you have to do is to enter your birthday date, month and year and there you are with a new account at this kids social networking sites. However, one should note that this site is for only up to 15 years of age. Those having upper ages than 15 are simply not allowed here. Just having an account at this site and opening this site, you will see a blank page at your home screen. This is because you don't have any friend up till now. The soon you made new friends, the soon your home page would be flooded by different activities of your friends.
The most important thing which this site allows you is having the feature of sphere. Sphere is something like different communities which we have on our Facebook and similar other networking sites. Each sphere consists of videos, images, quizzes, polls and many other interesting things.  You can watch, like and comment on them. It helps children in making their own personal sphere where they allow specific friends so that they could interact in between them and keep things in between them secret to others. However, there is a restriction on creating a new sphere and that is you have to associate your sphere with some other existing sphere so that developer team could have an eye on whether some bad videos, pictures or anything are stored in this group. Anything found would be immediately deleted.
Different things which you can do after creating an account here on this website, you can add photos, read book reviews, like and comment on photos on your home page, play games, read featured articles, and take part in ongoing contests. The website updates featured article on different topics and book reviews of different books every week. While reading on any topic, one could also share his own point by commenting in the box. There are different games too here on this site which are quite interesting. Once, you come to this site, you will come to know about many other interesting stuffs here. This is all you need to know about this website.
Key Features Of Yoursphere
A completely free website for kids
Play different interesting games
Earn credits and badges
Add friends to play and chat with them
Create your own sphere, watch videos, listen to music etc
One can find beautiful articles on interesting topics here
There are many contests out there in this app to participate
Final Note
Yoursphere is the right place for small kids to play with other kids of their age so that they could understand each other in a nicer way. It is not only safes them from unnecessary wasting time but keeps them safe. It is a purely safe and secured website consisting of features which are beneficial for them. It has been created so that they could have a recreational site to enjoy games and do chat with other kids.