Airtel 3G USB Modem or Data Card is very useful these days to access internet on a Laptop or PC. But to Configure Airtel 3G USB Modem Network is a little Tricky. You will have to configure it in different ways when you want to run 3G on your PC in different areas according to network conditions and qualities. Actually, when you run 2G on a through a modem it searches network automatically, but when you run 3G you have to change Network Setting of the Modem through App so that it can scan and search network to establish internet connection.
Way to Configure Airtel 3G USB Modem Network
Generally, this situation arises when
1. You were running 2G with Airtel 3G USB Modem and you are now replacing it with 3G Plans and not getting actual 3G Speed.
2. You have connected Modem or Data Card properly, but find no network on the application.
You can follow the steps written below to Configure Airtel 3G USB Modem Network.
Useful Tips:
Airtel 3G Modem Network Configuration
1. At first run Airtel 3G Data Card. After completion of the installation, the app will open.
2. In the menu of the app go to Tools then Option. Click Option.

3. An Option page will be opened on the right side. Here 2 menus look – 1. Network Type and 2. Registration Mode.  Click Network Type.
4. Here are also 2 drop-down menus vertically. In the First menu, there are 4 options: GSM Only, GSM Preferred, WCDMA Only, and WCDMA Preferred. Select WCDMA only
5. In the lower drop-down menu, there are three options: All Bands, GSM 850/GSM 1900, GSM900/GSM1800/WCDMA2100. Select All Bands.
6. Finally, Click on Apply
7. Move to the Second Menu. Click on Registration Mode.
8. options are Present here: Auto Search and Register and Manual Search and Register.  Click on Manual Search and Register.
Note: You can also select here Auto Search and Register where network quality and conditions are better.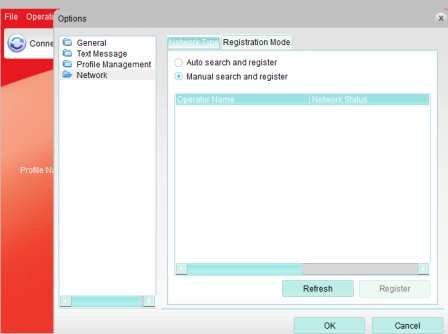 9. Here in the bottom, you find two buttons: Refresh and Register. Click on Refresh.
It will take a while and scan for networks. After a while, the available network name is shown in the box.
10. In the Box click Airtel 3G and after then Register button.
Registering will also take few moments.
Now all is done. Click OK.
In a few seconds,  the network is shown.
Click on Connect and enjoy Airtel 3G Speed.
Airtel 3G USB Modem or Data Card facilitates HSPA (High-Speed Packet Access) and WCDMA (WideBand Code Division Multiple Access) which provide maximum internet access speed up to 21 MBPS and 384 Kbps successively in good network condition. You can enjoy video calling and video streaming very easily with this speed.
If you can run 2G on Airtel 3G Modem. This situation arises when you are in a remote area where Airtel 3G is not available. At this time, you will have to Configure Airtel 3G USB Modem Network and select GSM and All Bands and click on Apply. In Registration Mode, you will have to select Auto Search and Register and finally click on OK.
Airtel 3G facility is available 3G as well as 2G SIM Cards. So people who have 2G SIM don't need to change or buy 3G SIM. So you can use any of them. Only the matter is whether you recharge it with 3G Plan or not.
Airtel 3G USB Modem is widely used everywhere for fast internet speed. It produces outstanding speed which will fulfill all your needs. You will be able to run video calls, YouTube video stream, play HD games and videos, download large files, access web pages super fast very smoothly, and easily. However, it is costly a bit, but eases your many difficulties and offers a number of privileges for you.
With the Network Setting of Airtel 3G USB Data Card, you can Configure Airtel 3G USB Modem Network anywhere you want.
If you still have problems in connecting your Airtel 3G ModeM contact on Toll-Free Number: 1800 103 0405