Top iPad Video Editing Apps you must grab. – Video Editing is a very cool thing for which we all are desirous. Isn't it fun changing some of the part of a video clip by adding new voice or some photos in the middle. We often like adding some special effects to our videos. On other side iPad are iPhone are iOS using devices. Here I am presenting list and description of 10 Best iPad Video Editing Apps. Obviously these will be also useful for iPhone and iPod.
10 Best  iPad Video Editing Apps
1. Magisto 
Magisto App comes for completely free and thus is one of the best iPhone or iPad Video Editing Apps for your It does all the work and the end result of this App is amazing. This App is based on special technology and you edit any part of your video. Magisto has one powerful option in itself and that is it can recognize faces in your video clips which makes it more powerful than the remaining video editing clips.
The interface of this app is very attractive with good choice of colors and designs.  It renders to do the editing, adding filters, special effects as well as adding transitions to your videos.
iPad Video Editing App Magisto Key-Features
Access your movies from anywhere and on any device which supports your video and this app. 

You could upload videos and photos directly from the Gallery.
Videos could be shared easily on social media as well as on Youtube.

There is a special feature of facial recognition in this app which recognizes peoples in your video.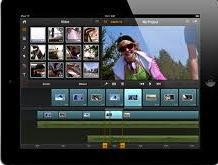 2. Vimeo Video Editor
With Vimeo Video Editor you can edit different videos and manage as well as discover various videos. With this app you can enhance your videos and then it can be used to either save it to your PC's or upload it to Vimeo.
Vimeo Video Editor Key Features
Volume levels of iPod/iPhone/iPad can be set.
You can use it to capture videos control focus as you wish to control and align as grid.
Different videos can be combined, edited easily.
Various Sound effects can be added in middle of any video.
Different things can also be added like titles, transitions etc.
3. Game Your Video
Game Your Video is a fantastic app with a handful of usable things. This app is completely free and simple to use. This app is deceptively powerful and tremendous fun. It helps you in creating your own visual effects like the way you want to do it. You can change the sound tracks in between the video too. In this app you can change the voice of a video to different voice settings like Scary, Baby and many others. There is also feature of video filtering, adding texts and beautiful themes directly into the videos.
iPad Video Editing App Game Your Video Key Features
you can use it making the reverse videos which is very amusing.

You can delete an undesired part from the video.
It can add up to 10 videos in a row with astonishing features.
Videos in this App could be used with different resolutions medium, high and HD.
4. Socialcam
Socialcam is one of the best iPad Video Editing Apps and you can use it to capture, share as well as view videos on your iPad or iPhone. It has many new features like you can use vintage video filters,  add custom soundtracks as well as prepare custom titles.
One of the best iPad Video Editing Apps Socialcam Feature
It supports video of unlimited length and storage memory.

Using this app, you can browse, like and if you like it very much the make comment on your friend's videos.
Can be used to share a video on social sites like Facebook, twitter etc.
Upload your videos on social sites easily.
You can access your personal account and videos using this app.
There is a feature of vintage and experimental video filters.
There is one problem video capture is not supported for the iPhone 3G and older.
Get Socialcam here
5. VideoGrade
It is a very wonderful and awesome app. It costs you a a sum total of  $4.99 for proper functioning of this app. It might be not a free app but the price of this is of total worth. This app has a powerful render engine which could be used to change your videos to HD quickly. The designers have developed this video keeping in mind that each filter could be used by its users. You can change or edit your videos according to your wish using this app. Defects whether related to color or poor lighting all those things could be solved using this app.
This iPad Video Editing App gives you a real time feel of video image,  color histogram, clipping previews as well as some other settings.
Different sections of videos can be captured from a running video and that can be saved as an image.
There are different kinds of advanced features:  You can set Contrast, Mix Channel, make your video Vibrant, Saturate, change to Black and White, improve Brightness, spread Exposure. Other features are Color Temperature, Recovery, Vignette and Tint.
 It has super fast video processing which can be used to edit the videos very easily in a very less span of time.
The user interface is cool and faster to use, with bigger preview area.
6. ReelDirector
ReelDirector is too an iPad Video Editing App which would costs you a sum of  $1.99. Here again the money which you invest here is of total worth. It is used to add titles or srt to a Video. It gives a picture of very high quality as well as customizable text treatment. This app is known for real multi-tasking.
You could adjust the volume whether to fade in or out according to your own desire.
You could also record some soundtracks and then it can be adjusted in middle of the video.
Ken Burns Effects can be added to the pictures using this app.

It could be used for trimming, splicing, splitting videos.

Sound effects can also be added here in a very easy manner.  

72 different appearances could be easily created here using the two different styles 8 and 9.
Titles or subtitles can be added in a very easy and simple manner here.
Get ReelDirector here
7. Cute Cut
Cute Cut is a very fantastic and wonderful app. This app is a completely free and is very use to use and operate. There are a lot of new features involved in this app. It has a nice drag and drop options and many other similar experiments to show. With the help of this new app, you could shape your own movie with more than 30 useful movie drawing tools, specify it with special effects. You can also share your video to your Facebook and YouTube account.
Key features of this App
It has a very remarkable interface which you will love at its first sight.

It supports Highly customizable transition.
Creating PiP movie is very easy and simple in this editor.
It supports portrait as well as landscape mode.
8. Splice
Splice is a free video editor App for different types of iOS devices. This editor is a very nice if you are willing to splice together HD photos and videos to make a good movie which could be played on iPad, iPhone and could also share it on the internet. There are a numerous video editing options provided in this editor. like adding sound effects, transitions, motion effects, trim video or audio, background music and many other features. It is one of the best iPad Video Editing Apps if you desire to make a good looking movie with fantastic sub-features.
However, there are some problems too related to this software.
It doesn't work in an efficient manner for iPhone-5.

It provides ads in between which disturbs one who is working. If you want to get rid of that you have to upgrade this software by purchasing it. It costs you  $3.99.
App Key features
Completely free and very simple and easy to use. 

You can use it simply and drag as well as drop video.
Sound effects can be added to the videos in a very simple way.
 You can control and mix Multiple tracks of audio.
It consumes less time than other apps by adding multiple photo or video at the same time.
Attractive, easy to use and very intuitive timeline.
A large number of music tracks, borders can be added to the video.
Proper and exact sync of music tracks and sound effects.
Get Splice here
9. iMovie
iMovie is considered to be the best video editing apps in the market. With the help of this app, you can add special video or sound effects in a very effective and efficient manner. There are a lot of different features embedded in this app which can help you to add various basic effects to your video clip within seconds.
Videos or photos could be added directly from the library.
Length of videos can be trimmed easily.
prepare cast names, prepare logos of movie studio, and credits in Outline view.
You can published Edited Videos in a straight way with the help of this App.
Recording of new footage in to your trailer is very easy.
This App is made for multi-touch.
Videos of high quality can be created in a very efficient manner.
Sharing of your HD videos can be done easil

y.
10. Vintagio
Vintagio is a very effective and powerful video editor. It is mainly used to make your video look professional. This is why it costs you a sum of  $2.99. This app can be used to take a picture from any part of the movie. It helps you in importing pictures if you are going to add some effects to your videos. It is like a iMovie video editor app described above but for only retro videos. It is one of the most used iPad Video Editing Apps. It comes with a large number of useful and very handy features which are described below:
One of the top iPad Video Editing Apps Vintagio feature –
If HD filter is 20s, you can st it to 80s.
Comes with effective and reliable soundtracks.
It could create vintage masterpieces in just a single click.
Your videos could be slowed down here to add more fantastic features in it.
You can access a large set of videos which are developed by other people using Vintage.