Tablet user performs often a limited number of tasks such as web browsing, checking emails, reading e-books, playing games online or offline and watching movies. Despite majority of android apps are at their respective stores, it is true fact that most users don't feel comfortable with their tabs. A little tablet is able to do a lot of remarkable tasks or cool things that we might not be still aware about. Underneath we have described few main helpful cool things about tablet that can help us to turn the life with great pleasure.
Remote Connection between PC and tablet with TeamViewer app
TeamViewer is a desktop sharing utility that allows you to access others computer remotely. Now it is also present as app for Android, iOS and Windows 8 platform based tablet.
Make your tablet as a second screen (Monitor)
If you like multitasking tasks rather than switching between apps then you can use tablet as a second screen to stay an eye on the whole thing. For that, you need to install desktop based software like Air Display, Splashtop XDisplay.  Both software works with Android and iOS tablet through WiFi connectivity.
Make Free Voice and Video Calls
Today iPhone/iPod /iPad Touch users have got fairly lucky things as FaceTime  app which allows them to talk with others free of cost. But this app is not available still for Android and Windows 8/RT users. In this situation a better solution for them is to use the Skype app. Presently Skype is available as app for every tablet platform like windows 8 RT, Android and iPhone. It lets you to make free Skype calls (voice or Video) to other Skype users whenever you wish. But for unlimited Skype calls, tablet users will have to choose any subscription pack.
Stream live TV
There are various apps that can make it probable for you to stream live TV on your tablet. Now a top-rate app called TVCatchup for Android, iPad and Windows 8 RT lets you to stream live TV from a lot of popular TV channels.
Use your tablet to get directions
Several vehicles come with integrated GPS navigation services that lead their users with path, weather and extra details. If your car didn't appear with these cool things then you can use Smartphone support GPS apps for both Android and iPad.
M8 Free Sat Nav is a GPS app that gives pathway in great details and also helps you to keep update with the traffic information. Depending on your geographic position, tablet user may use Google Maps in order to find details of your nearby positions.
Safeguard your home
If you have to take care of a kid or watch over your residence or office then several helpful tablet apps can help. After installing a webcam in your home use the EyeSpyFX  app. It helps you to watch its live feed on your tablet. Alternatively you can also use two similar apps which are as follow
tinyCam Monitor Free for Android
AtHome Camera – Android and iOS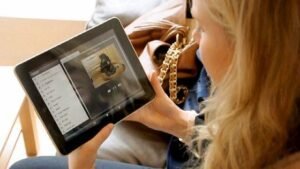 Enable WiFi Print
Now an Android app called Google Cloud Print lets you to take print out of your documents, webpage over internet. But this service isn't available for iPad users yet and iPhone users may try out alternative app with PrintCentral Pro.