Recording PC screen has become a regular job nowadays to keep pace with fast-changing corporate lives. In the past, users were dependent on the tools having a limited number of traditional editing options. But now brilliant Windows 11 Screen Recorder Software are available as freeware. If you are looking for the tools, this is the right place to find them.
We have a good number of Screen Recording software on the web, some of these are free whereas others are paid ones. These programs offer a bunch of handy editing options like inserting logos, images apart from recording audios. Additionally, you can use some of these to record live lectures, meetings, and game sessions. In this write-up today, we will elaborate 10 best Windows 11 Screen Recorder Software with their game-changing features. Here you can see the review of animation software. Now, let's start with the list –
Windows 11 Screen Recorder Software
Here are the 10 Brilliant Windows 11 Screen Recorder Software –
1] Loom
Loom is basically a screen recorder software that helps to communicate with the people you work with in a superior way. You have the ability to record the voice, face, and screen then prepare shareable videos instantly via this application. Additionally, these videos can be shared easily and quickly via email, and social media. Therefore, working with teammates regarding making a demo, documenting a bug has become so easy with Loom.
Loom has been trusted with millions of users across the globe especially with business professionals, IT Engineers, sales, marketers, designers, and the people who want to communicate in a better way. Here are some pros and cons of Loom
Pros
You can record videos with a resolution of 1080p.
Loom allows for live notations.
You can record both webcam and screen as well as each of them separately as well.
Cons
There is no built-in Video editor in Loom.
The Free version will store recorded videos in the software rather than Computer storage which is a big shortcoming of this application.
2] Camtasia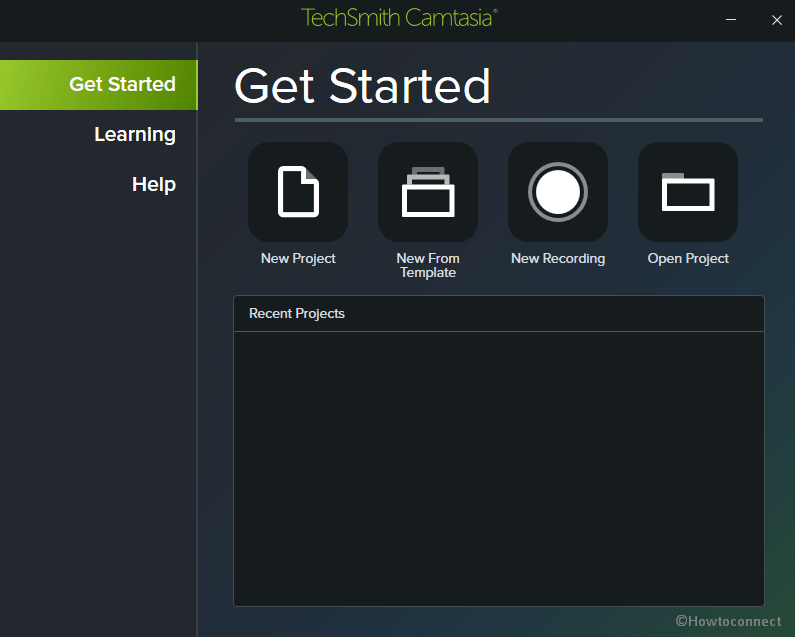 Camtasia free screen recorder can capture still desktop, selected area snip, and record ongoing videos. You can carry on record sequentially and combine all the snippets to make a new video.
Camtasia is a flexible tool where users can use animations in the recorded videos, add various effects, and also add overlays. The application is much popular among the people who make quizzes on a recorded screen.  . Here is the list of some pros and cons for your reference –
Pros
It allows editing audio, video, and cursor tracks separately.
There is an option to directly import other videos from computer storage to the Software. You can use photos, videos from the disk drive to edit recorded videos while using Camtasia.
You can add captions, quizzes, and callouts in a recorded video using Camtasia.
The tool comes with a Webcam.
Has its own music library and sound effects for adding to videos.
Cons
The UI seems a bit busy while multitasking.
Camtasia oftentimes acts slower while dealing with large or heavy projects.
3] Bandicam Screen Recorder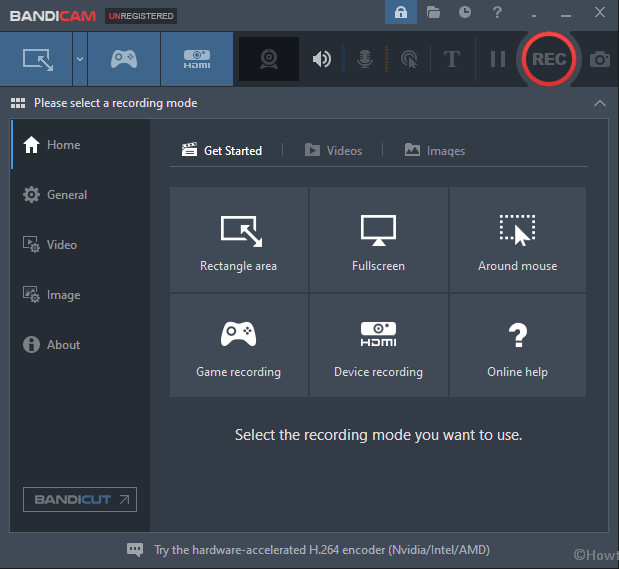 E-Sports has been gaining massive popularity in this generation and that's the reason, you will need handy software that has game casting features. Bandicam Screen recorder is powered with the potential to catch different 3D/2D games with 4K Ultra High Definition resolution at up to 144 FPS. People with a productivity mindset will also be equally helpful with this software since, it helps users to put together Photoshop tutorials, webinars on a web design ensuring content quality goes beyond anyone's reach.
Bandicam is a bit complex for regular users for having a difficult interface. Although the Screen recorder lacks a built-in video editor, you can comfortably join videos, trim, and split the recordings. Another limitation is, the free version has a maximum recording time of 10 minutes and there will be Watermark.
Pros
Users can capture free regions, full desktop field, audios coming from microphone, speaker, moreover, webcam.
The Recording will support 4K UHD video at up to 144 FPS
You can add text, draw on the videos and take screenshots.
Animations and Mouse clicking effects can be added while recording.
The recorder allows Audio Mixing and Adding Logo.
Cons
The Video formats are limited, only available in MP4 and AVI.
There is no Built-in Video Editor.
Free Version has a time limit of maximum 10 minutes and there will be watermark on the video.
4] Open Broadcaster Software (OBS)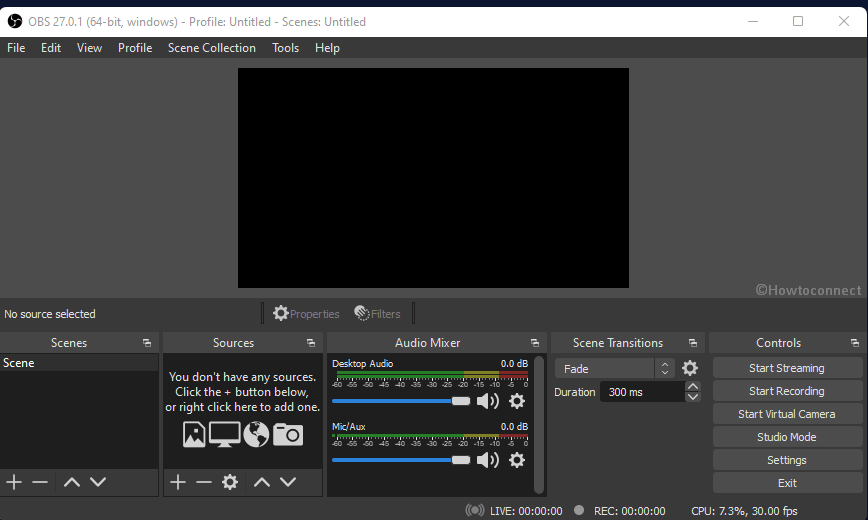 Open Broadcaster Software is a free screen recorder software having features of most rival premium/paid tools. This is an ideal solution for professional gamers for broadcasting their recorded sessions and gameplay footage. In addition to capturing the desktop, the freeware can also catch clips from the Windows 10 camera app or webcam of the device. The same capture can be used for making picture-in-picture videos afterward. You are able to record audio from the microphone via the OBS and accumulate it in any format of your choice.
OBS is pretty much a resourceful program for recording screen however it does not integrate any video editor. For editing the captured videos, you have to use any other supporting software. It's an open-source program and you have to download it from the official site only looking at the list of a few pros and cons for Open Broadcaster Software –
Pros
It has the capability to record full-screen desktop, selected regions, sound from the built-in speaker as well as from the microphone.
Professional users have the option to use this freeware for streaming via YouTube, Dailymotion, Mixer, Twitch, and other arena.
Consists of multiple filters to be used for the recorded scene, audio devices, and sources. You're able to perform color reduction, audio normalization, noise reduction, image mask, green screen, crop a photo, and many more.
The Screen recorder is equipped with an Intuitive audio mixer.
Tool is an add-free program, doesn't have any limit, and watermark as well.
Cons
You haven't any option to pause in the midway of recording videos.
For editing, there is no built-in Editor.
OBS program is very useful for the professional user but Beginners will find it a bit complex.
Download Open Broadcaster Software (OBS)
5] ActivePresenter
Active Presenter powered by Atomi Systems is the most popular screen recording and video editing software nowadays. Creative people like YouTube content creators, videos producers, trainers, mostly use this freeware. It's an all-in-one application and has almost all the effects and features that someone may need for editing a recorded video.
ActivePresenter has no time restriction for recording videos and doesn't have watermark as well. Once the recording ends, it allows cutting, trimming, splitting, changing speed. You can also add animations, closed captions, and annotations like a paid version in this software.
Pros
Allows capturing full screen, window, a selected portion, webcam, microphone.
The application has full-fledged featured a Video Editor in both of the recorded and imported videos.
Users can carry out primary editing to change volume/speed, split, cut, transitions, trim, Zoom-n-pan, multimedia, animation.
Advanced features like audio fade in/out, noise reduction, and audio normalization, blur effect can also be utilized in the free edition.
Provides record Software simulation with automatic annotation
It's an add-free software and there no time limit for recording videos.
Cons
Do not support scheduled recording.
There is no feature to crop videos.
Supports in 64-but processor only.
6] TinyTake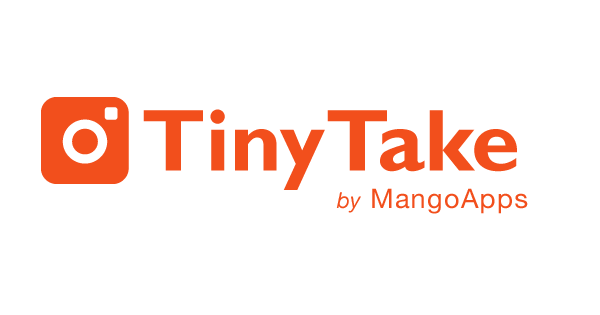 TinyTake is a free Windows 11 Screen Recorder Software created MangoApps with additional support tools to edit the captures. Users can record videos or snap desktop and then add comments in it which is a very rare feature. The application is very much popular among content creators as of having the option to direct upload edited videos to YouTube or on social media.
TinyTake comes with built-in cloud storage where you can store the contents and use whenever necessary. Here are some Pros and cons of TinyTake for your reference –
Pros
Allows sharing files in bulk amounts.
Provides a public URL for ease of sharing.
The application has a default online file viewer for previewing images, videos, and docs.
For capturing the screen record, users can use keyboard shortcuts.
Video player of TinyTake is well compatible with mobiles.
Cons
You can capture a maximum of 5 minutes video, anything more than doesn't support in the free version.
Videos files are saved in mp4 format only.
There are only a few editing tools in this application.
7] ShareX
It's an open-source Windows 11 Screen Recorder to record videos as well as screen grabs. There is no time limit for recording as well as there will be no watermark imprint on recorded video. Free screen-captured can be converted into GIF easily which is really helpful for using social media like Facebook and Instagram. Sharex as the name signifies supports sharing recorded videos on social media directly.
Sharex allows recording your videos from screen using keyboard shortcut keys. To start recording, press Shift + Print Screen and stop by using Ctrl + Shift + Print Screen key combinations. Though the freeware is extremely user-friendly, it doesn't support recording games in Full-screen mode. In the below section, there are some Pros and Cons for Sharex –
Pros
ShareX is a great and lightweight application with easy features to help new users.
Support recording videos using keyboard shortcuts.
The application is super-exciting, it has a built-in feature to convert any video in to GIF.
ShareX allows to capture a webpage after scrolling too.
The application can detect a text from OCR.
You can schedule recording from any app using ShareX.
Cons
Doesn't support recording videos in Fill screen mode while gaming.
There is no built-in video edition in the application.
Download Sharex
8] FlashBack Express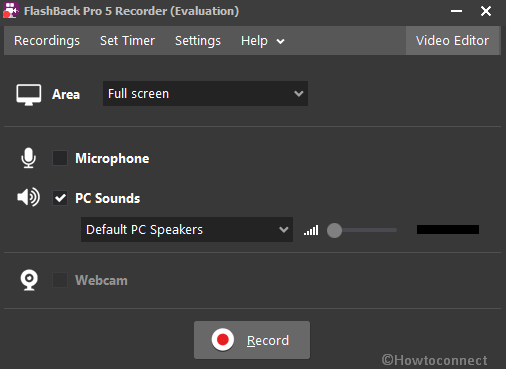 Blueberry Software came up with an amazing screen recorder in the name of FlashBack Express. It can record any selectED part of desktop field, videos from built-in webcam, and computer generated audio simultaneously. Despite being free software, it doesn't have any time limit to capture videos and there is no watermark as well. This is an amazing software to capture screens from a multi-monitor setup. The application supports scheduled recordings, you can set the recording for a specific application when launched on desktop.
Nevertheless, the premium version has a built-in Video editor, FlashBack Express lacks it in the free edition. Users can still add animations in the videos and give effects to them using the freeware. Users can save the videos in AVI, WMV, and MP4 formats and it supports direct uploading to YouTube. Other Pros and Cons are as follows –
Pros
Flashback Express supports recording from computer's built-in webcam, microphone, and screen capture while playing games.
You can capture any video from a Multi-monitor system.
The Freeware helps to do recordings from a specific software whenever launched.
Nevertheless being freeware, you can capture unlimited time videos with no watermark in them.
Supports Cursor highlighting.
The free version is Add free and users can directly upload to YouTube.
Cons
It doesn't support recording webcam alone.
Video output formats are limited, supports only MP4, AVI, WMV
No default Video Editor included.
9] Ezvid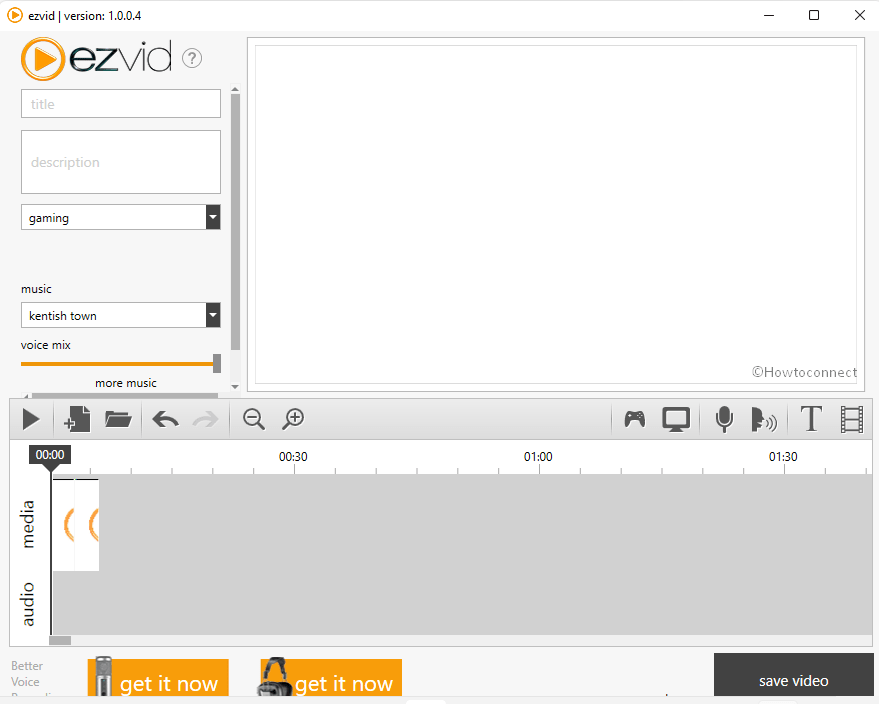 Ezvid is considered the easiest Screen Recorder ever available because of its features and UI. The clarity of this software is heightened by the speed of the product and it's actually designed to save time for the users. The application supports directly uploading videos to YouTube platform after making new content. That's the reason, users who make small videos from movies or games are very much interested in this freeware.
Here is the list of some Pros and Cons for your reference –
Pros
The most exciting fact about Ezvid is, it can record computer audio to explain a captured video.
The recorded videos are saved in (1280 x 720p High definition resolution automatically.
Users will have speed control on the recorded videos.
User-friendly modern and sleek UI.
Immediate uploading feature to YouTube.
You can select popular music tracks from wide list of options.
Cons
Recorded videos are found with additional noise.
The app may contain minor bugs and issues.
Doesn't support recording gaming videos in Full-screen mode.
10] CamStudio
This is usually a great choice for the occasional users or those who use it for a single time only. It's a very light application for having limited features only but that works fine for some users. Once you capture a video, it will save in AVI format with an option to convert the same into Flash.
CamStudio is one of the most basic Screen Recorders available now. For being light program, it will deficiently have very limited options and not enough close to having professional UI. Here are a few pros and cons of CamStudio –
Pros
Users can create Screen – in- screen videos using this application.
Output videos come in small sizes, therefore users can share them in shortest time.
Users can custom the cursor.
There are options to change the quality of the output videos from a recorded capture.
Cons
Can carry bugs and malware.
The Captured videos are saved only in AVI with an option to convert into Flash.
Some browsers don't support the output.
Syncing is not possible for Audio.
The Application lacks interactive and animation features.
Bonus:
In addition to the top 10 10 best Windows 11 Screen Recorder Software, a few more handy and user-friendly tools are available to try out –
Software list1] Loom
2] Camtasia
3] Bandicam Screen Recorder
4] Open Broadcaster Software (OBS)
5] ActivePresenter 8
6] TinyTake
7] ShareX
8] FlashBack Express
9] ezvid
10] CamStudio
That's all!!