2048 Windows 8 app is based on the game 2048.  All of you would know 2048 is a popular, crazy game, even viral on the web. It looks like a simple game but let me clear that it is not that easy to complete the game. This is mainly an arithmetic based game. The target is very simple – to get a total of 2048. The game comes on a 4*4 grid alignment. Players have to get a total of 2048 by amalgamating similar tiles.
Recommended: How To Solve 2048 Game Quickly Get High Score
Design of 2048 is quite simple. On homepage you find the board having 16 tiles in 4*4 grid alignment.
2048 Gameplay
The game is played out on a 4 into 4 grids so there will be 16 tiles. This is a number based game. The game will start with a number 2 present in any two tiles. You have to assimilate a similar number of tiles till you reach a goal of 2048. The same numbers of tiles have to be swapped to get the desired number of 2048.
How to play 2048 on Windows 8 application
The application can be installed from the link given below the post or it can be accessed from the Windows store. It is available in the games category. Once you own this application, you are all set to play this mind-blowing game.
After the installation is completed, you will get to see a board with 16 tiles on it. On any of the two tiles, number 2 will be displayed. From here you have to start your play. You have to swipe up, down, right, or left to move the tiles. You can use the arrow keys of your keyboard or else can swap through your mouse. You have to click and hold the left button and then drag in your desired position to merge the tile with another. Now when the same numbers touch, they merge into one and give you a new total.
Let the game be explained with an example. When a 2 numbered tile touches another 2 numbered tile, they become one and gives a new total 4 in a single tile. Go on joining the same number of tiles till you get a single tile with the number 2048. When number 2 collides with another number 2 it becomes 4, then this 4 with another 4 will become 8, then 16, 32, 64, 128, and so on until you reach the final target of 2048.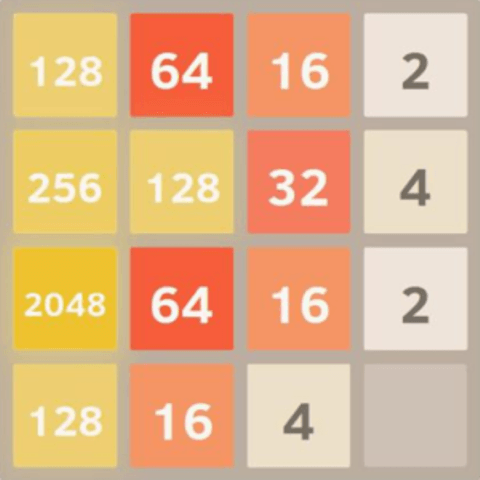 The application puts a small rule while amalgamating the same numbered tiles. The same numbered tiles should be adjacent to each other and then only they can amalgamate. And also the tiles can be joined only when the edges are blank or adjacent similar numbered tile in between.
Control keys of 2048 Windows 8 app
The tiles can be moved upwards by upper arrow key or by the letter "W".
The tiles can be pulled down by down arrow key or by "S".
To shift the tiles on the left side, use the left arrow key or "A".
To make the tiles move on right use right arrow key or "D".
Qualities of 2048 Windows 8 App
It is available free of cost!
This is a fun giving game.
This application can be used without internet connection.
Endless game mode.
The scores can be shared with friends.
The application provides a timer so that you can beat your own previous records.
Super easy to use.
Conclusion
Life is not easy until you overcome all the barriers that you face while proceeding further. So, is this application that is not that easy to achieve the target with few but tricky rules working as a barrier! This is the most fun loving game that I ever came across. Windows 8 is really providing the users with lovely as well as challenging games. Download this application and improve your thinking and target achieving ability.