If you are a Windows Phone user then you will be happy to know that the developers who create and develop applications and games for Windows Phone regularly update their apps and games to improve functions, fix issues, remove bugs, add changes and modify features. The update will display a message at the top of your phone screen and if you have selected Automatic Update (by default it is always On) then it will update your application.
Application updates will be directly installed if your phone is connected to a Wi-fi network. If not connected, Phone will bring apps update in a queue and install itself when you connect the phone to a Wi-fi network. Apps update, less than 50MB,  have the option to install it over Cellular Data Network otherwise you will be unable to update it. If you are unable to check and update applications then this post will assist you to do the same on your Windows Phone 8.1.
Recommended: Tips to prevent In-App purchases for Android, IOS and Windows Phone
Remember that if Automatic app update is toggled to On then it will installed automatically but in case the Automatic app update is toggled to Off then you have to Check and Install apps updates manually.
How to Check for Apps Update Manually on Windows Phone 8.1
1. Open your phone's App List.
2. Hit on Settings.
3. Swipe to Right Side or Tap on Applications menu appearing at the top.
4. Applications menu will open with more settings. Hit on Store.
6. Tap on Check for updates or toggle the slider from Off to On.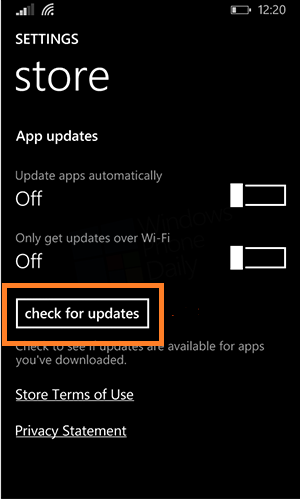 Your Windows Phone will automatically install now.
How to Install Apps Updates Manually on Windows Phone 8.1
1. Launch  App List.
2. Hit on Store.
3. Tap on Three dots (…) appears at bottom of your store.
4. Tap on downloads.
5. You can see available updates.
6. Hit on download all. This will start the download and installation.
7. Your all apps will be updated automatically. It will also be displayed download status.
8. If you want to Download and Install only the desired apps update on Windows Phone 8.1 select the application in the Download list. Hit on Update. Update will appear at the bottom, see in the below image.
Following the tips given above you can easily look at and Install app Update in your Windows Phone 8.1. Download status can be seen in the downloads list. After installation, the application gets extinct from the download list.
Enjoy new app updates for your Windows Phone.