There is a great deal in controlling as well as keeping track of your inventory, employee details, etc. Windows 8 understand your need that how to control your inventory, manage it, and keeps all the detail related it. This is why it has launched certain apps that will certainly help you with all this stuff. Here, we would describe 4 best Best Windows 8 App which would give you different ways to control your inventory in an efficient way. These methods are very easy to understand and implement in your general life. Once you install these Windows 8 Apps it keeps track of your inventory and stores all data in your Onedrive account which could also be fruitful as a backup in case of data loss.
Read: The Economist App for Windows 8 – Read Current Business News
Here is the list of 4 Best Windows 8 App To Manage Inventory for Business Owners.
1. Simple inventory
This app runs very smoothly without any interruption while using it in windows 8. When you install this app on your Windows machine, you will see an option of "Add new product" where you can add new products available in your stationery. Before access to this feature, you have to sign in to your account. For adding new products you might enter the name of the product, cost of the product, and other similar details. It could also be possible that you have several products. In that case, you could add all the products to it and also link the related information as well in this app.
This app allows you different functions like: clicking on the right button will access the control button from where you could access various options such as customer or vendor, Add new vendor /customer which will help you in tracking all records related to vendors and customers. In simple words, this app has been designed in order to keep track of the entire record using a single device with multiple features related to inventory.
Simple Inventory Features
Keeps tracks of different products and transactions.
Tracks inventory transactions.
Easily adds sales and purchase transactions for each product.
2. Inventory Checkout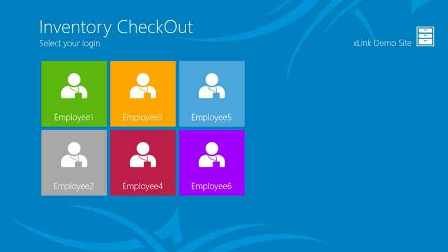 Inventory Checkout is again an inherited windows 8 app from store manager. Here in this app,it is based on a simple basis and the basis is that once an employee logs inside, it will check out the inventory details of each item correctly and stores in itself. If anyone clicks on any of the particular product stored in its database, it will provide you all the information about the related product as well as how much product has in the store, how much sell etc. You can also get a review of the product by using the cart button. This app also supports multiple login in one time which is quite an interesting thing. It is a very good app for management tools in the case of employees.
Key Features of this App
Inventory Tracking.
Touch Screen Ready.
3. Store manager
Store manager is also an attractive Inventory app in windows 8 store, that allows you to keep as well as manage all your entire inventory in a very comfortable and easy way. At First, all you have to do is to login inside this app. If you have not the required id you need not to worry as you can create it within seconds. Just click on click below to request one now! in order to create a new customer id on its front page. Charms bar is available on the right side of your screen provides you the feature to sign in and sign up from id. After login your screen you will see the various options to manage your inventory, employee, reorder inventory, etc. This provides you information about your store about which is inventory in your store and how much does it's operating cost. This provides you a great chance to enhance your business.
Store Manager Features
Optimized touch screen with supply cost tracking.
Supply Reordering along with Loss Reporting.
Employee Supply Use Tracking.
Purchase Order Entry.
4. Simple inventory control
In your day to day life, you face the problem of managing inventory, its supply, its transaction, etc. Simple Inventory Control app helps you in keeping all employee details. Once you launch this app on your Windows machine, you could see the user interface which would make a record of everything which is related to inventory that is distributed in various location. Using this app you can also keep the transaction with single tiles. Just click on the tiles and you will get an interface where you can store the transaction. Just click on the next step and here you can edit the transaction which is already stored. The control bar helps you to get access to the buttons like product, suppliers of the product, category, employee, etc. Using this button you can also store all the data by clicking the backup button. This feature is very effective for you in storing all the pretty stationery. This also supports snapped view which is quite a good thing as it allows multitasking.
Conclusion
Overall, these inventory apps are very fine and good to be used in real cases. I hope you get the information about these apps of Windows 8 in a nicer way. You can look after for more details in the link provided at the last of each inventory apps. Do comment if you have any queries regarding any of the apps mentioned above.