Yesterday, Microsoft has delivered the Security update 4287903 for Adobe Flash Player. The patches support the systems on Windows Server version 1803, 2016, and 2012 R2. Moreover, The update package will work on Windows 10 version 1803, 1709, RTM and Windows RT 8.1.
Adobe has found vulnerabilities in the Flash Player causing a severe threat to different versions of Windows 10 and 8. They have given the details in Security advisory June 2018. 4287903 update packages will address critical vulnerabilities in Adobe Flash Player 29.0.0.171 and previous versions.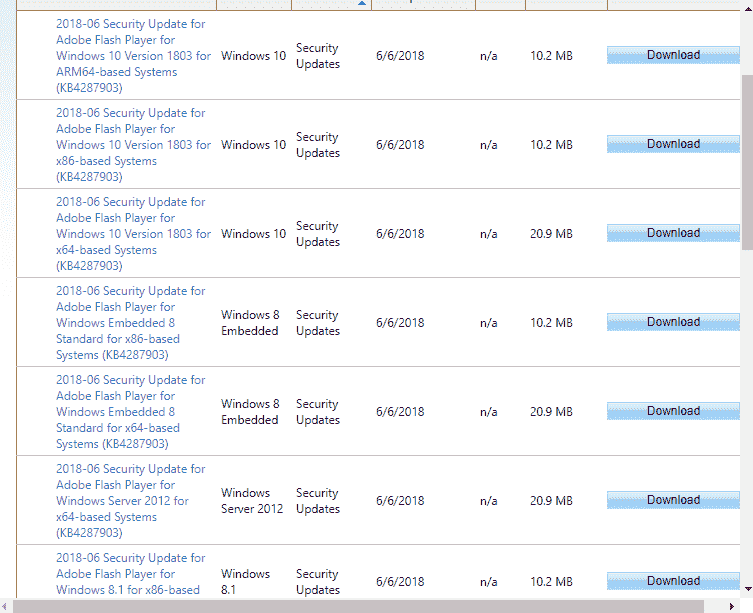 4287903 Security Update Adobe Flash Player Windows 10 1803, 1709 Details and Download Location
Here are the 4287903 Security Update details and download link –
Addition to Microsoft, Adobe has also declared that there is security loophole that given way to threat CVE-2018-5002. The arbitrary code was used to exploit in limited, targeted attacks against Windows users. The security category of the attack was Type Confusion, Integer Overflow, Out-of-bounds read, and Stack-based buffer overflow. The attacks come under either Critical or Important Severity.
4287903 Security Update resolves the issues and now nothing to worry about. Only you need is install the respective packages and stay relaxed.
Microsoft suggests that security and non security update packages for Windows server 2012 R2 Windows 8.1, and RT8. 1 will require installing KB2919355. So prior to getting the 4287903 patch the users must install that.
If a user installs a language pack after receiving this update, he must re-install the same. Therefore, they advise obtaining any language packs first rather.
If you want to directly download from Microsoft Update Catalog navigate to the following link –
Security update for Adobe Flash Player
However, you are able to receive 4287903 through Windows update automatically. The package will reach your system and will be downloaded and installed without any effort from your side. The only condition is the Check for updates that should be enabled.
For Windows 10 April 2018 update version 1803
Press the Notification icon from the Taskbar and select All Settings on the Action center pane.
Choose Update & Security on Windows Settings app.
Rush to the right side and click on Check for updates.
Windows RT 8.1 users have no other choice to receive this patch except Windows Update.
For Windows Server 2016 and Windows 10 V1607, the updates may not be installed itself. To get this update:
Hit Start, and then write "Check for updates" and finally Click on the same.
That's all about 4287903 Security Update Adobe Flash Player Windows 10 1803, 1709.