Here, we are going to tell you about 5 Best FPS (First Person Shooter) games Windows 8 Apps which are available for completely free for your Windows Store. These games are very interesting and lovely. These FPS games have been designed just for time pass and learning some skills. All of these games are time killing and very addictive. Once, you start playing games here, you feel a sort of connection to them.
The interfaces of these games are very smooth with nice background tracks. They have almost everything in general required for a fantastic game. Below is the list of 5 different FPS games with a little description of them.
Recommended: Play The Gunstringer The Dead Man Running on Windows 8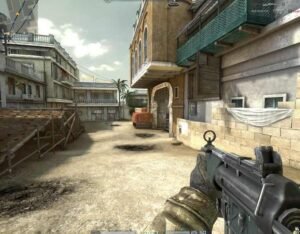 1. Awesome Zombie Sniper
Awesome Zombie Sniper is a very adoring game with good graphics. Once, you have installed this game on your Windows device, you will be asked to start a new game, view the options, and many other things that you can adjust just at the start. The game automatically detects if you are using a touch device or a non-touch device, and shows you with controls appropriately. If you are using a non-touch device, like Laptop or a PC, you can use arrow keys or W-A-S-D option to move the cursor, right-click to zoom and left click for the fire or shooting while in case of the touch device, you can use screen navigation and fire buttons for the same. Note, that as soon as you shoot or fire from the gun your ammo clip is empty and your gun automatically reloads up. All you have to do in this game is to shoot and kill as many zombies you can without letting them attack you.
There is also a weapons shop available in this game from where you can go for better guns and purchase them.
2. Wolf
Wolf is a classic game which has been released early in 2000 which you might recall playing at that period. It was quite an interesting game for small kids. This is not the same game which we used to play when we were kids, however, most of the features of this game appear to be the same. In other words, you can say that this is a clone of that game.
Launching this app on your Windows machine will ask you for choosing the game mode among the two different options present here.
Single Player: Here, you can play with the bot present in the game
Multiple Player: Here, you can play with your friends and challenge them as well
Again, this game is too available for both touch and non-touch devices. You can either use the screen navigation as well as keyboard shortcuts for playing this game. Use the mouse clicks to shoot the gun. The left click is for reloading while the right click is for shooting. This is quite a good game and it will bring some old memories if you have already played this game before.
3. Shooting Showdown
Read: Halo Spartan Assault Windows 8 App – Play Strategy Game
Shooting Showdown is a very good FPS game. The graphics of this game has been designed in 3D which might excite you. All you have to do here in this game is to fire or shoot up all the stationary as well as floating items here and there. Doing this, you could get a higher and higher score. There is a weapon store also here like in the awesome zombie sniper mentioned above. Just go to the shop and purchase the one which suits you the most. The controls of this game are very simple. Once, you have installed this app on your Windows machine, you have to opt for the game mode.
This gaming app also contains a Practice mode where you can practice for various steps. Before playing this game, you have to put your initials like your name which would appear while playing the game in the left corner of the screen at the top. Similar to others, you can use arrow keys to the movement and screen navigation keys in case of touching screen. Left-click is for fire and right-click is for reloading.
4.  The Alien's Attack
The Alien's Attack is a very adorable game as the fight here on this game happens in the sky. All you have to do here in this game is to destroy an Alien Invasion in Space with upgrades, shields, lasers, and many other things available in this game. The graphics of this game is no doubt very good and pleasant. Defend your Mars base and eliminate all alien ships – avoid friendly fire at all costs!
Here, in this game, you have to make your team and destroy the alien forces which have attacked the Earth. You can personalize the character which you were rolling in this game as well as upgrade your army with a wide array of weaponry including laser lights and a shield. Just fight against the invading alien foes and make them either kill or remove from your planet in the first place.
5. Battle Bears Gold
Battle Bears Gold is a cool game where you have to be in the shape of a teddy bear with a gun in your hand. The goal of this game is to shoot out or kill all the other bears present out there on the field. Those bears try to kill you too. So, this is a matter of who kills first as the game proceeds. The background of this game looks like that of a matrix. It has many levels which look pretty good. All you have to do is to get a maximum possible score before dying. Therefore, you can either challenge your friends or challenge yourself and make a big score next time. The ammo left is shown at the top right, the health at the top left, and the map towards the right side of the screen. You can pause the game at any point of time by pressing the Esc key which is quite a good thing while playing any such game on Desktop.
Conclusion
I have discussed on 5 different first person shooter games which might interest you once you start playing them. Just enjoy and ask out any queries if you have in your mind regarding any of the games discussed above in the comment box.