Safe Mode in Windows PC Opens new doors to extricate trouble.  Till Windows 7 F8 key was pertinent to reboot Windows PC into safe mode. But, after advent of Windows 8, this key works no more to bring the PC in safe mode. This OS impels users to configure Safe mode manually. This is a longer way. At this moment command comes in action and makes the work easy. Command makes booting Windows 8 Computer into safe mode easy and quick. To troubleshoot Windows 8 PC safe mode is an important process. In safe mode, PC runs with a confined collection of drivers and files.
Recommended: How to make System Repair Disc for Windows 8
How to Reboot Windows 8 in Safe Mode with Command directly
In windows 7, If you want to relaunch and boot into Safe Mode you have to observe the computer reboot. After then you can see the different BIOS messages and select the OS and choose the option to be booted with. At that moment F8 is to be pressed several times to enable the Advance Boot Menu. But in Windows 8, it is a little bit different to start in Safe Mode directly. But how? See:
1. First of all, you have to open Run box (Win + R) in which write msconfig.
2. Then click OK to open the System Configuration utility.
3. Click on the Boot tab in the System Configuration dialogue box and check Safeboot. The minimal option will be selected automatically. In addition, you find few more Safe Mode options like Networking, Alternate Shell, Active Directory repair, Network, etc. Select your desired option.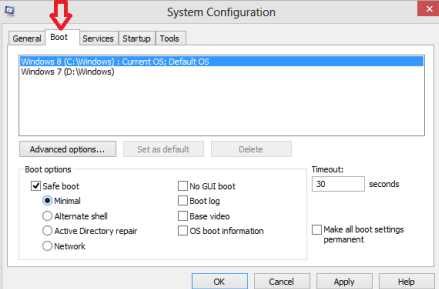 4. Click on Apply and OK. A dialogue box appears. Here, click on Restart. Your computer will perform the booting process directly in Safe mode. But before clicking the Restart button, save your all works.
To reboot again in normal Windows condition from Safe Mode again run msconfig and uncheck the SafeBoot option then hit on Apply and Ok. This will lead to restart your computer which would bring you on your desktop.
How to Reboot Windows 8 in Safe Mode with Shortcut directly
If you have to reboot your computer in Safe Mode frequently you can create its shortcut. You can create Windows 8 Safe mode shortcut on your desktop by following the given steps.
1. Right-click at any place on your desktop. Move mouse pointer to New. Click on Shortcut lying in submenu.
2. Copy the following path  and paste in the location field:
C:\Windows\System32\msconfig.exe -2
3. Click Next and Finish and write name of the shortcut like Restart Option.
How to Reboot in Safe Mode with Software
You can use software Bootsafe as another option which executes .exe very smoothly. You can download it through the link underneath