Despite using the high-protected antivirus with license key, it is impossible to say that you are safe from others over the internet. You are already familiar cyber hackers whose minds will always find ways to make you fool you during surfing the internet  Freshly, most of the hacks and crimes have seen performed through internet browser around the web. Now it is big questions, how secure is your internet browser or how to strengthen your online privacy and security of your internet browser. In this context, I am going explain 5 important tips to prevent you from these cruel hacks.
1.  Enable Do Not Track in browser to Stop websites from tracking you
The web advertising  has increased a lot in recent days. In web environment, you often see text ads, video ads on the every websites. A pop-up also asks to fill your personal info on your web page that called a cookie. A cookie tracks your web activity and keeps the details of visiting sites, the type of products you buy or current locations from your laptop or smartphone. In this situation, you need to enable a popular feature which is called Do Not Track on your internet browser. This feature helps you to prevent the tracking location by someone over the internet. I have previously written about how Disable Geolocation in Chrome, IE, FireFox, Opera to prevent track location and Enable Chrome's Do Not Track option for Safe Browsing
2. Disable Flash Cookies
As you know that cookies are used to store your valuable information on the web page While Flash cookies is another name and it is not more different. To set limitations on cookies in the browser,
Visit this settings link at first.
Then navigate to the left tab titled Global Storage Settings.
 Here uncheck nearby this option – Allow third-party Flash content to store data on your computer.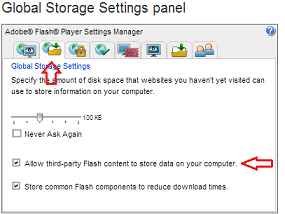 3.  Activate 2-step authentication in your Gmail Account     
This feature makes your Gmail account security stronger. After activating the 2 –step authentication method on your Gmail account, you will get a password first time and the other time is needed to receive a message on your mobile device to sign in to your account. To enable 2-step authentication in your Gmail account,
Go to the Account Settings from your Gmail account or click on this link.
Under 2-Step verification section, click on Settings option.
Again click on Start Setup in the new page and follow the all steps carefully.
Now Google will request you to enter your phone number and you will have to confirm it by putting the code that you just received from Google on your mobile device.

4. Get notifications from your Facebook account
Facebook always sendes numerous notifications but not all the notifications are important for you. Facebook has Just introduced a new feature where you can send a text message, email or both without problems. To turn on this feature on your Facebook account,
Go to the Account Settings and click on Security tab.
Under security settings page, check the both tab such as Email and Text message /Push notification.
5. Disable the shared Chrome extensions
You use a lot of handy extensions in your Chrome browser at a time. Then you need to know the reality that extensions are shared with the world. You need to maintain your privacy while you use chrome extension. To check-out these things,
Go to the Chrome browser's settings page and click on Extensions tab.
If you are using the latest version of Chrome then you need to click on every extensions to know actual status
Then you will see the notification of disable option and click on it.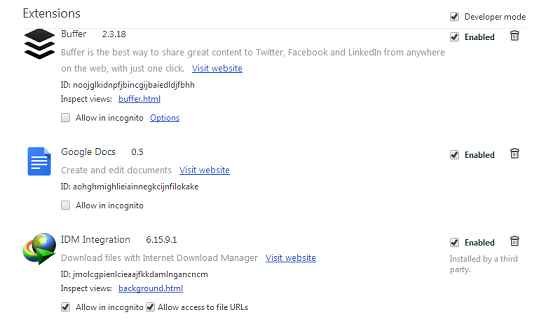 Conclusion
Another remarkable method to avoid from web tracking, you would be to use any proxy tools. With such tools, you can change your geographic position, IP address and other necessary information. This method makes unreliable representation of your activity, encrypted all the information.