Microsoft Word is a  well-known multi-purpose application of Microsoft Office productivity. Microsoft has revealed its latest product version called Microsoft Office 2013. Word 2013 is an integral part of Microsoft Office 2013. A number of elegant features are included with MS Word 13. These features are sufficient to enhance user experience.
It might be possible that you are unknown of these features and missing a great opportunity to ease your work and execute new tasks. Here we are presenting 5 Most Useful Features of Microsoft Word 2013 you might not be aware of but very significant and elegant and provide tools to oversimplify your hard job. Here take a look at them.
5 Most Useful Features of Microsoft Word 2013
1. Edit PDF files in MS Word 2013
One of the latest update features with Microsoft Word 2013 software is the capability to edit PDF files quickly. Now, Word 2013 users can not only read PDF files using Word but also they can edit them. Oppositely as soon as you finish the editing process with PDF files then you can save them as PDF format again.
How to Edit PDF in Microsoft Word 2013 
2. Press F4 to Restore your Previous Action in MS Word 2013
F4 is a very useful key for Microsoft Office 2013. If you have stopped your Word document for a long time then press the F4 to restore your previous action. Suppose you delete some paragraphs or texts then press F4 to recover the deleted data in a similar way. This feature is pretty helpful when you put headers or any other type of code into your Word document if you have to do it many times.
3. Quickly move a paragraph in Word 2013 using Shift+Alt
It is a fairly difficult task when you want to edit something in the selected paragraph of a very long Word document. Now Word 2013 has been re-designed with new handy shortcuts in order to review quickly when you want to move a section from one place to the other. Then move your cursor within any paragraph and hold Shift + Alt in combination and press up or down key. This is one of the drastically Useful Features of Microsoft Word 2013
4. Get the Dictionary with MS Word 2013
The Microsoft Office 2013 version has come with built-in app store where you can add numerous helpful apps to build up the functionality of your Office suite. One such interesting app is known as Merriam-Webster Dictionary. As soon as this dictionary app is added to the Word 2013 then it will allow you to search the meaning of selected words within the Word 2013 window using this dictionary.
5. App Store for Microsoft Office 2013
Office App Store lets to install any app which is helpful for MS Office 2013. A few of these apps are OneBit Survey Master, TPG Risk Chart, Bing News Search, Percentage Calculator, Waterfall Chart, Bing Maps, and Meet Sweet. Any app or another tool that you install from the Office app store to Word 2013, will work when you connect to the internet and sign in with a Microsoft-based Live, MSN, or Outlook account.
6. Save  Running Multiple Documents At Once in Word 2013
If you are editing a lot of documents simultaneously then it is a hard process to save all the documents at the same time. But in MS Word 2013 you can do it by following only 2 to 3 steps. For this, in the latest versions of Word 2013, you can press Shift and go to the File tab then Menu bar and click to save all.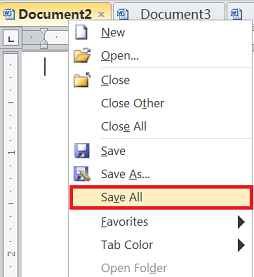 These are a number of vitally Useful Features of Microsoft Word 2013 you can use to simplify your work as well as perform new tasks. On one side App Store for OFFice 2013 is absolutely a new thing which extends the limit of usability of Word 2013, then on the other side PDF Editing feature is a new feature that you used to download software from the web. I think these features will certainly enrich the user experience of Microsoft Word 2013. If you have any opinion, you can convey through the comment below.