SBI ATM Card Lost – Helpline Number, Complaint Toll Free Number, How to block and get New ATM or Debit Card.
After Losing SBI ATM Card, your first task is to get it blocked. For this, you can call the SBI ATM Helpline and register Complaint. In most cases When SBI ATM / Debit Card is lost a panic is created. So at first I would say that after ATM Card lost you should be patient and keep cool so that you can follow the cautionary steps carefully. You should know that no one can use your SBI ATM Card without getting PIN  known and after you register a complaint the Bank bears the transaction of money made by a thief. So, if you have accidentally lost it then no need to worry in most of the cases.

Now follow the steps after SBI ATM Card lost or theft or stolen call SBI ATM helpline as soon as possible.
You may like to read:
Steps to Follow After SBI ATM Card lost
1. Write down the important information of SBI ATM Card lost details in your diary as ATM Card number, PIN, Account Number, Branch Code, Branch Name in your diary.
2. Call to SBI ATM Helpline Number to lodge a complaint. Three numbers are given below. You can call to any of these three.
SBI ATM helpline number
1800-112211
1800-425-3800
+91 80-26599990
When the call starts responding tell your problem. The Helpline support staff will ask your name, father's name, address, date of birth, etc for confirmation purpose. You will have to give an accurate reply of each asked question so that he could assure your identity. After getting these information, SBI will Hotlist your ATM Card umber. A ticket will be generated for this. You should write the ticket number told by the SBI ATM Helpline staff.
After lodging SBI ATM Card lost complaint, a transaction is made by anyone then Bank is liable to the transaction of money.
3. Inform the SBI Branch from where the ATM Card was issued. Write an application to the manager of the branch describing the occurrence of SBI ATM Card lost. Mention your ticket number given by ATM Card Helpline in this application.
How to Block SBI ATM Card through Internet Banking
Yes, Now there is no need to call customer care or run for Branch office to block SBI ATM Card. You can do it by visiting your SBI Internet Banking Website (OnlineSBI). Follow the steps written below to Block SBI ATM Card:
1. Login to SBI Online.
2. Click e-services option on the navigation bar. After then Click Block ATM Card Services link in the left Sidebar. You find a small ATM Card Services page. Click Block ATM Card.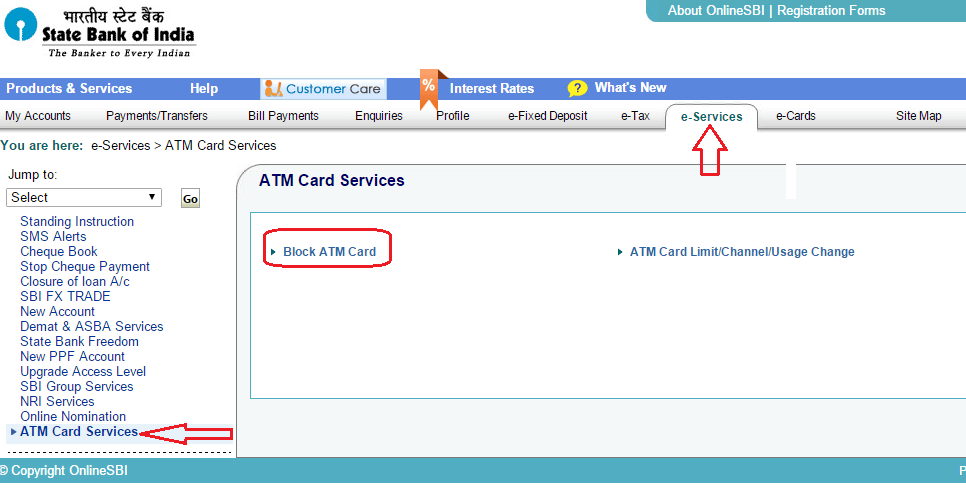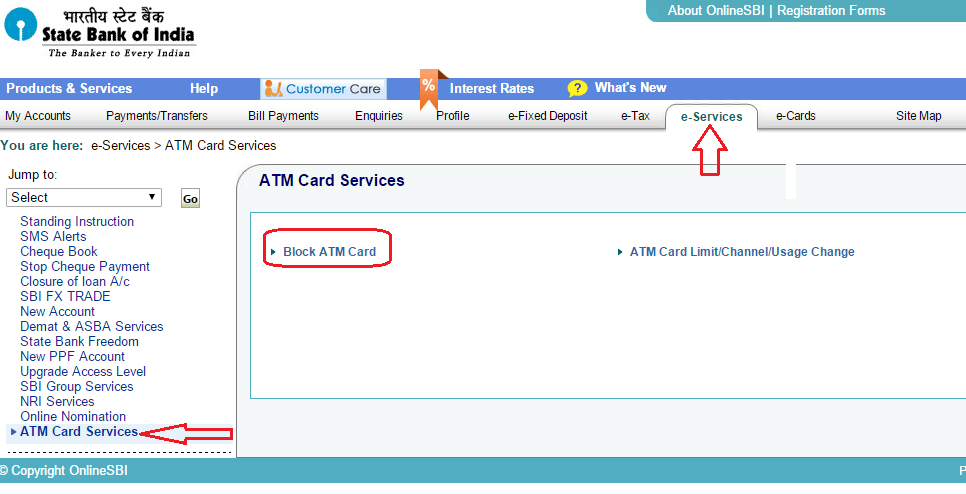 3. Click Continue button.


4. Check the tiny rounded box for your Active ATM Card. Fill up your SBI Lost ATM card  details and finally click Submit button.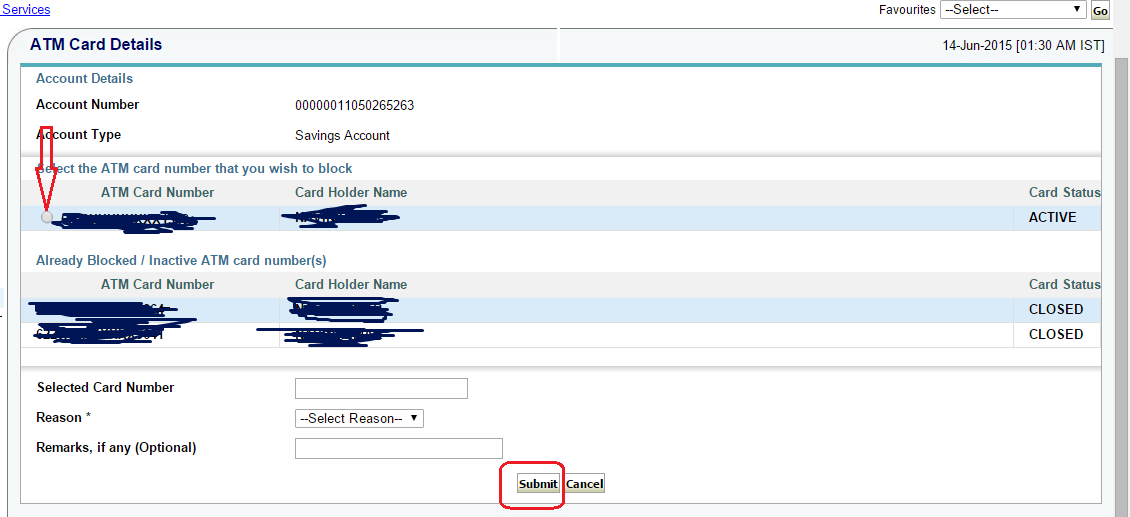 All is done for blocking your lost ATM Card.
How to Get New SBI ATM / Debit Card, after it is lost
On getting your Application, the Bank will issue a New ATM Card within 2 weeks. In this concern, you will have to pay Rs. 200/-.
SBI has issued ATM card for the convenience of account holders. It has eased the life of people. Imagine when the ATM or Debit card was not available. People who wanted to withdraw money had to go to the branch with the passbook, fill up withdrawal form follow a long queue. Now after getting ATM or Debit card People don't bother for to go to the branch with the Passbook and fill up withdrawal form to withdraw money. Simply and easily they can go to the ATM, use his card and withdraw after few simple steps. Besides this, you can transfer your money. But if unfortunately it gets lost you will have to follow few norms so that it is not abused by the thief or anyone who gets. But every advantage carries few risks. So after you SBI ATM or Debit card is stolen or lost you have to make a quick response so that you could avoid any malpractice. The SBI Customer Care number or Helpline number of SBI is given above.