Here is a list of 6 best screen locking software for Windows PC using which you can lock desktop screen of your PC to prevent your personal and private things from any unauthorized access. Using these screen lockers, you could simply prevent others from accessing your personal stuff. It is always found that people are curious to get to know about the others and whenever they get access to any's personal things, they try to misuse them. To prevent yourself from such activities, you must use these screen lock. You might be wondering why you should use these software when Windows provides the inbuilt Lock in the facility. Yes, indeed windows provide you such facility but that is completely opaque i.e. you can't see what is going on your screen like whoever is messaging you and many other kinds of stuff which you will find here in this article.
All these screen locking tools let you lock your screen by setting password along with providing customizations settings like showing time of lock, lock message, transparency, and many others. A link is provided just below at each of the screen lock app to have its access. Pick the one you like.
Screen Locking Software for Windows PC
Here are 6 Best Screen Locking Software for Windows PC –
1. Screenblur
Screenblur is a fantastic screen locking software for your PCs. Screenblur helps you in locking your screen with the help of a password. This software hides all the desktop screen and doesn't display even a single icon on your screen, taskbar, etc. The gadgets and other pieces of stuff present on your computer also hide out. Screenblur locks the screen as soon as you enter the password for that. It also lets you lock the screen using simply the lock your screen from the context menu or directly by double clicking on the icon present on the system tray. This software also provides the facility of several hotkeys which could be used directly to lock the screen, enable or disable lock screen, activate, or deactivate the screen lock. You can see a preview of the locked screen before actually doing it during setting its several features.
Screenblur software also provides screen locking facility automatically along with sleep mode. Even, you can shut down your PC directly from the locked screen, opening the system won't be necessary in this case. The best feature which it provides is the sound facility i.e. your PC speaks up your actions which are really interesting. One should deactivate this feature when working with friends for obvious reasons.
Download Screenblur here
2. LockScreen Pro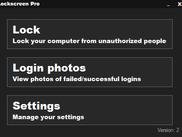 This is another free screen locking software for your PCs. Once, you lock the screen, you would be able to see the date, time, and battery status on your desktop which is really good. An interesting feature which LockScreen Pro supports is that it would take photos of both failed login or successful login with the help of your webcam which could help you in knowing who has even tried to login into your system in your absence. Before doing so or adjusting the settings for it, this software allows you to select a background image from the specified background images. You could also select any other specific picture from your local drives too. LockScreen Pro works as simple as that of windows lock is, all you have to do is to press "Ctrl+L" to lock your desktop screen. You can make certain other changes too in its settings panel like USB unlock, fixing keys to lock your screen, and many others.
3. ClearLock
This is a beautiful screen locking software that lets you lock your desktop screen with desired opacity i.e. your screen would be transparent even when you lock your screen, however, no one could be able to use any icons present on your screen. ClearLock is a very helpful app when you are wishing to know what is going on your PC even after locking your main screen. It is found many times that when we are downloading movies or big games set up, it takes time. In these situations, we want to lock our screen in case if we are bored. Locking the screen is our first option. However, once locked you couldn't see your screen and thus won't be able to see the downloading speed and many other similar things. This is where this software plays an important role.
ClearLock also allows you to set the maximum number of invalid attempts after which it would not open the screen even the password entered is correct for a fixed interval of time. Like the above mentioned software, it also allows you to set the lock message, colors, background image, sound effects and allows you to disable screensaver, depending on your convenience. Thus it prevents unwanted users to unlock your screen in addition to you knowing what happening on your screen.
4. Legacy Locker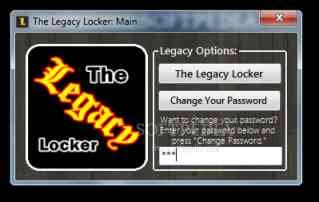 Legacy Locker software is a very simple screen locking software that lets you lock your desktop screen and hides everything which appears on your screen. Legacy Locker removes everything like desktop icons, screen gadgets, taskbar, and even any running programs which you could see on your desktop before locking it. Owing to its simplicity which matches normal windows locking ability, this is not so much used. It can provide you one thing and i.e. you can set the time before locking this screen and it will lock your screen at the fixed time which is a good thing where you know that you would be sleeping after a certain period of time. You have to enter the exact screen password to unlock this software.
5. GreenLock2


Greenlock2 is an interesting screen locking software. It lets you monitor your screen automatically when you were away from your PC or laptop with the help of a webcam. This app could automatically lock your screen if you have set certain things in its settings panel. It helps in preserving the privacy of your computer monitor. Greenlock2 software is mostly used where privacy is the main concern in offices. Here, this software is functional as well as active until a person with Smart Id card is present in front of the monitor. Once, he moves or walks away up to a certain distance from it, it would lock itself. Like a similar case, when that person with smart card came up to the computer, it switches on itself automatically. This is how Greenlock2 works persisting privacy along with adding impeccable security to the system.
6. Desktop Lock

Desktop Lock is a 21-day trial based screen locking software with an easy to use interface. It consists of three straightforward buttons. They are, one for locking screen, the second for configuring the settings, and the last one is for activating your virtual screen. Desktop Lock software provides you many other options too in combination with locking your screen like choosing the icons or programs to be displayed on your screen when your system is locked. You can decide what to hide or what to make visible. You can also let everything as it is and lets your desktop be transparent when your screen is locked too. As mentioned above, it has a second button for configuring settings. Here, you can set certain hotkeys for locking or unlocking your desktop screen. A banner text could also be preset to appear when your screen is locked. Clicking on the locking hotkey will lock your screen immediately with the desktop icons transparent to whom we have decided to appear in the settings panel. Using Desktop Lock, all your files would be completely safe and secured.
Conclusion
All the above-described screen locking apps are tested on PC and no bugs or crashes are found in any of them. Use any of the above-listed software to protect unwanted access to your personal stuff. Please do send your feedback in the comment box below.