Todoist is an android app which is designed to enable users to manage their tasks in an efficient manner by organizing them. It runs on Android mobile, tablet, desktop, Gmail and many more. With this vast area of applicability, it turns out to be a very useful app for those who are busy with their tasks even when they are away from their work. The app is free of cost and does not require much space in your system.
The interface is very beautiful and organized as all the tasks are divided in an articulated manner. It is simple and user-friendly with the basic controls that do not require deep understanding. Todoist Android App is available in the Google Play store. You can install it on your device and upon launching it you will be directed to the main screen of the app. The snapshot of the main screen is shown below.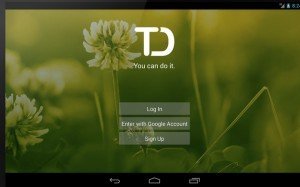 You can have Todoist App from Windows 8 Store or simply you can visit to the link provided at the last of this article.  
How To Use and Play with Todoist Android App
Firstly you have to login to the app either by signing up or using other Google account thereby skipping the account making procedure. After you have done that you will see another screen which will show the various options that are available to put your task and organized them accordingly. To give you a little flavor a screenshot of the same is shown below that will help you understand better.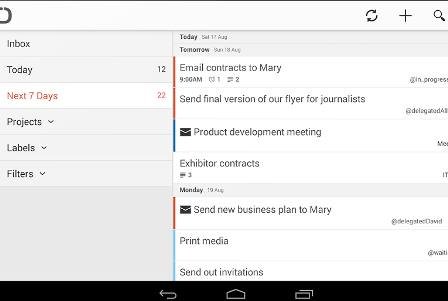 You can see the options namely Inbox, Today, Next 7days and others wherein you can add your task with the due date setting so that you can keep track of the work that is essential for you. An interesting feature is that you can share the task in the cloud network so that you can access it even when you are offline. You can set reminders through SMS, email and notifications also to make sure you don't miss the task. The app is featured by New York Times, Life hackers, Read Write web, Phandroid and others thus boosting your productivity and accessibility.
There are amazing full-featured widgets that you can use to make it more enhanced. To add the task you just have to go on to any of the above section and then you will see the tab for adding task. The Task addition interface requires a name and type of task so that it can be categorized. After that, you can set the date and reminder date for the same. Finally, you can save the tasks that you have and you are good to go.
Key features Of This Todoist Android App:
Organise and synchronize all your tasks across devices.
Add and manage unlimited tasks and subtasks.
Powerful recurring features such as due date, task priorities, recurring dates and others.
Access your task manager even when you are offline.
For premium version you can set notifications.
Color label and filters to be even more organized but at a price.
Productivity tools and stylish packages on higher version of Android.
Conclusion: Task management is an important aspect of the work that you do in order to handle them and this app clearly serves this purpose by making it much easier for you. Although the premium version only supports the notification facility all the other features are equally important in it. For a business class person to a normal person who values time this is a must app for them.
Downloading Link: Todoist Android App