Here is a list of 6 free workout timer apps which will help you in body building. Each of these mentioned apps is a right combination of different exercises. This is aimed to provide you classic exercises at your home. You won't need to go anywhere to do all these exercises. All of these apps basically consist of timer. If you have started doing exercises newly, you won't understand the value of this as you hadn't reached there yet. Time plays a vital role in building up your body as it provides the right amount of workload and stress which are necessary for your body. These exercises tools consist of different things like push ups, crunches, lunge, plank and many other different things. See the below list to choose your own best app.
6 Body Building Apps with Timer
1. 7 minute Workout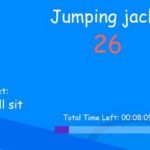 This is a simple app based off of an article released in the American College of Sports Medicine Health & Fitness Journal. 7 minute workout windows 8 app remarkably helps you in increasing the fitness of your body. The interface of this app is neat and clean. Designers have developed this app for those who don't have enough time to go to gym and perform exercises to build up their body. This app has been created to help users in keeping them fit in a combination of 7 minutes only which could be adjusted by anybody. 7 minute workout app consists of a timer which starts running once you tap to begin this app in your windows machine. It is designed to provide you the right things to boost up your fitness level.
Read More about 7 minute workout windows 8 app

2. Gym Workouts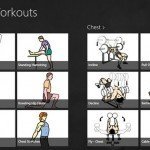 This application serves you with over 50+ exercises which are hand made workouts, by experts with simple steps, easy to understand for the beginners along with relevant images. Gym Workouts Windows 8 app lets you see the well illustrated pictures on different exercises which can be performed at Gym. There are several categories you will find here on this app like: Chest, Ripped, Arms and many others. Each category consists of the exercises to develop each part and make them strong. Gym Workouts app also tells you the correct way of performing any exercise with the help of pictures. Basically,this app acts like a trainer who will train you effectively at different exercises at your home. This is a lightweight app and runs very smoothly on your windows devices. This app provides you Live tiles to make you active.
Read More about Gym Workouts Windows 8 app
3. Gym Guide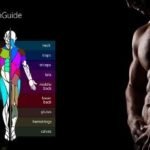 Gym Guide is a fantastic  Windows 8 app that has been a new entrant in the section of physical fitness of windows 8 store. This has been developed keeping in mind online users willing to do online exercises. For long now there has not been many such apps that have surfaced. This app enables the user to get a procedural way to perform body building exercise to keep them fit. This app consists of catalogs of different exercises with videos on different exercise. It will thrill you while doing the exercise. It also helps you in understanding key concepts while doing the exercises. Gym Guide Windows 8 app comes for free and only a minimal amount of memory is occupied by it. Latest updates are added frequently on this app. The app is unique in the sense that nothing like it has even been famous in the app market. There are subtle controls that are intuitive when you look at them.
Read More about Gym Guide Windows 8 app
4. Bodeefit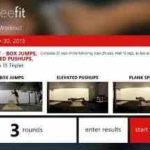 This app is a combination of Step by Step directives on how to do different exercises. Bodeefit Windows 8 App is designed for Businessmen and women, travelers, stay at home moms and dads, and anyone that wants to get fit anywhere, at anytime, without any equipment. Everyone loves to be Healthy and Fit. This is because our life is so complex that we don't have enough time to go here and there in search of a gym so that one could improve his body. In these conditions, Bodeefit proves to be a very useful and helpful app to shape yourself the way you always dream to be.  This App consists of those exercises which can be done without any help from the equipments or machines. The presentation of different exercises in a very soothing and beautiful way will make you love this app. Doing the exercise while listening to your personal set of songs is really awesome which is not possible at any gym or workout station.
Read More about Bodeefit Windows 8 app
5. Joss WorkOut Timer
This little tool provides an easy to use timer for your workouts, training, and many other things. It offers you timer which can be scheduled accordingly to follow exercise regime. It basically consists of two time period, one for working, and one to be cool. This free workout timer offers you clean and very easy to understand interface with three types of layouts namely: small, medium, and large, which can be selected depending on your requirement. It offers you two modes, workout and rest period, which you can choose accordingly and schedule the time duration of the same. It lets you customize the duration of each exercise and the rest time, with the help of the up and down buttons located against the time.
6. Timer4Exercise
This is a free exercise timer tool that continuously reminds you of the time interval while you are performing your exercise and workout routine. Body building requires us to continuous remind us of the time. This app notifies you after a certain interval of time passes. The main purpose of this app is at improving your body or anyone else who's interested in exercising. This free workout timer utility lets you keep track of time that you've spend on your workout routine as it offers you audio notification each time when its time to switch to next exercise. The best part of this free workout timer tool is that it notifies you with a beep sound notification each time your time elapses.