Here is a list of 7 radio apps that you can find over the internet for Windows 8 platform. If you love listening to music over radio, this is the best place where you can know about some of the radio stations about which you might not have heard about. I have checked each of these radio stations, each of them is a good, classy and lovable app. If you have any questions or suggestions regarding this any of the below-mentioned radio apps, you can write them down in the comment box at the last of this article.
7 Best Windows 8 App for Radio Listening:
In the coming paragraph you will read a brief description of each of the 7 Windows 8 radio apps. At the end of paragraphs download links are given with which you may download these.
1. Mini Radio Player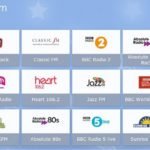 Mini Radio Player is the easiest, fastest and simplest world radio player you can get on Windows 8. Using this app, you can listen to Top Radios and Regional Radios from your country and others like: USA, UK, India, France and many others. This is a free windows 8 app providing you the facility to listen to a large collection of radio stations on. It gives you the access to the top radio stations of the different countries  Mini Radio Player app simply categorizes the stations on the basis of their locations.This app works flawlessly. It claims of having more than 1000 radio channels.
Read more about Mini Radio Player app
2. Radio+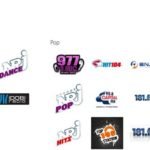 Radio+ is a Cloud media in Radio+ Application freely available at Windows 8 Store. This app has been designed especially for radio lovers. They will find this app really interesting. This is a lightweight windows 8 app to listen to online radio stations. This app consists of various in built radio stations. Some of these radio stations are really famous for their services. It is an advertisement free app letting you enjoy your day with peace. The best thing in this app is that even switching over to other windows app, this app continues to play. You can find radio stations here on this app based on the genre. You can personalize any radio station easily here as well as you can add any radio stations which you like the most to your favorite lists.
Read More about Radio+ W9indows 8 app
3. App Radio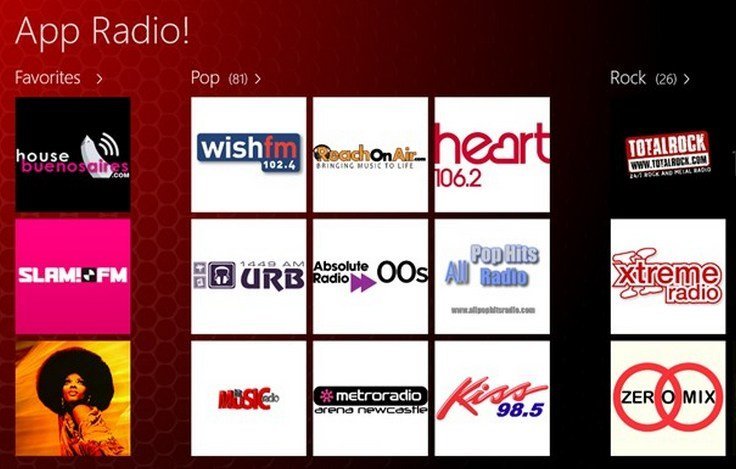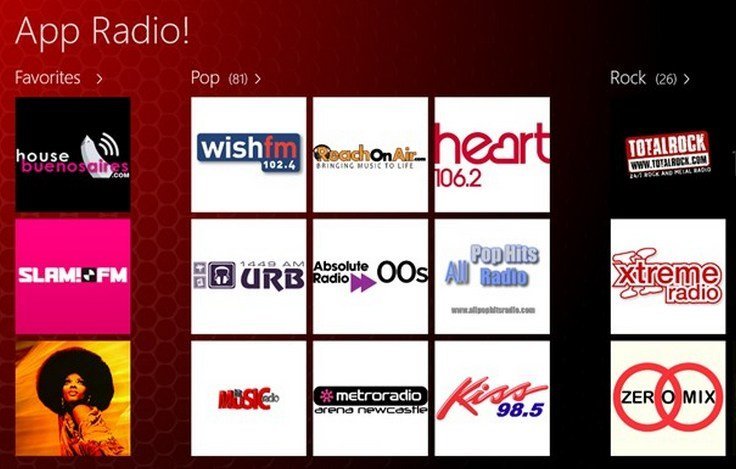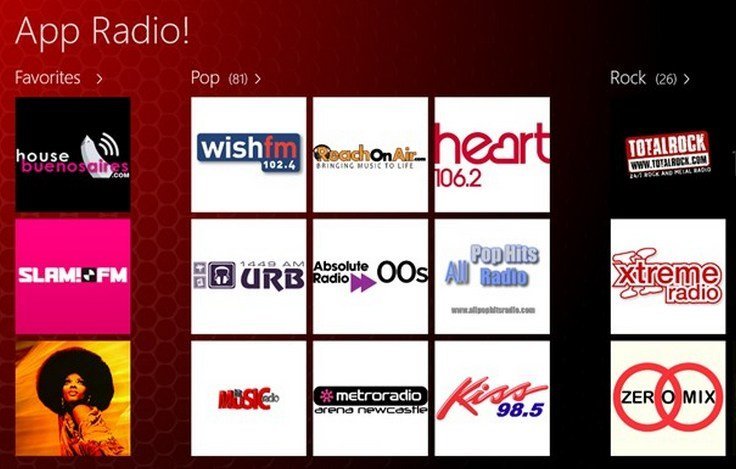 This app allows you to listen to your favorite music and internet radio stations via App Radio. You could also add stations to your favorites and share them with your friends using this app.This is a fantastic app of Windows 8. It comes free with a collection of hundreds of internet radio stations. These radio stations are sorted by different ways like type, content or genre etc. This app consists of neat panes for different categories like Pop, Local etc. There is no such complication here in using this app. This app allows you to select any radio station to which you want to listen. All you have to do is to simply click on the tile of the radio station which you are willing to listen to and there you are listening to the radio station which you have selected. This app contains of numerous radio stations from home and abroad, including: World service, Sky FM, BBC  Pure FM Dance, Radio Paradise, Rock Radio 1, The Vibe of Vegas and others.
Read More about App Radio Windows 8 app
4. Tuba.FM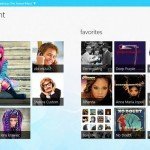 Tuba.FM is the first application that matches music with the taste of every user. It is simple, user-friendly and gives unlimited options of listening to every kind of music. You can use Tuba.FM on your mobile device or at www.tuba.FM. It uses advanced algorithms to find the best music for you. This app allows its users to create and share own radio channels. There are over 300 authorial channels of well-known music artists and more than 30 musical genre radio channels on this app. It is an admired online music website at this time over the world. If you have an account of Tuba.FM already then you can sign in it with Windows 8 Tuba.FM app also.
5. Tune-In Radio
TuneIn Radio is a new way to listen to music, sports, and news from every corner of the earth, with over 60,000 radio stations and 2 million on-demand programs. This app is simply one of the most well radio apps across all major platforms. Its interface is designed in a completely awesome way which makes the navigation very easy while listening to its play stations. Here, on its main screen, you can browse for various radio channels based on categories, recent, and locations. The app even supports the podcast, which is an advantage that this radio app has over other radio apps for Windows 8. It has become a powerhouse in streaming music. It lets you find and listen to your favorite artists, teams, comedians or talk hosts and explore the world by listening to live radio from thousands of cities
6. 5-0 Radio
It is a free, all-in-one digital radio that lets you listen to music, comedy, talk, news, and sports radio stations.Using this app, you can listen to your favorite radio stations including NYC's Z100, Howard Stern, ESPN, Opie and Anthony, Alex Jones Infowars, idobi radio, 181.FM, and many others. The best thing about this app is that it lets you chat with other listeners to talk about what you're listening to and get details about the song that you are listening to, such as lyrics as well on this app. Using this app, you can share stations with your friends and family who can listen to them on their own devices and search stations by music artists, location, name, genre, and songs playing. This app allows you to save your favorite radio stations onto presets.  The recent stations are displayed on the main screens of the app so it makes more easy to listen to the stations that you regularly listen to.
7. Audials Radio
Audials Radio is another radio app which provides you listening to online radio stations for completely free. It broadcasts more than 40K radio stations from over 70 genres from all around the globe to suit the most diverse tastes in music. This app helps you in tunning with your favorite stations, genres, and artists so that you can enjoy the music which you want. As this app doesn't support commercials, you will not find any hindrance while listening to your lovable songs. The app's interface is pleasing and simple. This app lets you pin your favorite stations to the main window of the app and also to the start screen. This makes it extremely easy to organize your favorite stations. The app also offers options bar in the bottom part of the screen that allows you to control the station playback and other things with compete ease. It can intuitively access any radio station the globe has to offer. Discover new stations according to genre, country or previously heard artists as it pleases you.